If you are in Las Vegas and looking for an entertaining, upbeat show, then Rock of Ages is the show for you!  Playing at The Venetian Las Vegas, Rock of Ages is comical, plays great music from the hair bands of the 80's and tells a love story that is witty and fun.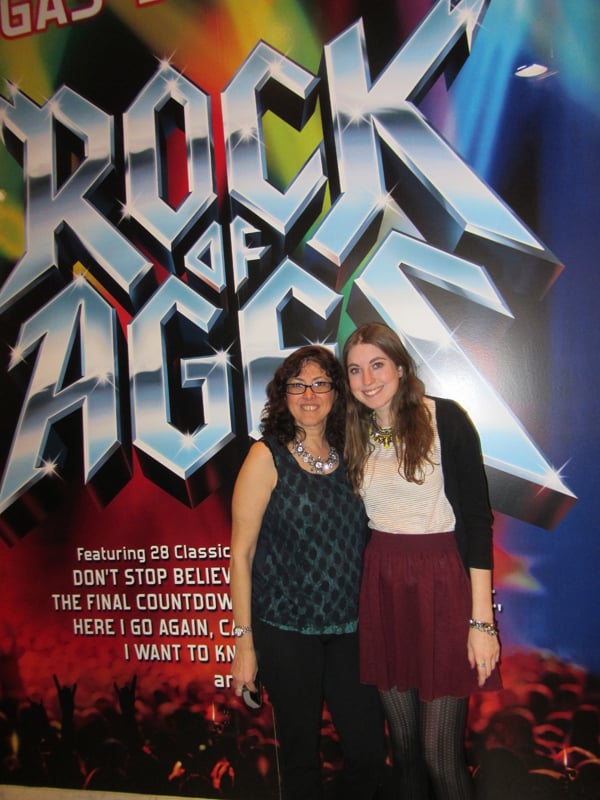 The story takes place at the Bourbon Room in the 1980's when men wore their hair long and women wore their hair high. Rock and roll was the music of choice even though new age music was also extremely popular. It tells the story of Drew, played by Justin Mortelliti, (who wants to be known as Wolfgang Von Colt) from South Detroit and Sherrie, played by Carrie St. Louis, from a small town, who meet each other at the Bourbon Room. They both want to follow their dreams – Drew as a rock and roll singer and Sherrie as an actress. Instead, they end up as a pizza delivery person and stripper/dancer on the Hollywood Strip.
Toward the end of the show, they realize they both love each other and return to the Bourbon Room, where they work, get married and even have a child!
The plot gets complicated when Stacee Jaxx, played by Kyle Lowder, comes into the picture and when Drew tells Sherrie on their first date that they are just "friends."
The narrator, Lonny, played by Mark Shunock was incredibly funny. He was hysterical and had the audience in a roar. He is definitely one to watch.  His performance was brilliant.
Some of the most memorable songs included: "I Hate Myself for Loving You," "Keep on Lovin' You" and "Don't Stop Believin'."  The onstage band was made up of excellent musicians that kept the show upbeat and fun.  When I turned around, I noticed that everyone in the audience was dancing in their seats!
I saw this show originally in New York Off Broadway. I liked it, but didn't love it.  This Las Vegas performance, I loved.  The actors were incredibly talented and engaged the audience.  The entire crew did an amazing job.  It was one of the funniest shows I have seen in a long time and along with being funny, it was simply pure fun.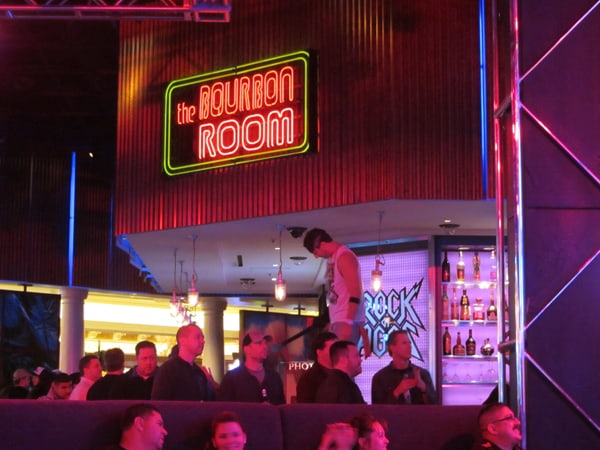 I took my 21-year-old daughter to the show with me and I was a little afraid that she wouldn't like it because the music was "old" for her.  But she also loved the performance.
Following the show, we went to the Bourbon Room, modeled after the bar in the show. There was a man there who claimed to be "brothers" with Stacee Jaxx.  He walked around the bar with his flashing lights engaging the audience. He spoke with everyone. He got people up to dance and he even got them to jump rope!
We stayed there for a couple of drinks, watched videos of old hair bands like Twisted Sister and Bon Jovi and then left to go into the casino.
What a great activity to do if you are in Las Vegas, I would highly recommend both tickets to the Rock of Ages followed by a drink or two or three at the Bourbon Room.
Article first published as Restaurant Review: (Las Vegas): Rattlecan on Blogcritics.
————————————————————————————————————
Disclosure: I have a material connection because I received a gift or sample of a product for consideration in preparing to write this content. I was/am not expected to return this item or gift after my review period. Individual links could be associated with affiliate marketing sites and through the use of affiliate links contained herein, I may collect fees from purchases made.
Related articles