Hi there, my name is Hilary Topper and I'm the CEO of HJMT Public Relations Inc., an award-winning Long Island and New York City-based public relations, social media marketing, web development, and SEO company.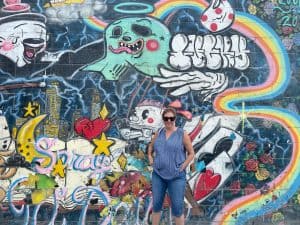 In 2008, I started to blog. After that, I got hooked!
I am also chief curator at HJMT Media Company LLC, where I write two blogs — HilaryTopper.com and A Triathlete's Diary blog. I'm also a podcaster at https://www.hilarytopper.com/podcast/
HilaryTopper.com
Launched in 2008, HilaryTopper.com focuses on food, wine, music, entertainment, business, family, and life. HilaryTopper.com was named "Blog of the Year" by the Fair Media Council and was also a two-time Stevie Awards "Woman's Blog of the Year" finalist.
Hilary Topper on Air
I've had my podcast, Hilary Topper on Air since 2011. I've interviewed amazing guests including Paul Facella of McDonald's, John Scully of Apple and Pepsi, Matt Dixon, former professional triathlete and two-time author, and a host of other famous and interesting people! To date, we have 250,000 listeners on that site!
A Triathlete's Diary Blog
I started running at age 48 and did my first triathlon in 2014. My blog, https://www.ATriathletesDiary.com, talks about products for triathlons but also it shares my triathlon journey with you to hopefully inspire you.
An Author
I am the author of two books – Everything You Ever Wanted to Know About Social Media but were afraid to ask… Building Your Business Using Consumer Generated Media and Branding in a Digital World, which is available on Amazon, Barnes & Noble, iUniverse, and on our website.
Currently, I am working on a new book about my triathlon journey and it will be published in the spring of 2022 with Meyer and Meyer Sports Publishing.
Adjunct Professor
One of my passions is to teach and mentor others. For the last eight years, I have been an adjunct professor at Hofstra University in their Master's and Undergraduate programs teaching digital communications, persuasive public speaking, and PR campaigns, among other things.
Multiple Awards and Honors
Through the years, I have received numerous awards and honors for my accomplishments from PRWeek, Newsday, The Communicator Awards, International Association of Business Communicators, Long Island Center for Business & Professional Women, Long Island Business News, Girl Scouts of Nassau County, DiversityBusiness.com, The Stevie Awards, and BRAVA Award.
I have a Bachelor of Science degree from Hunter College and a Masters in Public Administration from Baruch College.