WIN A FREE UNOFFICIAL DISNEY PARK DRINKS RECIPE BOOK! Comment below why you want it!
—
Disney World is the most magical place on planet earth. In addition to being magical, Disney has some of the best food and drinks around! Recently, Ashley Craft developed the Unofficial Disney Parks Drink Recipe Book and I have a copy to give away! There are lots of non-alcoholic and alcoholic recipes included in the book!
The book includes coffee, tea, milkshakes, slushies, mocktails, and cocktails from the Disney Parks. Recipes were taken straight from favorite restaurants and cafes throughout the Disney Parks and resorts.
The book will teach you how to learn to make delicious, unique drinks in your own home, including:
-Coffees and teas, like Frozen Cappuccino from Joffrey's and Teddy's Tea from Jock Lindsey's Hangar Bar
-Fruity drinks and slushies like Frozen Sunshine from Beaches and Cream and the Goofy Glacier from Goofy's Candy Company
-Mocktails and cocktails like the Sparkling No-Jito from the Tambu Lounge or the La Cava Avocado from Mexico in Epcot
-And dessert drinks like the Peanut Butter and Jelly Milkshake from 50's Prime Time Café or the Dole Whip Float from Aloha Isle
This is a perfect gift for the Disney fan in your life!
Here are a couple of recipes to try out: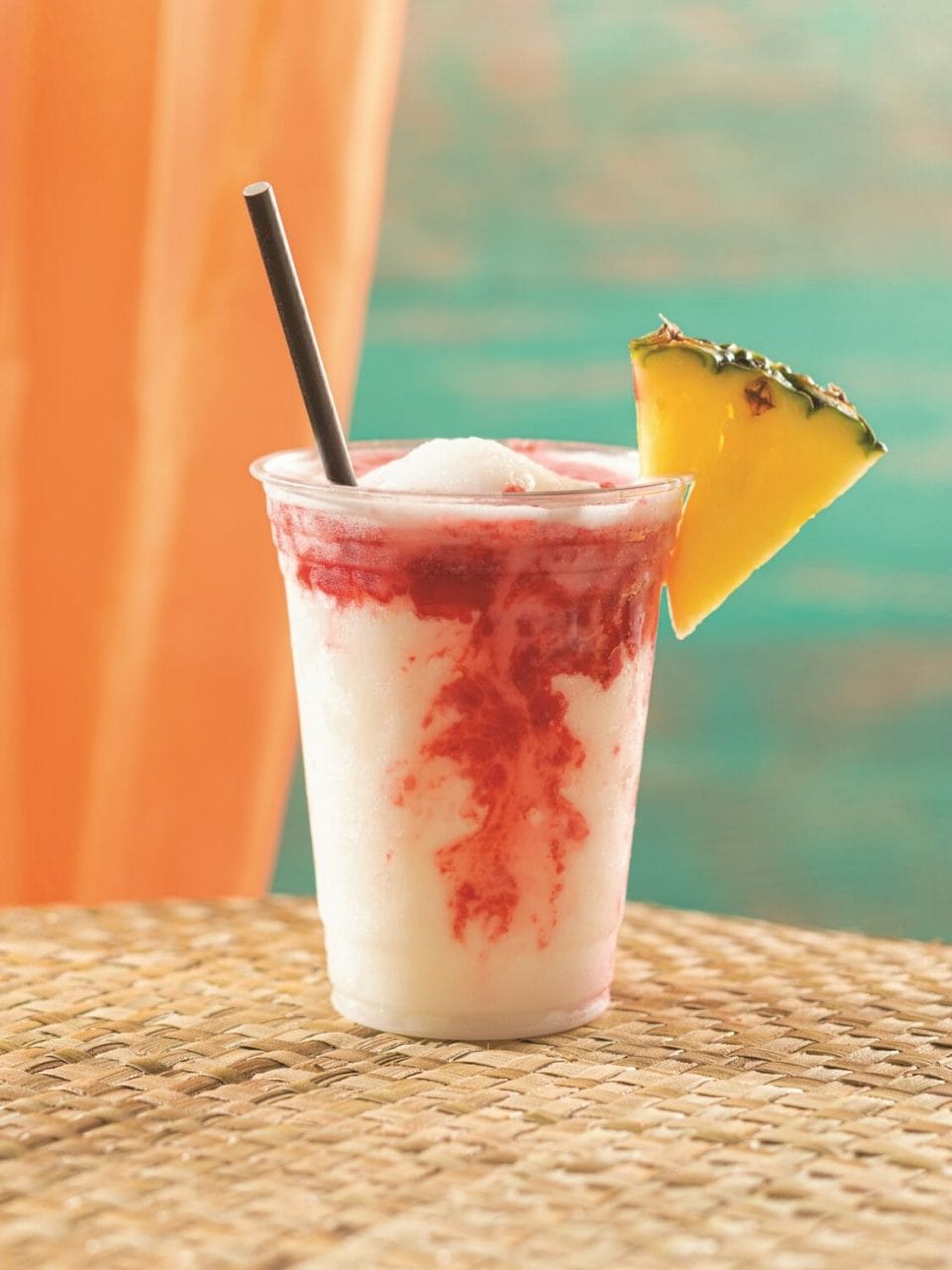 Lemonades & Fruity Drinks 
If you could trap sunshine and put it in a glass, this drink from Beaches & Cream Soda Shop at Disney's Beach Club resort would be it. Highlighting the orange flavors of the Sunshine State (Florida!), this drink will have you believing you are sipping a Creamsicle right through a straw! The candy orange slice garnish adds a bit of whimsy to this recipe. Have your sunglasses nearby while you drink this one! 
SERVES 2 
1⁄2 cup orange soda 
1 cup orange sherbet 
1 cup vanilla ice cream 
1⁄2 cup whipped cream 
4 orange slice candies 
In a blender, combine orange soda, orange sherbet, and ice cream until well mixed.
Pour into two tall drinking glasses and top each with 1⁄4 cup whipped cream. Place 2 orange slice candies gently on top of each scoop of whipped cream. Serve immediately.
Here's another one to wet your whistle:
The combination of raspberry and pineapple in this smoothie from Leaping Horse Libations at Disney's BoardWalk Villas is a delightful surprise. Both are known for their tartness, and blending them together with coconut flavors creates a super-refreshing beverage. Imagine you are sitting next to the incredible Disney's BoardWalk Inn roller coaster water slide while sipping this drink. 
Night Blossom
SERVES 2 
1⁄2 cup fresh or frozen raspberries 
1⁄2 cup granulated sugar 
1 tablespoon lemon juice 
8 ounces nonalcoholic pina colada mix 
2 ounces pineapple juice 
3 cups crushed ice 
2 pineapple wedges 
Mash raspberries, sugar, and lemon juice in a small saucepan over medium heat. Once the mixture just begins to boil, remove from heat. Strain into a small sealable container, discarding solids, and chill for 1 hour.
In a blender, combine pina colada mix, pineapple juice, and ice. Blend until slushy. Split between two 16-ounce drinking glasses or plastic cups. Divide raspberry puree evenly between glasses, pouring on top of the pina colada slush. Gently blend with a spoon, while keeping visible swirls, and serve garnished with pineapple wedges.

 
 Would I recommend it?
You betcha I would recommend the Unofficial Disney Parks Drink Recipe Book by Ashley Crawford! It's fun. It's different. And, if you love Disney, you will feel like you're at Disney every day by concocting a drink in this book! You can pick up a copy on Amazon or at Target!