Before I went for meniscus surgery at Hospital for Special Surgery, my husband, son, and I went to Little Frog Bistro and Bar on the upper east side of Manhattan. The restaurant is located at 322 East 86th Street in Manhattan.
French Bistro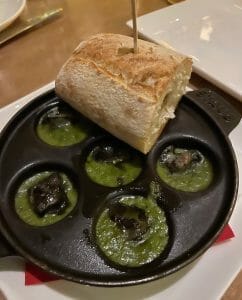 We started with escargot (my favorite) along with fig and buffalo mozzarella. The starters were good. I prefer the escargot at Brasserie Persil in Oceanside a little better but these were good.
Then our main dishes, I had a short rib burger with fries. My son had the octopus and my husband had their special French lasagna.
What we thought…
My son was complaining that the octopus had no side dishes. He said it was incomplete. It was just a tentacle and some hummus. My husband said the lasagna was delicious, however, it needed a little sauce. He said it tasted more like Sheppard's pie than traditional lasagna.
As for me, I immensely enjoyed the burger. It was one of the best burgers I have had in a long time. The fries were delicious too!
The desserts looked good but we decided to go somewhere else for dessert.
Would I recommend it?
I would recommend Little Frog on East 86th Street. I also noticed that they have a Sunday brunch, which I thought might be good to go to the next time I'm in NYC.