Over Thanksgiving weekend, my daughter and her husband asked if I would drive them to Connecticut to pick up their new dog. I had mixed feelings about them getting a rescue dog. My sister had a rescue and the dog didn't like anyone. He bit everyone he came in contact with except her. So, I was skeptical.
When we arrived at Lucky Dog Refuge, we met all the dogs. They were all wonderful. Daisy was particularly wonderful. I could not believe how mellow she was. She came right with us as if she knew it was meant to be.
My daughter told me that Daisy was originally from Mississippi. I wanted to learn more about how she came to the shelter and where she came from. I reached out to Lucky Dog and here was my interaction with them:
Can you tell me the back story of Daisy?
Daisy (formerly Emjay) was brought to our attention by one of our primary fosters in Mississippi, Stacey. Stacey was contacted by a woman whose tenant had passed away unexpectedly. He had no family and it was three days before he and Daisy were found. Needless to say, Daisy was very hungry but thankfully otherwise was fine. Her owner had taken very good care of her, including regular vetting, and was said to have loved her dearly. He lived in a wheelchair and was hoping to train Daisy to be a service animal; he had already taught her some basic training skills before he passed.
We committed to taking Daisy as a Lucky Dog and Stacey took her into her home to foster; we got her a full physical and medical checkup, then brought her North to Lucky Dog Refuge as soon as we could.
It seems like many of the dogs are from Mississippi, is that true?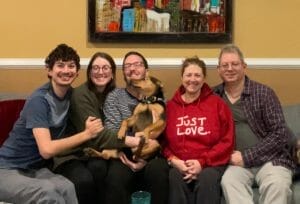 We do receive many dogs from Mississippi – it is the first place our founders began rescuing from, even independently before they started Lucky Dog Refuge. One of their personal rescue dogs was found in Mississippi, not far from where Daisy was found. They tracked down the person who rescued their dog and through that rescuer (Jerry), met an entire community of incredible rescuers and Good Samaritans, including Stacey and Julie (who rescued Cee Cee!) When our founder decided to build a formal rescue, they immediately reached out to that network in Mississippi and we've been working with them closely ever since.
While many of our dogs come from Mississippi, we also rescue a large number from all over the South including Texas, Oklahoma, Louisiana, Alabama, Arkansas, Florida, Georgia, South Carolina, North Carolina, Kentucky, Tennessee, West Virginia, and even the Maryland/DC metro area. We've also rescued dogs from Puerto Rico and Thailand.
As long as we have a person on the ground willing to facilitate the local logistics and a road (or air) transport that can get the dogs here, we will help dogs in need just about anywhere in the United States. (Outside the United States is a little trickier due to travel bans recently instated by the CDC.)
Do you also get local dogs?
We also take in many local owner surrenders and strays as well. While we have not seen the return of "COVID puppies" (puppies adopted from us during the pandemic, then returned when families no longer work from home), we have seen a notable increase in owner surrenders, as evictions are on the rise and/or people lose their jobs, forcing them to move into housing that does not allow pets and/or leaving them unable to care for the dogs' medical needs.
Additionally, we are a recent New Hope Partner with NYACC, in which we take at least one dog (or more) per quarter from a shelter in the five boroughs. This past quarter, we took on 2 medical dogs from Brooklyn and Manhattan: a senior suffering from mange and a young pup with head and leg injuries from trauma. Both are now healthy, healed, adopted, and living their best lives in their new homes.
Can you tell me what happens when the dogs come to Lucky Dog Refuge?
Most of the time, before a dog comes to Lucky Dog Refuge, he or she has spent at least a few weeks or even a couple of months with a foster in its originating state. This allows the dog to begin to socialize, get fully vetted, acclimate to being around people and other dogs, and be 100% healthy before he or she travels north.
Once a dog arrives at Lucky Dog Refuge, the staff spends a lot of time just getting to know them, loving on them, interacting with them, and making sure they feel safe and cared for. Incoming dogs spend the first few days of transport in a quarantine room to make sure they did not catch a cold from any other dogs on transport. Once they clear quarantine, they move into our more spacious upstairs kennels.
We immediately begin leash walks with new dogs, both with staff and volunteers (where applicable). They spend significant amounts of time on the turf with other dogs and people, learning manners and enjoying (what we like to think of as) doggy camp. Our social media manager does individual photo shoots with each dog and gets a lot of "action shots" on the playfield.
We are fortunate to live so close to the Harbor Point area of Stamford, which is incredibly dog friendly. There is a pedestrian-only Boardwalk along the water, a number of parks, and grassy areas safe from traffic. While we do not allow our Lucky Dogs to interact with other dogs on their walks, this dog-friendly community is wonderful exposure for them.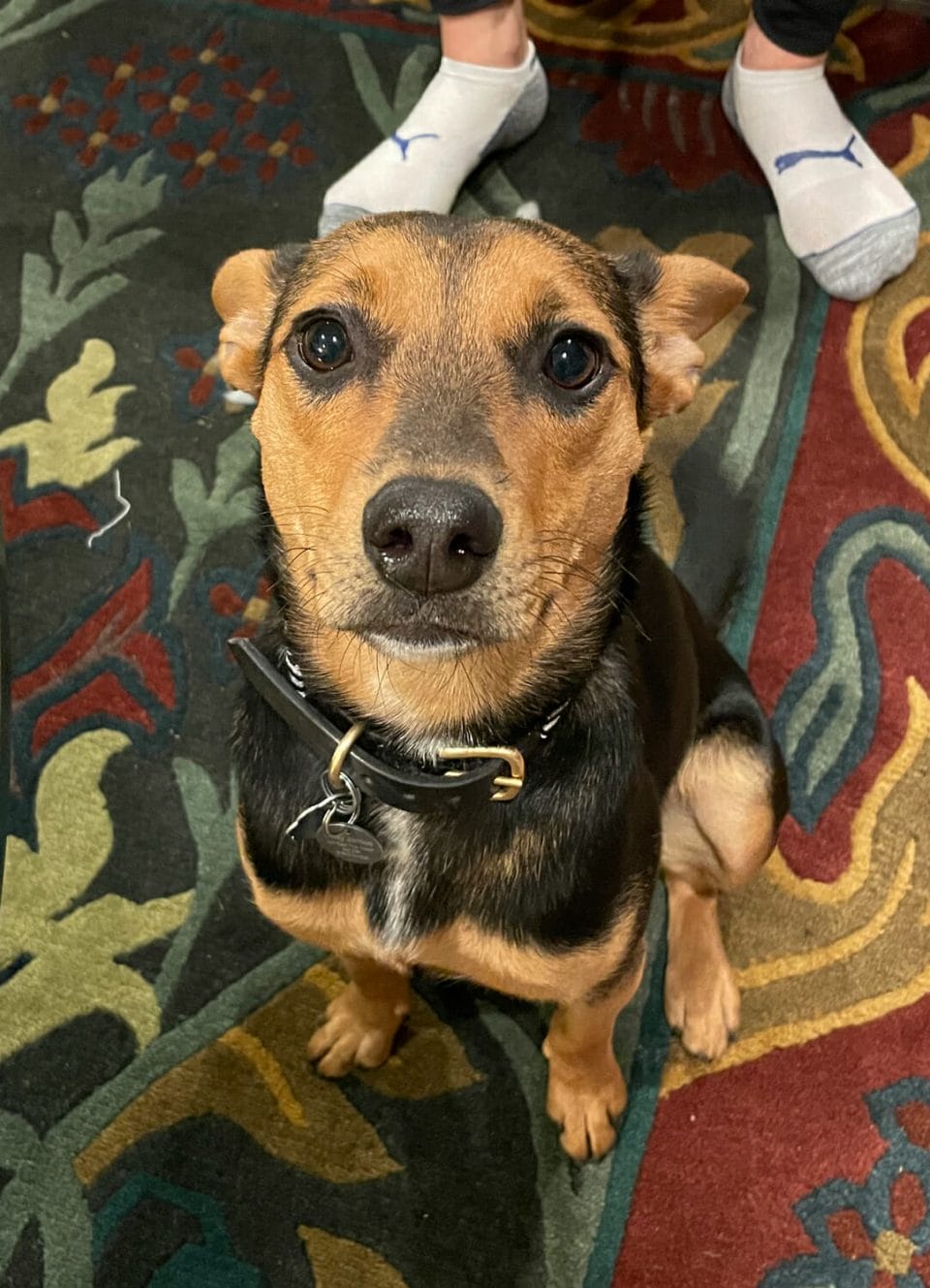 What is life at Lucky Dog Refuge?
Our shelter is set up as much like a home as possible. We have a kitchen, living room, office space, suites for dogs upstairs, and a quarantine room for dogs straight off transport. We also have a bonus room that serves multiple functions depending on the need at the time, including a nursery for whelping mothers and puppies or additional kennel and/or quarantine space.
We can comfortably house between 15-20 dogs on-site at any given time. We can have up to 25+ in case of emergencies, such as hurricanes in the South.
We have a play yard along the Mill River where dogs get to be outside and socialize, as well as enjoy the breeze by the water and watch the wildlife. At the same time, they can slowly acclimate to city noises and new stimuli.
https://www.luckydogrefuge.com/facility
It seems like they are there a short time before being adopted.
The amount of time a dog spends at Lucky Dog Refuge varies a lot and depends on the dog. The staggering adoption momentum seen across the nation during the height of the pandemic in 2020 has slowed down significantly. This year, with uncertainty looming and mandates being retracted and then reinstated, adoptions across the country have slowed dramatically and shelters are full. Adoptions are at an all-time low nationally, and owner surrenders have reached a new high across the country.
In 2021, Lucky Dog Refuge has been adopting out dogs at a little over half the rate it did in 2020; we adopted out 200 dogs in 6 months in 2020 and currently have adopted out 230 in 10 months of 2021. Last October, we adopted out over 50 dogs in 4 weeks; this October we sent home 34 in 6 weeks. Easy, low-maintenance dogs that would have been adopted in a day last year are now sitting at the rescue for weeks, despite all our social media and marketing efforts. Last year, we would receive as many as 20 applications a day and this year we sometimes only get a handful a week. That said, we are very lucky to still have very steady and consistent numbers thanks to the tremendous community and social media support.
If someone wants to adopt from you, where should I send them? Website? Is there an adoption procedure?
The first place to start in adopting a Lucky Dog is our website: www.LuckyDogRefuge.com. We post all our currently available dogs on Petfinder, which is linked on our website, and post "coming soon" dogs that are booked for transports in the next week or so (assuming we have decent photos, which can be particularly challenging with puppies). But that said, we have a lot of dogs with fosters all over the South; so, if someone does not see a dog they are looking for or does not know what they want yet, they can put in a general application. We often will match general applications with dogs who are in the south and not even posted yet.
Once an application is submitted through our website and received/reviewed by the Lucky Dog team, our Executive Director will reach out to begin a conversation about adoption. She will likely ask more questions about the applicant's lifestyle and home, to ensure both the applicants and the dog are a good match for each other. Due to COVID, we do not do home visits but will ask for photos of the home's common areas instead, just to make sure it is the right space for that specific dog's needs.
Once the above requirements have been met and the application approved, a meet and greet will be scheduled. The potential adopters can meet the dog off-leash in our play yard. If all parties are compatible, we move forward with the adoption. A contract is sent to and signed by all parties. The dog will sometimes go home the same day or perhaps a day or two later. We usually send adopters home with a few days of food, information about the dog, as well as a few of his or her possessions (blankets and toys that smell familiar).
We love staying in touch with adopters! We always say "once a Lucky Dog, always a Lucky Dog" so we welcome and appreciate updates!
About Lucky Dog Refuge
Lucky Dog Refuge was founded by a mother-daughter duo in early 2020. Since June of last year, Lucky Dog has successfully placed 440 dogs in loving forever homes and saved around 500 total, including dogs currently at the Refuge and those with fosters in the South waiting to come North.
Lucky Dog is a safe haven for dogs from dire backgrounds. We focus on the dogs most in need of saving – those who have been abandoned by their families, the strays, the starving, the injured, the sick, and those in immediate need of help. We take them in, rehabilitate them, provide housing, vetting, training, and extra doses of love.
Whether at our physical site in Stamford, CT, or with a loving foster, every dog we commit to is guaranteed love and a beautiful life with the forever family they so deserve.
We pride ourselves on being a rescue that focuses on the dogs with medical needs – because they are the ones most at risk. Given how high the costs are, many rescues cannot afford to take on the medical cases and the dogs are left in pain to fend for themselves. But those dogs are the reason we started this rescue. We only recuperate (on average) a quarter of our costs through adoption fees – if even that much. For the rest, we rely entirely on donations. https://www.luckydogrefuge.com/donate
The Rescue Lucky Built
Lucky Dog Refuge all started with one unfortunate puppy who ended up being very lucky.
Our founders' family has been rescuing dogs since 2017, with 6 family dogs collectively. With each dog they rescued, they tracked down the rescuers to help pay it forward by contributing to other rescue dogs in need.
In August 2019, a rescuer posted about a very sick 10-week-old puppy who was found in West Virginia split open from chin to belly. Everyone said to put him down, that he would never survive – but luckily Sheabel Veterinary Hospital in Lexington, KY, takes on extreme cases. Our founders immediately adopted the small puppy and paid for his medical treatment. It was touch and go as the wound was infected in the worst way. After two months of daily wound care, stem cell bandages, antibiotics, and the creative use of sewing buttons to stretch the skin closed, and our sweet puppy was healed. He arrived in Connecticut in October 2019 and has since been the happiest, healthiest dog you've ever seen. Our founders named him Lucky – because he was so lucky to be alive, thanks to the tireless efforts of a village of believers.
Lucky inspired our founders to take our rescue efforts to the next level. They started a 501c3 rescue, called Lucky Dog Refuge, which focuses on the more dire cases, the ones (like Lucky) that many would give up on before even trying. They then purchased a facility in Stamford CT so that those dogs would have a safe place to arrive. They hired a team of passionate, tireless rescuers who sacrifice their time, energy, love, and hearts for these dogs.
Since Lucky's arrival and our first official adoption in June 2020, Lucky Dog Refuge has saved over 500 Lucky Dogs from all over the United States. These now happy, healthy, adopted dogs had suffered through the worst of humanity – from infections to gunshot wounds, being hit by cars, mange, starvation, neglect, parasites, heartworm, abuse, and more. We take dogs of all sizes, breeds, and ages. Inspired daily by Lucky, we ensure that every dog we commit to has a fighting chance to survive and thrive.
Medical cases are exceptionally expensive, and we average $2500/dog, with a recent case costing up to $20,000. A Petco grant would help us ensure even more Lucky Dogs have a chance to survive and thrive under our loving care.
Our founders' family adoptions did not end with Lucky. In July 2020, they adopted another (official) Lucky Dog. Sweet Billy had been found in Mississippi starving with a belly full of rocks and grit, after three years as a stray. He was treated for malnutrition and Heartworm and is now living his best life with Lucky and their pack of 6 pups.
Without Lucky, Lucky Dog Refuge may never have been created and saved so many dogs in need. Lucky was the miracle pup who launched it all and changed our lives in the best way.