I'm amazed at the food scene in Nashville. There are so many excellent restaurants but I'm only reviewing the ones I found outstanding. Husk Restaurant was one of them.
Husk Restaurant is located in Nashville in a historic residential building that was modernized on the inside. The inside is chic and had the Brooklyn vibe. There were two different levels with some cool artwork throughout the restaurant. We were seated on the lower level, which had big glass windows that overlooked a courtyard.
The executive chef, Ben Norton, uses southern food in a modern approach.
Brunch at Husk
We started with sticky toffee money bread. It was like a hot cinnamon bun but even better!
Following that, we each had something different. My husband had a traditional burger, while my son had smoked NC Trout Roll.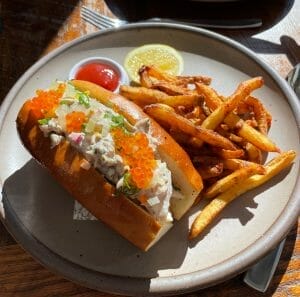 I ordered the Henosis Mushroom and Grits, which was totally out of my wheelhouse, but I thoroughly enjoyed it!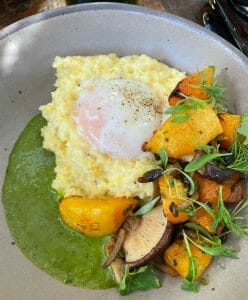 When we were finished, we left. We were stuffed! I enjoyed the atmosphere, the ambiance, and I thought the food was sensational. A great way to celebrate brunch in Nashville.