Xero shoes are a brand of shoe that I have come to love and appreciate. They make shoes that have a natural fit, natural flex and natural feel. The company just released a series of new lifestyle shoes that are hot and a great addition to your shoe collection. Below, I review the Aptos, Oswego and the Alpine boots.
Xero Shoes
I learned about Xero shoes at a running conference. I met the owner and had a candid conversation with him about foot health and running. I tried two of his running shoes,  loved them and wrote about them on my ATriathletesDiary blog. 
So, when he put out a call to his community about reviewing some of the new styles for fall 2020, I jumped at the opportunity. 
The Aptos Shoe
These hot little shoes are so comfortable. I originally ordered a size 8 but went down to a size 7.5. They fit perfect. (The 7.5 is what I typically wear in shoes. I wear an 8 in sneakers.)
The Aptos shoes look like a canvas material, but they are actually made of hemp! They have a zero-drop so they keep you in proper alignment. They let you move easily with no restriction.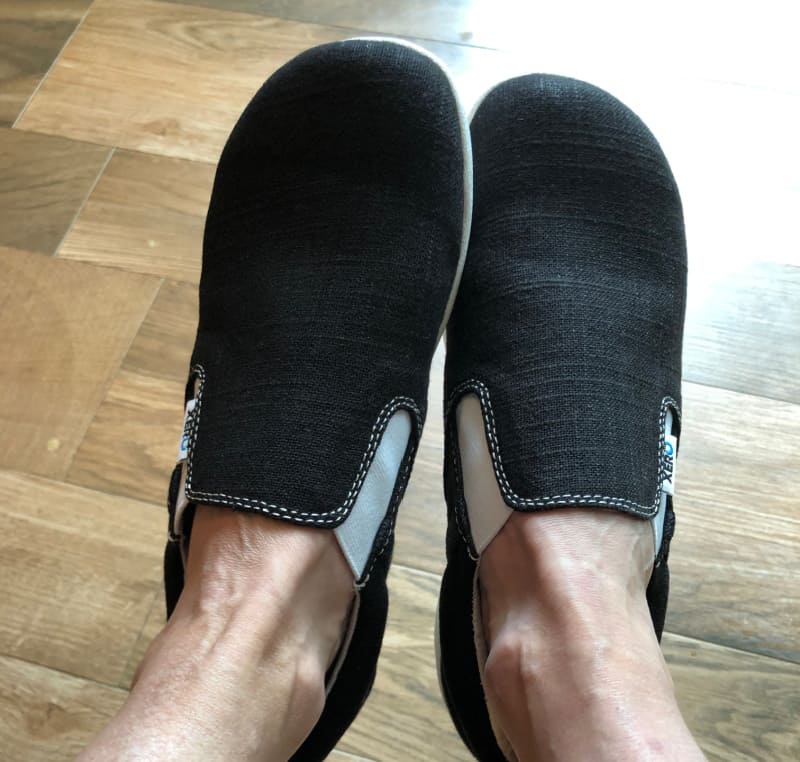 They are extremely comfortable. If you like flat shoes to wear on the weekend (or at work if you're working from home), you will love the Aptos!
You can wear them with a cute pair of shorts, capris or even jeans.
These shoes are only 7.9 ounces (M9) and weighs almost 60% less than other shoes that have a similar style. Add the form-fitting hemp upper and natural design, and you've never felt this kind of slip-on comfort.
About Oswego Shoes:
"Think "high-performance comfort," said Steven Sashin, owner of Xero Shoes. "We took the performance-friendly, speed force sole and married it to a polyester knit upper with a style that can take you anywhere at any speed."
The Oswego is vegan-friendly and weighs just 6.2 ounces (M9).
They come in three colors – Charcoal, loden and vintage violet.
Taking them for a test drive:
The Oswego have the same feel as the other styles made by Xero Shoes. They are very comfortable, flat and they are great for someone who is active.
You can dance, jog, walk and just have fun in the Oswego Shoes. That's what I did when I took them for a test drive. They are a fun shoe and I look forward to continuing to wear them!
Need Winter Boots That Are Snuggly Warm And Comfy?
Winter is just around the corner and if you're looking for an all natural fabric boot that will keep you warm, are super cute, and extremely comfortable, check out the Alpine boot by Xero Shoes.
About Alpine Boot
The Alpine boot is lightweight (14.8 oz. M9), waterproof and has 200g/sq. in. polyester insulation with a heat-reflective insole. They are fully seam-sealed lined, that will keep you warm. They come in three colors – Black, Sage, and Frost — and, they are designed for both men and women!
The interesting part about this boot is that they are "barefoot boots." This means that they let your feet move naturally. There is no restriction, just a firm bottom to protect your foot from the elements including snow and ice!
I was thinking that these would also make perfect Apre Ski Boot! After a day in a ski boot, your feet feel so restricted. The Alpine boots will let your feet move naturally. They are comfy, and they keep you warm.
The boots I sampled are a little big for me but, with a pair of wool socks, they will be just perfect. The large toe box is awesome. 
What else do you want from a boot?
Where Can You Buy a Pair or Buy All Three???? 
To find out more about any of these new styles for Fall of 2020 go to https://xeroshoes.com/fall20sale/.