Seeing Al Stewart in Peekskill
On a whim, my husband asked if I wanted to see Al Stewart perform his Year of the Cat Album up in Peekskill on Sunday evening. I was up for the adventure and said, "sure." He got decent tickets and we took the drive up about an hour or so north of Long Island to a small town called Peekskill.
There, we parked in front of this incredible old theatre and went to eat at a place around the corner called The Hudson Room. The restaurant was pretty filled for a Sunday night. The menu consisted of steak, burgers and Sushi — interesting combination! We sat at a small table by the sushi booth. I looked around the room and noticed on stage there was a red piano. It was hot! The bar was huge and I noticed several people drinking. The manager sat next to us. He was on break.
"Yeah, we don't usually open on Sundays, but because this was such a big show, we decided to stay open," he told us.
The food was good. My husband and I ordered a sushi appetizer, with extremely fresh fish — tuna, white fish, salmon and scallops. For my main course, I ordered the Ying Yang roll which was superb! It was filet mignon on top of a shrimp roll. My husband had a burger so we split the two. Yum!
By 7:05 pm, we were the last people in the restaurant. The manager looked over at us and said, "You're late."
We smiled. "There's a warm up band," my husband told him.
We finished up and walked around the corner to the theatre. It was in an old building built in the beginning of the century, with a huge ornate ceiling.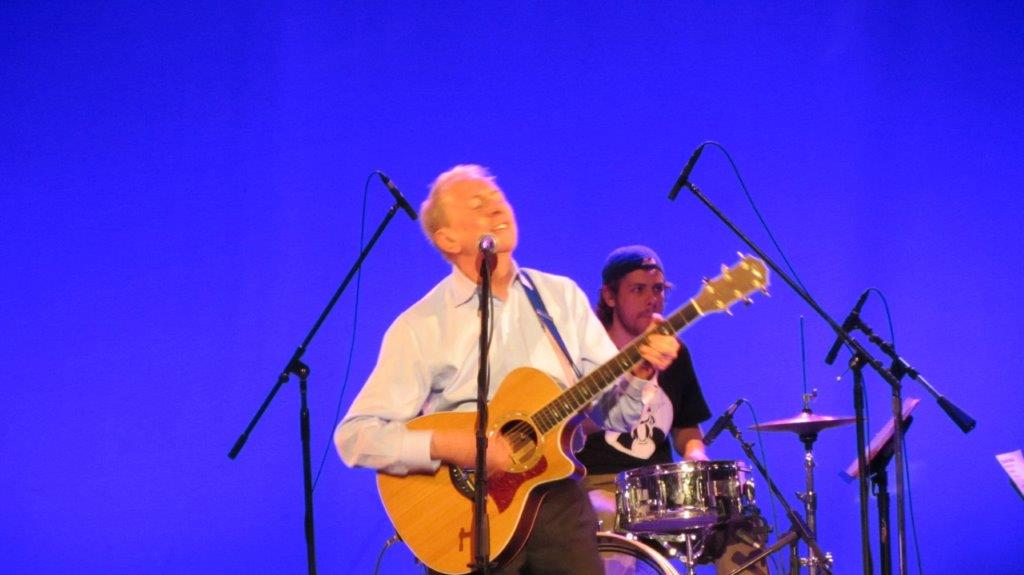 The warm up band played. Although they seemed to be good musicians, their musical arrangements felt boring to me. They played for about a half hour and then Al Stewart came on. The warm up band was also Stewart's "house band."
He was great. I never saw him in concert but he was popular in the mid-70's when I was a teen. His album, Year of the Cat, was one we played over and over again.
He came out looking old and frail, but when he sang, you felt as if you were back in the 1970's listening to his folk rock voice singing. He sounded incredible. It brought back so many memories.
If you remember him, the show is worth going to. His creative lyrics and musical rhythms just make you feel happy and take you back in time, even though, "Time Passages…"