I know when I'm alone in the house and I want to eat dinner, my first instinct is to grab something quick and eat it. But, if you have an Instant Pot, you no longer have to do that.
In the new book, The "I Love My Instant Pot" Cooking for One Recipe Book, there are more than 175 easy-to-make and delicious recipes for a single person. The book was written by Lisa Childs of TriedTestedandTrue.com.
Here are two interesting recipes I've selected for you taken right from the book.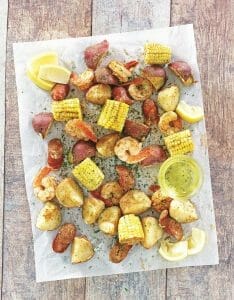 Quick and Easy Shrimp Boil
You can make this incredibly beautiful shrimp boil in the Instant Pot® in a couple of minutes and for a fraction of the price at a restaurant. If you want to add additional seafood such as crab, add it to the Instant Pot® at the same time as the shrimp. The cook time will stay the same.
Hands-On Time: 5 minutes
Cook Time: 11 minutes
 Serves 1
1 cup chicken broth
1 teaspoon minced garlic
2 medium red potatoes, quartered
1 medium ear corn, husked
1 (3-ounce) link andouille sausage, cut into 4 pieces on the bias
1⁄2 tablespoon Old Bay seasoning
1 cup peeled and deveined extra-large shrimp
3 tablespoons butter, melted
1⁄2 medium lemon, for serving
1 tablespoon chopped fresh parsley
1 To the Instant Pot®, add broth and garlic. Add the trivet.
2 Add potatoes, corn, and sausage, then sprinkle Old Bay seasoning over everything.
3 Close the lid; turn the knob to Sealing.
4 Press Manual or Pressure Cook button and adjust the time to 3 minutes.
5 When the timer beeps, immediately turn the knob from Sealing to Venting, then remove the lid.
6 Add shrimp, stir, then immediately replace the lid and wait 5–8 minutes until the shrimp is pink and cooked through.
 7 To serve, remove everything to a large bowl and serve with a side of butter, lemon, and a sprinkle of parsley.
PER SERVING
CALORIES: 1,033 | FAT: 49g | PROTEIN: 57g | SODIUM: 3,663mg | FIBER: 11g | CARBOHYDRATES: 93g | SUGAR: 13g
FRESH OR FROZEN SHRIMP?
For convenience, I use frozen shrimp that have already been shelled and cleaned for me. However, you may use fresh shrimp and cook for the same amount of time.
—

Vanilla Bean Cr
è
me Br
û
l
é
e
Crème brûlée is traditionally baked in a bain-marie (water bath) in the oven for an hour. With the Instant Pot®, it couldn't be easier to make a single ramekin of creamy crème brûlée in less than half the time. Feel free to use the same amount of vanilla extract if you don't have vanilla bean paste on hand. 
Hands-On Time: 10 minutes

Cook Time: 20 minutes
Serves 1 
1⁄2 cup heavy cream 
1⁄2 teaspoon vanilla bean paste 
2 large egg yolks 
2 tablespoons sugar, divided 1 cup water 
3 whole raspberries 
1 In a small saucepan over medium-high heat, combine cream and vanilla bean paste until steaming. Do not boil. Remove from heat. 
2 In a small bowl, whisk egg yolks and 1 tablespoon sugar until light and smooth. While whisking, slowly pour the hot cream into egg yolks and whisk to combine. Pour cream mixture through a fine-mesh strainer into an 8-ounce ramekin. Cover with foil.  
3 Pour water into Instant Pot® and add the trivet. Place ramekin on the trivet. Close the lid; turn the knob to Sealing. Press the Manual or Pressure Cook button and adjust the time to 10 minutes. Then press the Pressure Level button and adjust to Low Pressure. If your Instant Pot® does not have a Low-Pressure button, adjust the time to 8 minutes. 
4 When the timer beeps, allow 10 minutes to naturally release the pressure, then remove the lid. Remove ramekin to the cooling rack. Let cool and then refrigerate for 6–8 hours. 
 5 To serve, remove foil. Sprinkle the remaining 1 tablespoon sugar over the top of the crème brûlée. Using a kitchen torch, quickly torch the sugar in small circles until sugar is completely caramelized. Cool 1 minute, then top with raspberries and serve. 
PER SERVING 
CALORIES: 624 | FAT: 50g | PROTEIN: 8g | SODIUM: 61mg | FIBER: 0g | CARBOHYDRATES: 31g | SUGAR: 30g 
For more delicious recipes in the Instant Pot for one person, go to Adams Media or buy the book on Amazon!