Touring Through Southern and Northern Italy
Recently, my husband, Brian, his family and I went on a Windstar cruise around Italy. Brian and I had been to Italy once before with my son, Derek. When we went, we toured mostly northern Italy and we wanted to see the Southern coast. The cruise took us from Rome to Sorrento to Lipari (Southern tip of Italy) to Messina (Sicily) to Torento (Sicily) to Sardinia (an Island off the coast of Italy) to Corseca (a French Island off Italy) to Santa Margharetta (by the Cinque Terra) to Loverno (about an hour from Florence) and then back to Rome. After the 10 days, Brian and I made our way back to Sorrento to explore more of the Amalfi coast area. I included what we did below.
Here's what the trip looked like:
Rome —
We arrived in Rome from JFK early in the morning. Since our hotel wasn't ready, we dropped off our bags and decided to tour around Rome.
Our first stop was the Forum, a rectangular structure surrounded by the ruins of several important ancient government buildings at the center of the city of Rome. It's fascinating to visit this, but it's extremely hard to walk around. There's broken cobblestone and it has some elevation so for those who have a hard time walking, this isn't the place to go.
After that, we continued our journey to the Coliseum which is an oval theatre in the center of Rome, that was used for Gladiator fighting. It's amazing that it was built in 80 AD and is still standing. We didn't go inside because there was such a long line. It would take at least an hour or more to go inside, so if you don't have an advanced time or ticket, expect to wait a long time on line. (You can pay a tour guide $20 euros to get inside and cut to the front of the line.)
We ate lunch following that in a nice pizzeria not too far from the Coliseum. It was delicious!
That evening, my brother and sister-in-law, husband and I toured around the Patheon and as we were inside, all I could think was what happens when it rains? There is a huge hole in the top of the building. Then I noticed all the holes on the ground for drainage, but still found that incredible. "How did they actually build that?" Rebecca, my sister-in-law said. I had no idea…
Then, we went to the Trevi Fountain, which was followed by a nice dinner, where we ate well and then we had gelato at Gillotti in Rome!
Sorrento —
It was our first official day on the cruise. We arrived in Sorrento early. Sorrento is near the Amalfi coast of Italy, not too far from Naples. We got off the boat and took a shuttle boat to Positano.
Unfortunately, when I was getting off the shuttle, I slid down the steps and hurt my back so we ended up taking the shuttle back to Sorrento. My mother-in-law, husband and I went back. The rest of the gang stayed in Positano.
When we got there, we took an elevator up to the top of the cliff where there was a ton of very upscale shopping. It was quite beautiful. My mother-in-law, husband and I went to a lovely place for lunch, set in an indoor garden.
We ate pasta, which was phenomenal. (My mother-in-law insisted on having Anchovies.)
The pasta was so fresh and tasty, I could have sat there all day. We ordered a bottle of red wine to pair with the pasta and when the meal was finished, we went back to the boat.
Lipari —
This is one of the largest of the chain of islands straddled between Vesuvius and Etna. It's about 30K from Sicily. Lipari is an awesome place that also has a quaint town with interesting stores. While walking around, we saw a Cannoli stand and decided to stop and have one. It was probably the best Cannoli I have ever tasted. It was light, sweet and airy.
We ate lunch at Al Pirata by the water. It had a fantastic view. Unfortunately, not all the meals were fantastic. Mine was good. I had a pasta dish. The others in our party had fish. The swordfish was overdone, but the local fish was tasty.
Messina —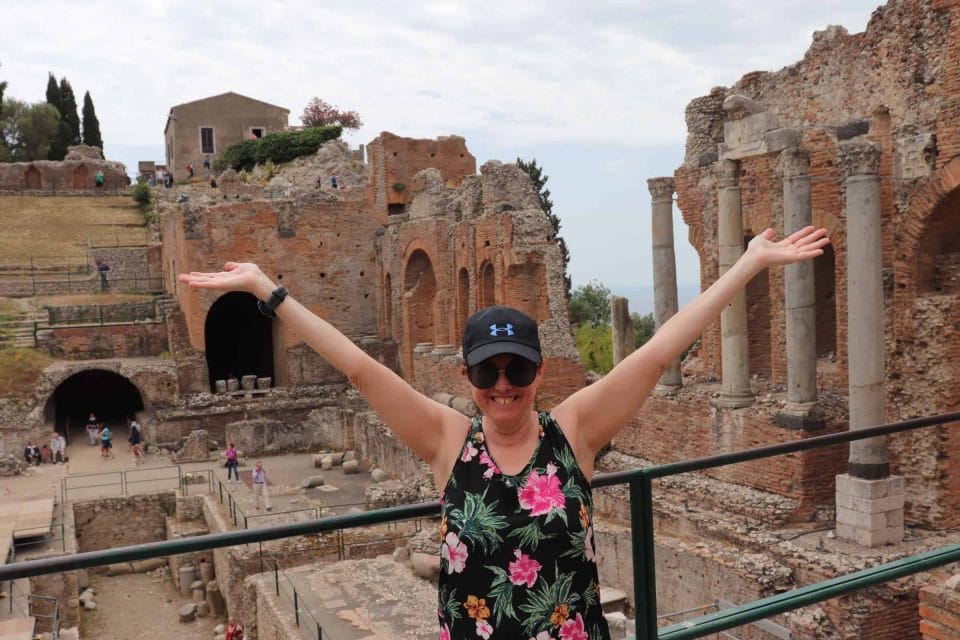 Located on the east end of Sicily, across the water from the tip of the boot. You can see the tip of the boot from the harbor. The eight of us hired a car for the day and took it up to Castel Moda. (The other two in our party went on a tour with the boat.)
There, we walked around the town and Fran, our aunt, and I decided to go to the bathroom in a local bar. As I left the stall, she said, "did you notice the decor?" I did not. I took a look and it was covered with sexual scenes and penises. It was strange. But, when we went into a local pottery store, we were told that the penis is an important symbol of the region. It gives you luck. (Since I needed luck, I purchased a small one for my home.)
After that, we went to the Greek Theatre. This was the oldest Greek theatre and was quite fascinating. The ruins were still in tact and we found a group of school children performing. When we were finished walking around, we met the rest of the group at a local pizzeria. It was incredible. That pizza is thin crusted, using fresh mozzerella cheese. We also had pasta and a bottle of house wine. It was truly superb.
We had the driver take us to the beach. I wanted to check out the Tyrhennian Sea. It was absolutely frozen. Even with a wetsuit, I was totally frozen. My face felt like ice was hitting it. We went in and went out.
Trapani —
Located on the west coast of Sicily, Trapani is situated close to Erice, the ancient city. We walked around Trapani and then took an aerial ride up to Erice, a neighboring town. The town was a medieval fortress and well-preserved. The whole town and the streets were made out of stone. While there, we saw a couple of castles and had more gelato. This was not a town to visit if you have mobility issues. It was tough walking up and down hills on cobblestone ground. But, if you can make it there, it's worth the visit.
We went back to the boat and had dinner at a lovely Sicilian Restaurant called Al Vicoletto Ristorantino in Trapani. It was one of the best meals I had on the trip. The muscles were so fresh and sweet. The Buffalo Mozzerella was incredible and melted in your mouth.
Sardinia —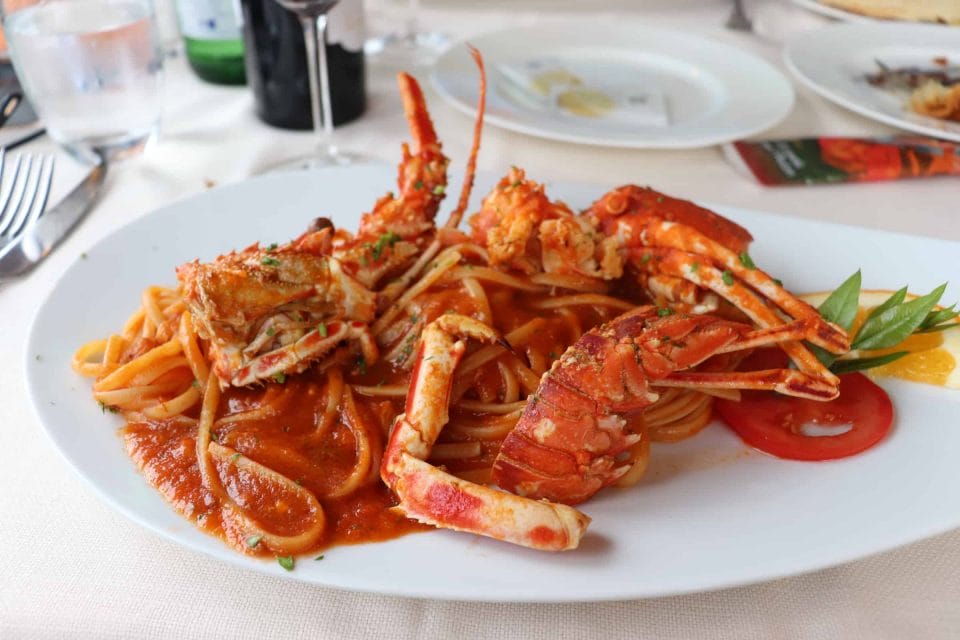 We had a ton of rain on the trip, but that didn't put a damper on our time. In Sardinia we got off the boat and immediately purchased an umbrella. We walked around the quaint town, shopped a little and saw some interesting old artifacts by the water, including old canons and a caterpolt.
Since we didn't have much time there and it was raining heavily, we found an interesting restaurant called La Lepanto Ristorante overlooking the water. When we opened the menu, we noticed that they served either spiny lobster or blue lobster. For whatever reason, we chose the Spiny Lobster to share over a bed of spaghetti. Wow, this was good! Although it was costly, the lunch was well worth it!
Corsica, France —
Corsica is a small little French Island off the coast of Italy. Although most of the people speak French here and little to no Italian, we were still able to get by.
We walked around the town, saw a little market where local vendors were selling fruits, vegetables, cheeses and fish and found an interesting French restaurant for lunch. With the heavy rains, we lost some of our party. At that point, we decided to go to a local restaurant for French flair. After that, Uncle Jack, Aunt Fran, Brian and I walked up to the lighthouse. It was a nice 2 – 3 mile stroll uphill. The views were breathtaking and we thoroughly enjoyed the hike.
Portofino –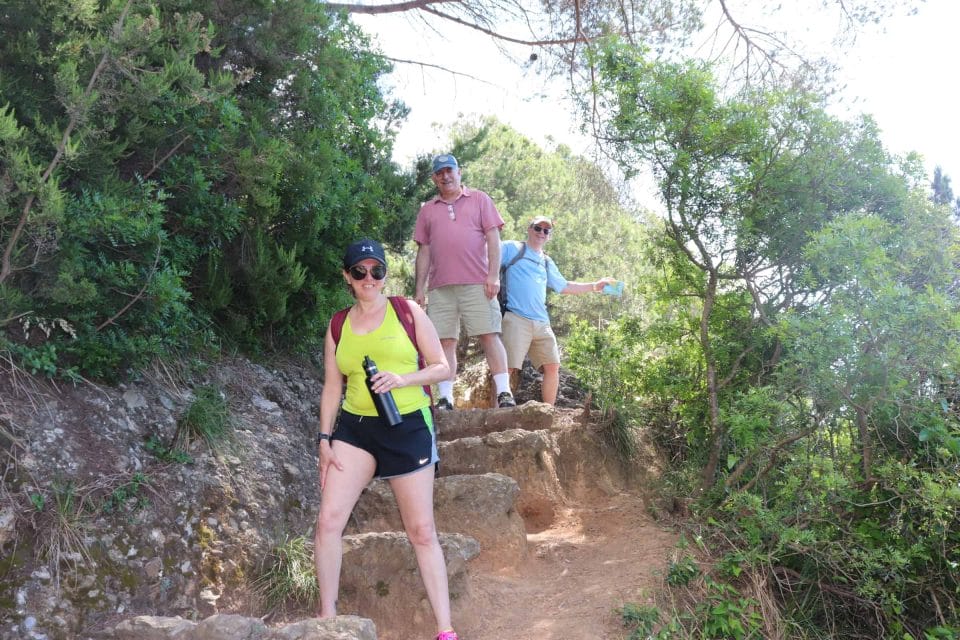 We thought the hike to the lighthouse in Corsica was bad. Ha! We didn't know what bad was until we got to Portofino from our docked boat in Santa Margharita. Once in Portofino, we stopped in the tourist office and got a map. The hike was a 2.5 hour hike from Portofino to  the Abbieze d frucoso. The woman behind the tour desk told us it was an easy hike and we wouldn't have any problems.
That was one of the hardest hikes I did and I think I'm in pretty good shape. The four of us — my brother-in-law, Gary, sister-in-law, Rebecca, Brian and I went 2000 feet up to the top of the mountain. It was steep. There was no turning back. The cobblestone was broken and in parts it was so narrow you couldn't put your foot down. We were all struggling but thoroughly enjoying it. Ha to the woman who told us it was a beginner trail!
Since there was no time after the hike, it took longer than we expected, Brian and I stayed in Portofino and walked around. We met up with Fran and Jack and I bought a pair of pants to change into. I was so sweaty from that hike! I didn't want to go to dinner the way I was dressed.
In a book, Places to Go Before You Die, Restorante Punny was on the list. Since it was there in Portofino, we made a reservation for eight and all met up there. We had a delicious pasta and I followed it up with incredible shrimp that were "to die for."
Loverno to Florenza
The last stop of the trip was in Loverno. Since Florenza or Florence was only an hour away, eight of us booked a taxi into Florence. After visiting the leather market, Ponte Veccio and just exploring some interesting shops along the way, we met up with our friends, Marilyn and Barry Weinshank. They were touring Italy and so happened to be in Florence the same time as us.
We met at a top restaurant called, La Giostra. Unfortunately, my wallet was stollen in a local store near the restaurant and by the time I was running back and forth with my husband, we only had time to order a pasta. There were 10 of us at the restaurant. The pasta was incredible. I had a pesto ravioli that made my mouth melt when I tasted it!
Traveling from Rome to Naples and Naples to Sorrento
Florence was the last stop and it was back to a town about an hour outside of Rome. Brian and I got off the boat, took a taxi to the train station and then got on a train to Napoli (Naples). Once there, we checked our luggage and went searching for the perfect pizza (see story on best pizza in Naples). After that, we headed on a train to Sorrento, where we had our passports and money stolen. Unfortunately, that day was wasted with all the logistics of the missing passport but fortunately, we got back the passports (see story on we had our passports and money stolen in Naples).
Back in Sorrento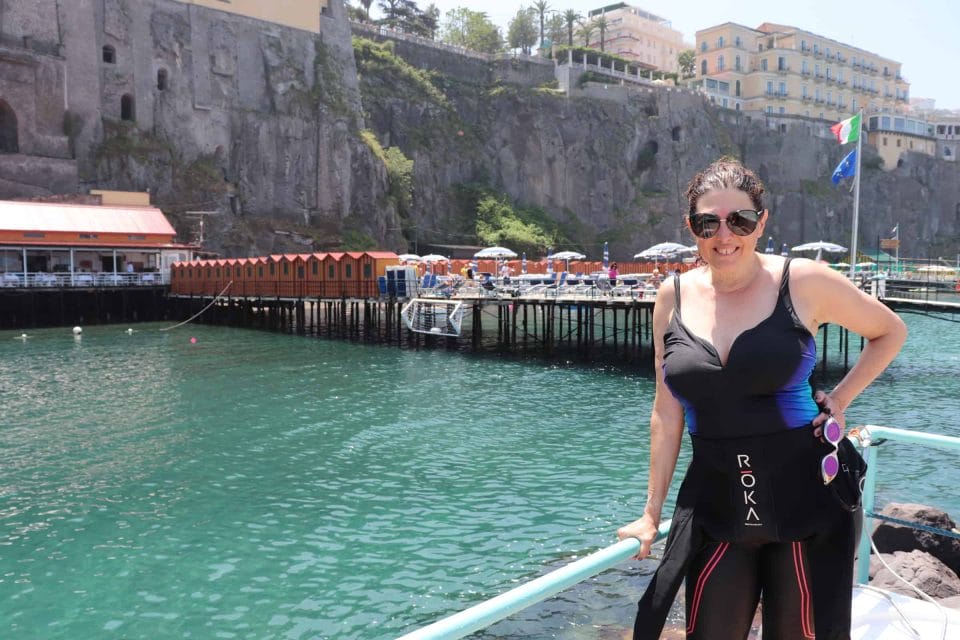 The first day, after the incident, Brian and I decided to go to the beach right in Sorrento. Interestingly, they don't have a beach like we do in New York. They had built a series of piers that you can sunbath and jump into the Tyrhenian Sea. Since we needed the R&R, we paid a couple of euros more and went VIP. In our area, we had cushioned lounge chairs, a hot tub and towels. We even had a romantic lunch in a private area. It was an incredible day!
The next day, we went to Itchia. This is a small island off the coast of Napoli. The ferry took an hour to get there but it was worth it. The ride was relaxing and then we went to a place called, Negombo Thermal Park. This was incredible. It was made up of 20+ different thermal baths ranging in temperatures – some were warm, some were hot and others were ice cold! It was incredibly relaxing. Following that, we went to the beach and just enjoyed the ocean and the sun.
Back to Rome —
When it was time to leave Sorrento, we hired a driver to take us to Napoli. I wasn't getting back on that train! It cost us about $90 euros, but it was a breathtaking ride through the hills of the Amalfi coast.
In Rome, we shopped and shopped. We saw the Spanish Steps and then went to a quaint little restaurant called, The Canova Tadolini Restaurant. Talk about interesting. You eat amongst the sculptures. The food was good and when you go to the bathroom, the door automatically opens. It's a little creepy, but fun!
And then we went home…