Wedding weekend
After more than a year of planning, the weekend felt real when we went out to dinner with my son-in-law's father, and his girlfriend. Dan's sister flew in as well from LA and we all met in NYC at a little Italian Restaurant in the village.
The next day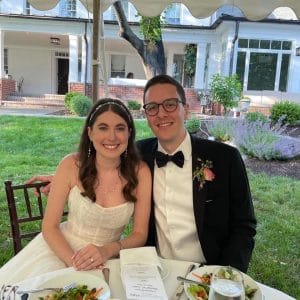 The next day we drove about 2.5 hours to the StageCoach Inn in Goshen.
The place was gorgeous! There was so much greenery and the flowers were blooming.
Inside of the StageCoach Inn was quaint. The house was originally built in the 1700s. When the new owners took it over they did a lot of renovating.
The bedrooms
Since the StageCoach Inn was an "Inn," it had six bedrooms up a spiral staircase. The rooms were incredible! My room had a king sized bed, fireplace and tremendous bathroom with an old fashioned sink down tub.
My daughter's room was beautiful as well. She also had a working fireplace.  My son stayed in a smaller room but just as nice.
We had the rooms for two nights – Friday and Saturday evenings.
Afternoon of Day 1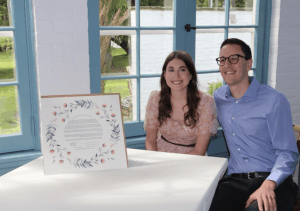 After we settled in, we were ushered down to the atrium to meet with the Cantor. There, we had the Ketubah ceremony and signing by two Jewish non-relatives.
After that, we went outside. It was overcast and looked like rain. I knew it would not rain. (My mother would have never let that happen to her Zoey!)
Walk Through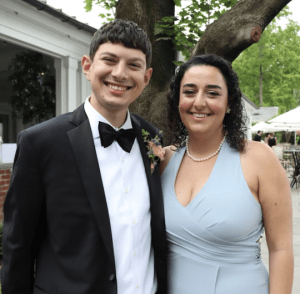 We discussed the walk through with the Cantor. She explained to us how the ceremony would go and talked about the procession.
"Do you know the history of the Tallit?" Dan's father said to the Cantor.
"Why don't you tell us," the Cantor said to Steve. I thought he was going to give us a history lesson on why the Tallit is worn.
Instead he said, "this was the Tallit that covered my Chuppah when I married Daniel's mother." (Dan's mother passed away from Leukemia when he was five and his sister, Talia was two.) He then started to tear up. We all teared up along with him. It was emotional yet so beautiful to have this Tallit as part of the ceremony.
That evening
We went out to dinner. Then, headed over to Drowned Lands Brewery for a few drinks. Surprisingly, all of Zoey and Dan's friends showed up which was awesome!
Saturday, Wedding Day
I woke up at 4 am (my normal time) but I forced myself to sleep in. I knew it would be a late night. When I went downstairs at about 8 am, I was greeted by KerryAnn, the innkeeper at the StageCoach Inn.
There was a continental spread on the bar which included yogurt, berries, granola, lemon poppy cake and a hard boiled egg. I had my coffee and ate a little. Although I was feeling nervous for my daughter, I knew I had to eat.
Right after that, the vendors started to arrive.
Makeup and hair
The makeup person came first,  followed by the stylist. Although Zoey is naturally beautiful, they made her look absolutely stunning. Dan's sister also looked gorgeous and for me, I was surprised at what a little makeup can do!
When everything was set, I helped my daughter get on her wedding gown and she went downstairs for the first look.
Unfortunately, I missed it but I am sure that Dan was in complete awe of the way Zoey looked. They both looked gorgeous together.
Ceremony Starts
We quickly went inside as guests arrived. Sparkling wine was given and everyone was seated. We had a live stream video set up.
Thankfully by the time of the wedding, most of the COVID restrictions were lifted and we didn't have to wear masks!
The entire wedding from the ceremony to the party was held outside.
The Procession
The Cantor walked down first, followed by Dan and his dad. Next, Dan's sister and my son walked down. This was followed by the cutest flower girl. She was adorable and although she only spoke French, we were able to communicate a little with her. (Dan's mom's family is from Switzerland.)
Faith, the owner of the StageCoach Inn, said, "are you ready?"
I looked over at my daughter and said, "this shit is now real!" I don't know why I said that, but it made her smile and laugh. My husband and I walked her down the aisle and then we both took our seats in the front.
During a traditional Jewish ceremony the bride walks around the groom and then the groom walks around the bride. The wine was blessed and the couple drank. Prayers were said. The Tallit went over the couple and the Cantor said a priestly prayer.
And before we knew it, Dan was breaking the glass and the ceremony was over.
The Dinner
Since there were few people there, it made the event very intimate. You were able to talk with everyone at the wedding. It was really lovely.
Interestingly, the DJ played albums and it was very soft in the beginning, especially following the first dance.
Speeches were also read
First Dan made a beautiful speech, thanking everyone including the parents. This was followed by Brian and then me.
Here's what I said:
I want to thank everyone for coming far distances to my daughter and son-in-law's wedding. Each one of you in this room means something to us. You were invited because you had an impact on us and our children. So again, thank you.
It felt like yesterday that Zoey was born. She was truly the most beautiful baby I had ever seen. She looked like an angel.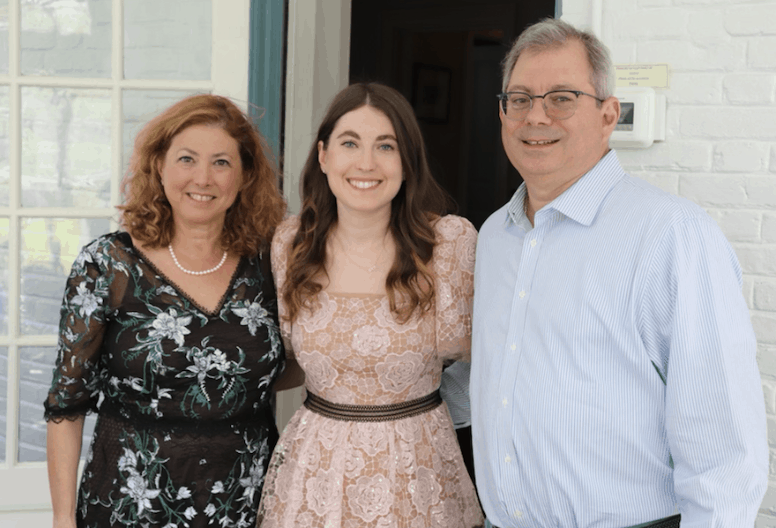 A week after we took you home, Brian said to me, "well, at least she's not colicky." The next day, our beautiful little angel turned into a colicky mess that wouldn't stop crying. This went on for months and I tried everything to soothe her. I walked with her in a front pouch on the boardwalk at the wee hours of the morning. I sat with her in the shower and listened to the water. I rocked her back and forth. Luckily after about four years, you settled down.
Although that was hard, it created a bond that was so strong, no one could take that away. I fell in love with this little girl.
When Zoey was in grade school and all she wanted to do was go across the monkey bars. She kept trying and she kept failing. But the one thing about Zoey, she never gave up. She tried and finally succeeded. This showed me her true character.
I never thought about this but when she had her mitzvah project during her bat mitzvah, she wanted to donate money to the Jane Goodall Foundation to help the monkeys. Hmmm… I wonder if those monkey bars had anything to do with it. (By the way, 17 years later, we still receive the Goodall foundation solicitations…)
Anyway, when we sent Zoey to college, I couldn't stop crying. I cried the whole 8 hours up to Syracuse. I didn't want to let her go but I knew I had to.
I remember when she met Dan. She called me and said she met a very nice boy.
Fast forward a couple of years and we ended up meeting this very nice boy. I was lucky to really get to know him when he worked in my office after graduation. Everyone loved him. I loved him. He was smart and had a great way with clients. But mostly, he had a great way with Zoey.
Zoey and Daniel complement each other in so many ways. They really are the perfect match.
This is an emotional day for us, not only is our only beautiful daughter now a married woman, but I only wish that my dad, who is living in an assisted living facility down in Florida could be here. He never stopped asking her and Dan when they would get married!
I also wish that my mom, Phyllis, my sister, Lori, my father-in-law, Stanley, my cousin, Dick, and Dan's mom, Anita,  could have been here to witness such a beautiful ceremony. I know that they are here with us in spirit with a big smile on their faces!
I am so blessed to have Zoey in my life and now, I'm also blessed to have Dan in my life. Dan, welcome to the family. I know that the two of you will create a wonderful life together and I look forward to seeing you both grow as a couple and as you begin your lives together. I love you both very much!
Please raise your glass and say, "L'Chaim."
Following my Speech
Dan's dad followed me. Everyone had a tear dripping from their eye when he was talking. The siblings lightened up the mood with both amazing toasts. Every speech was incredible and heartwarming. It was beautiful.
After the father-daughter dance, the DJ picked up the mood with the Hora. Everyone went in the chair! I was sure I was going to fall off! I held on so tight!
Then Steve and his girlfriend were up in the chair, followed by my son, Derek, and Dan's sister, Talia.
After the dance, the DJ started playing Motown and 80/90 music and the crowd was up dancing all night.
We were dancing so much that we didn't even see the cake ceremony! I didn't even notice that cake and desserts were being served. It went that fast!
After party
We hosted a small after-party at the StageCoach Inn indoors. The DJ stayed and the kids danced until 12 midnight!
The next day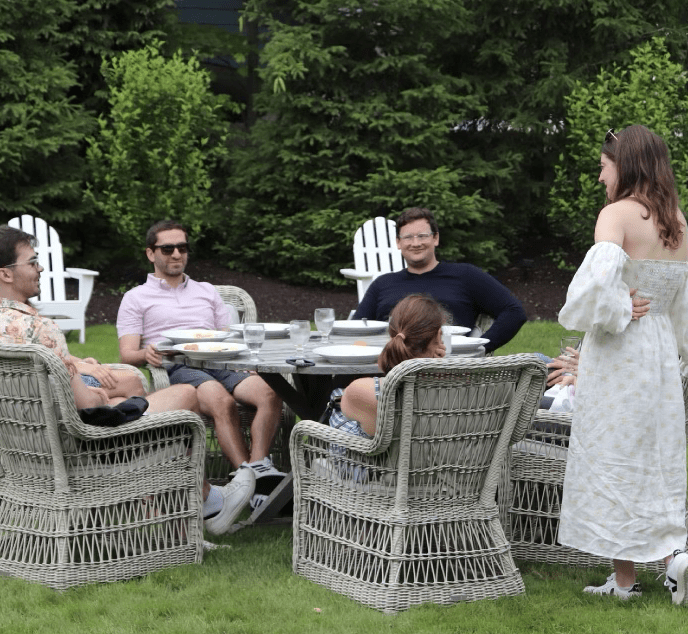 On Sunday, the parent's hosted a breakfast/brunch for our guests. We held it out in the tent and used the beautiful flower arrangements from the wedding.  Some of the guests that slept over came and enjoyed good food and coffee while we all "schmoozed" and enjoyed each other's company.
Zoey and Dan were both so happy. It made me so happy to see their faces. I could feel their energy, which made me emotional.
As guests were leaving, I said to Zoey and Dan, "we have so much negativity in this world, actually too much negativity. When something good happens, we need to hang on to these moments. And, keep them alive forever and focus on the good things always."
It was a perfect weekend for a perfect couple.