Weekend Travel: Pompano Beach, Florida
A few weeks ago, my husband and I went to Pompano Beach, Florida. It was my dad's 85th birthday and since my sister recently passed, we didn't think it was appropriate to have a party so we kept it low key.
We stayed at the Marriott in Pompano Beach. I also booked a room for my dad and his girlfriend there as well. The rooms were spacious, very spacious and had a large bathroom and shower. They had a beautiful view of the ocean and the pool. It really was breathtaking.
The Marriott charged us a $20 a day fee per room to use the chairs and beach umbrella, so we took advantage of them. I had an opportunity to swim in the ocean both days. The first day, I swam nearly two miles and the second day almost a mile. It was choppy both days, but since I've been getting used to chop and to current, I enjoyed it.
We went out to a few notable places for dinner. The first night we went to a restaurant called Cafe La Buca at 451 S. Cypress Road in Pompano Beach. At first glance, the place looked like a dump. "That's a pizzeria," my husband noted. But, when we went inside, it was a quaint Italian restaurant.
Cafe La Buca had gotten nominated for awards for its food and I was psyched to go there to experience it. The waiter came over to the table and handed us a drink menu. We ordered an inexpensive bottle of wine. (There were about a half dozen or so wines that were in the $27 price range.)
The waiter said that there are no menus. He said that typically you order an appetizer, pasta, entree and dessert. He told us that the best sellers were a zucchini dish and an eggplant dish. We said, "Sure, bring it on out." We never asked him for the prices. We assumed that since the wines were reasonably priced the meal would be too.
After the appetizer, he brought out clams with white wine sauce and a pappardelle with vodka sauce. Next, he brought out salted fish and lamb chops. We ended the meal with two orders of Tiramisu.
The food was good, very good. But then we got the bill. The check was close to $300. We were shocked! It was our own fault for not asking what the prices were before ordering. The lamb chops were $50 for 5 chops. We were a little taken aback by this.
The next night we went to Seafood World. This is the second time I was there. The first time I loved it so much I wrote a wonderful review on Yelp. When we were looking to see where to eat, my husband said, "Hey look, your review from three years ago comes up first on Yelp." Since I didn't remember much about the place, I wanted to go back.
We had a wonderful meal there. I ordered Caribbean Lobster, which was incredible! My husband had the hogfish, which was nice and light and just melted in your mouth. Everyone else loved their dishes, which ranged from Crab Cakes to fish tacos. I would give it 5 stars again on Yelp!
The last night we were in town, we went to Flemings in Miami. Flemings is located in the business district of Miami and on a Saturday night at 6 pm, it was relatively quiet. As we were sitting there, the noise level picked up.
The food was sensational. Most of the table, and there were six of us, had filet mignons. We started with a salad. There was a choice between a few different types of salads, but my husband and I chose the wedge salad. When our filets arrived, we ordered an array of vegetables including mashed potatoes (that were out of this world), asparagus, cauliflower, creamed spinach and more. It was truly delicious!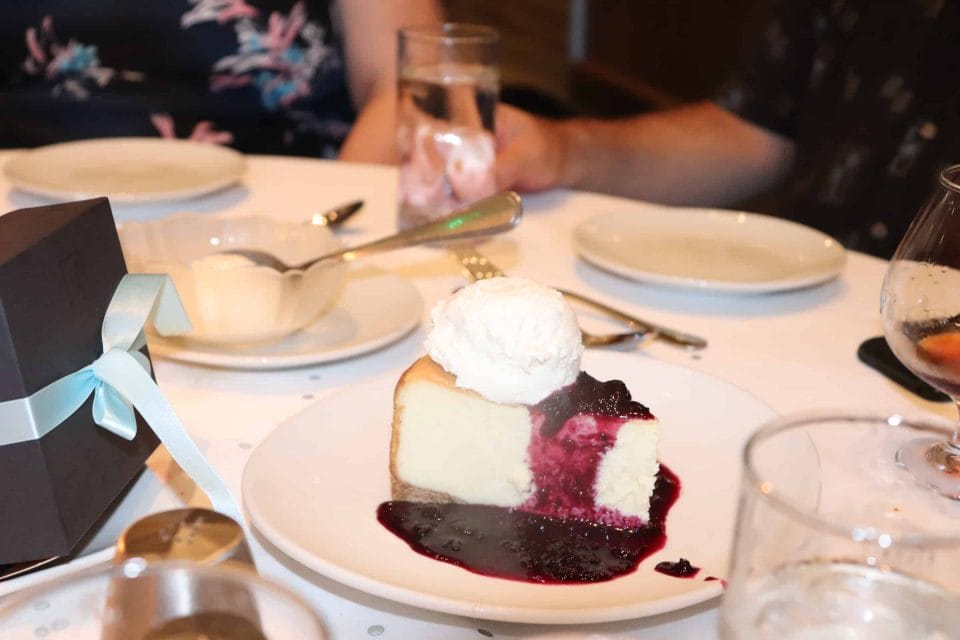 Dessert, we went with a cheesecake and a chocolate lava cake. I still think about it.
The wine list was incredible. They had so many different varieties of wines, it was hard to make a decision. We ended up with a California blend and finished the meal with Tawney Port wine.
Flemings wasn't cheap. It was actually rather expensive, but for a special occasion or business meal, it is definitely worth it!
Sunning and eating our way through Pompano and south Florida was a great getaway.