If you get an opportunity to go to Delray Beach, Florida, make sure to visit Lily's Handmade Ice Cream in Delray Beach, Florida. It is the best ice cream in Delray Beach, Florida.
The shop is located at 4900 Linton Avenue in the BocaRay Plaza. When you walk inside, it's nicely decorated and you feel like you are at an old-fashioned ice cream shop.
What's so special about Lily's Handmade Ice Cream?
The ice cream shop is a family-owned business. Ori is the chief creator of ice cream flavors. He makes unbelievable flavors that are unlike any other ice cream shop I've been to.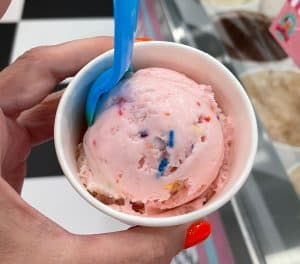 Ori spends hours developing interesting combinations. The premium dairy is locally sourced as well as homemade goodies that are added to many of the flavors.
Interestingly, you won't find the traditional cookie and cream or cookie dough at Lily's. But you will find
Reese's Take 5 – Peanut Butter, Reese's Pieces, Peanut Butter Cups, Snickers, Pretzel Nuggets & Caramel
So Flo Swamp- Chocolate Ice Cream with Oreo Cookies & Chocolate Chips
Boozy Coffee Beans- Over 21 ONLY – Coffee Base, Bailey's Irish Cream, Kahlua & Chocolate covered espresso beans
Animal Circus – Cake Batter, Frosting, Frosted Animal Crackers, Sprinkles
Southern Pecan Pie – Butter Pecan base with lots of Pecans
Black & White – White Chocolate Base, Brownies, Blondies, Walnuts
among other flavors
Ori told me that their signature ice cream is the Dusty Monkey, which is fresh bananas (not artificial flavor) and a Biscoff cookie. He let me have a taste and OMG it was out of this world! It tasted like a cold banana foster (my favorite!).
Taste Test
When we originally walked in, I wanted my usual cookie dough ice cream. Lily asked me what I like and I told her cake batter ice cream. She gave me a taste. WOW, I was totally blown away and I ordered a children's scoop.
My brother, sister-in-law, nephew, and I took our ice cream creations and sat outside. With every taste, I felt like I was in heaven. (I believe heaven is a place where you can get ice cream at any time without gaining a pound! Haha!)
Ori came outside and I got an opportunity to talk with him. He told me that every couple of weeks, they change flavors. He loves to experiment and try different combinations.
"Taste whatever you like," he told me. "But, make sure you check out the bathroom."
This is what I found in the bathroom:
About Lily's of Delray Beach
The shop and is owned and operated by the Gilinsky Family.  They collaborate with local business owners who inspire them to make special flavors for their restaurants and sponsoring fundraisers for schools in their community. There are several classic flavors that remain a constant on the menu as well as fun and exciting flavors that are created for holidays, special occasions, and simply on the whim of Ori.
Vegan and no added sugar flavors are always available and have become a favorite of local residents and customers visiting the area.
Would I recommend it?
I absolutely would recommend and if you are in or near Delray Beach, stop in and try something new. I think you will be pleasantly surprised as I was! The website is https://www.lilyshandmadeicecream.com/.