Now that we are living in the age of COVID-19, we are required to wear masks in public. Therefore, what does a business person do? We have meetings. We have new business presentations. How do we walk into a meeting wearing a paper mask while wearing our finest business attire?
Recently, Christopher Allen Custom Clothiers reached out to me with an email that they had masks readily available for business people. I requested one for review on this blog.
Cotton Masks for Business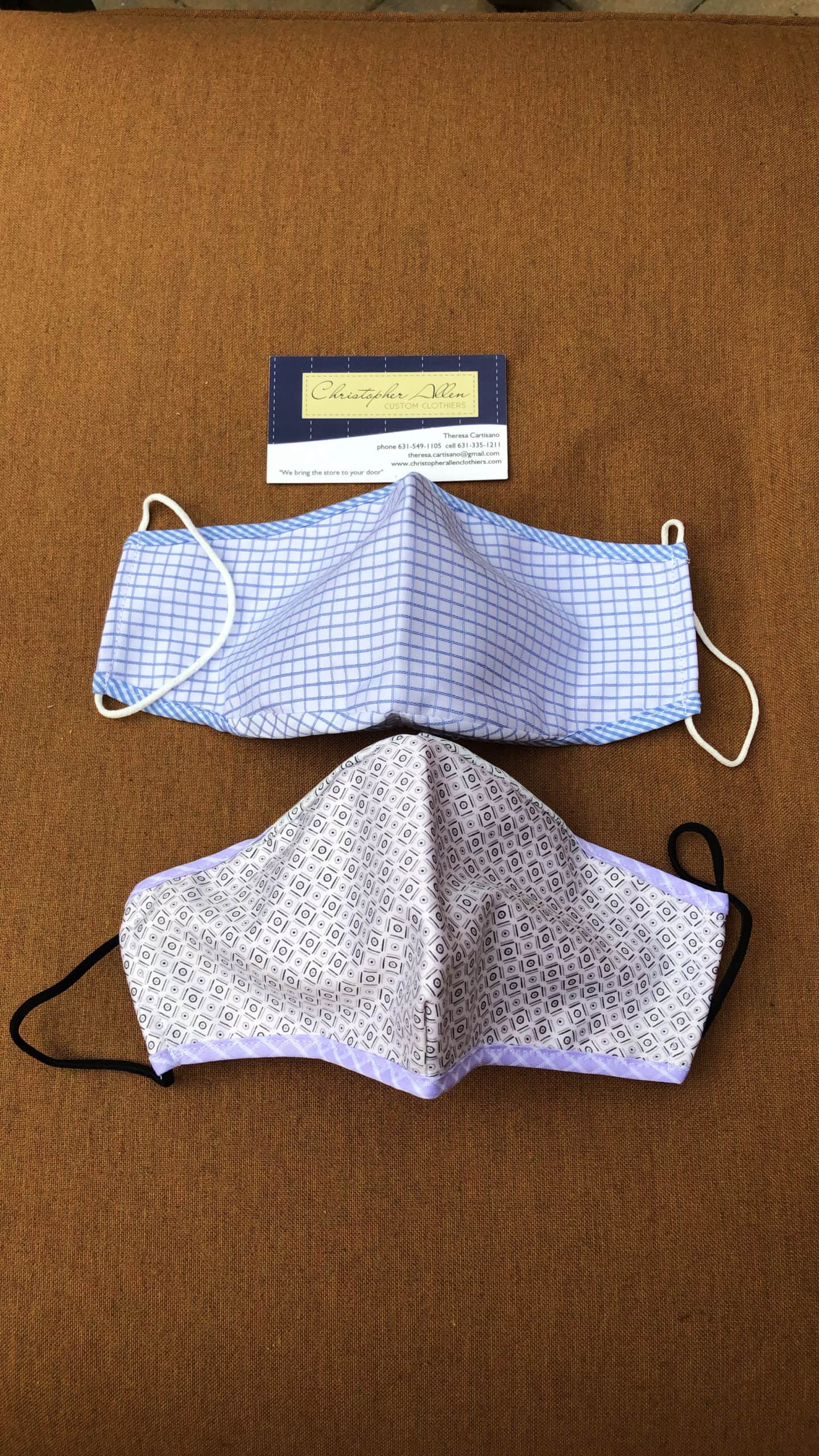 Christopher Allen is a custom clothing business on Long Island. They will go into your home or office, measure you and show you an array of fabrics and styles. Once you decide what you are interested in, a custom suit or clothing will be made especially for you.
After the COVID-19, they also make masks for business.
Masks are priced as follows: 1 for $20, 3 for $50, and 6 or more for $10 each. They are made from fine cotton shirt fabrics including Sea Island, Pima, and Egyptian cotton.
These business masks are non-medical, hand-sewn masks and are reusable, washable, and designed for comfort. Fabrics are repurposed shirting materials from their production line–working to minimize waste and use these leftover pieces for good.
Each mask has a three-layer construction with a pocket for disposable filters. Soft with no pressure points, elastic ear hoops, and embedded metal nose support. Extra fabric is sewn on the bottom to wrap naturally to the face.
Like their shirts, the masks use modern colors and sophisticated patterns—you'll be low key but stand out in all the right ways. They even add an accent trim for even more visual style points.
Taking them for a Test Drive
When I opened the package, I was incredible impressed with the calibre of the fabric. It's made out of fine cotton fabric and you can tell! It's soft on the face and to the touch.
In addition to the softness, I like the way the masks are made. They have an area for your chin and they are extremely comfortable. I wore this mask to work and wore it all day. It was comfortable and I was able to breathe!
I was curious about activity since it was so comfortable. I took it with me to the park the other day and ran four miles in it. Although I found it rather comfortable and can use it for a bike ride or run, I thought it more appropriate for a business meeting because of the fabric.
When I asked the owner if it would be okay to run in, she said, "sure why not?"
Background on Christopher Allen
Christopher Allen was founded in 2005 by Chris and Theresa Cartisano. "We have both been in the custom clothing business for over 25 years. We do not have a storefront and we don't sell online. We offer full-service wardrobe consulting and fine custom tailored clothing in the luxury of your office or home. We assess your wardrobe needs based on profession, lifestyle, budget, and desires and offer guidance on fabric, style, and fit.
We offer our clients suits, shirts, sport coats, pants, tuxedos, overcoats, ties, etc. Our service saves you time and the hassle of shopping in a store. Our garments are made with the finest craftsmanship and include all custom options such as functional buttonholes, accent trims, and personalization."
Theresa went on to tell me that she has seasonal collections of over 4,000 fabrics to choose from including those from the finest mills such as Dormeuil, Vitale Barberis, Loro Piana, Reda and Holland and Sherry.
Where to buy the masks?
You can buy masks or anything else from Christopher Allen Custom Clothiers by going to their website at www.christopherallenclothiers.com or you can call Theresa Cartisano at 631-549-1105.