After touring three cities in Spain, our party took a bus and crossed the border to Portugal. (Unfortunately, there are no trains that cross the border, so you have to take a bus.) We took a bus from Seville, Spain to Faro, Portugal. If you are flying directly into Lisbon, you can still follow this itinerary.
Faro, Portugal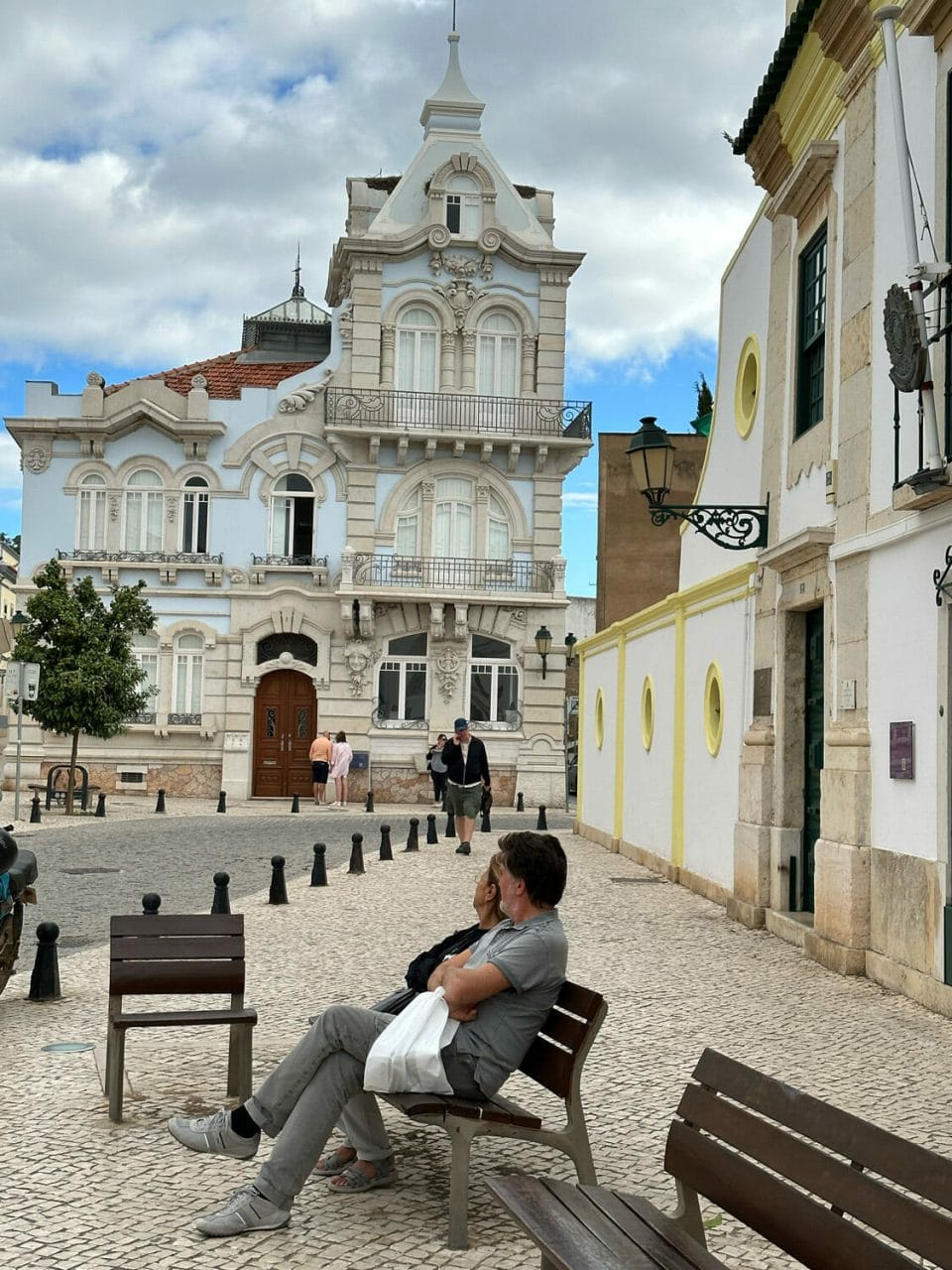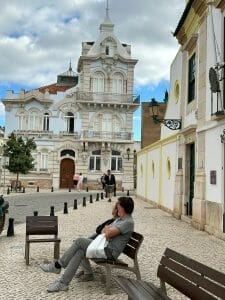 We took a bus early from Seville to Portugal. It took about two hours or so to get to Faro. Once there, we loaded off the bus and walked to our hotel which was 3HB.
3HB was the nicest hotel we had been to on the trip so far. The rooms were ultra-modern, each was spacious and had a sitting area in an outside courtyard. The hotel had two restaurants – a Portuguese and an Italian restaurant. It also had a spa with a nice body temperature spool (small pool) with lots of jets. It also had a series of showers including a bucket shower with ice-cold water.
Further, it had a Turkish bath and a sauna. You had to book them in half-hour increments, and it was well worth it.
Up on the fourth floor, they have an outside pool, which was absolutely freezing. It was an infinity pool and looked as if the water was falling onto the city.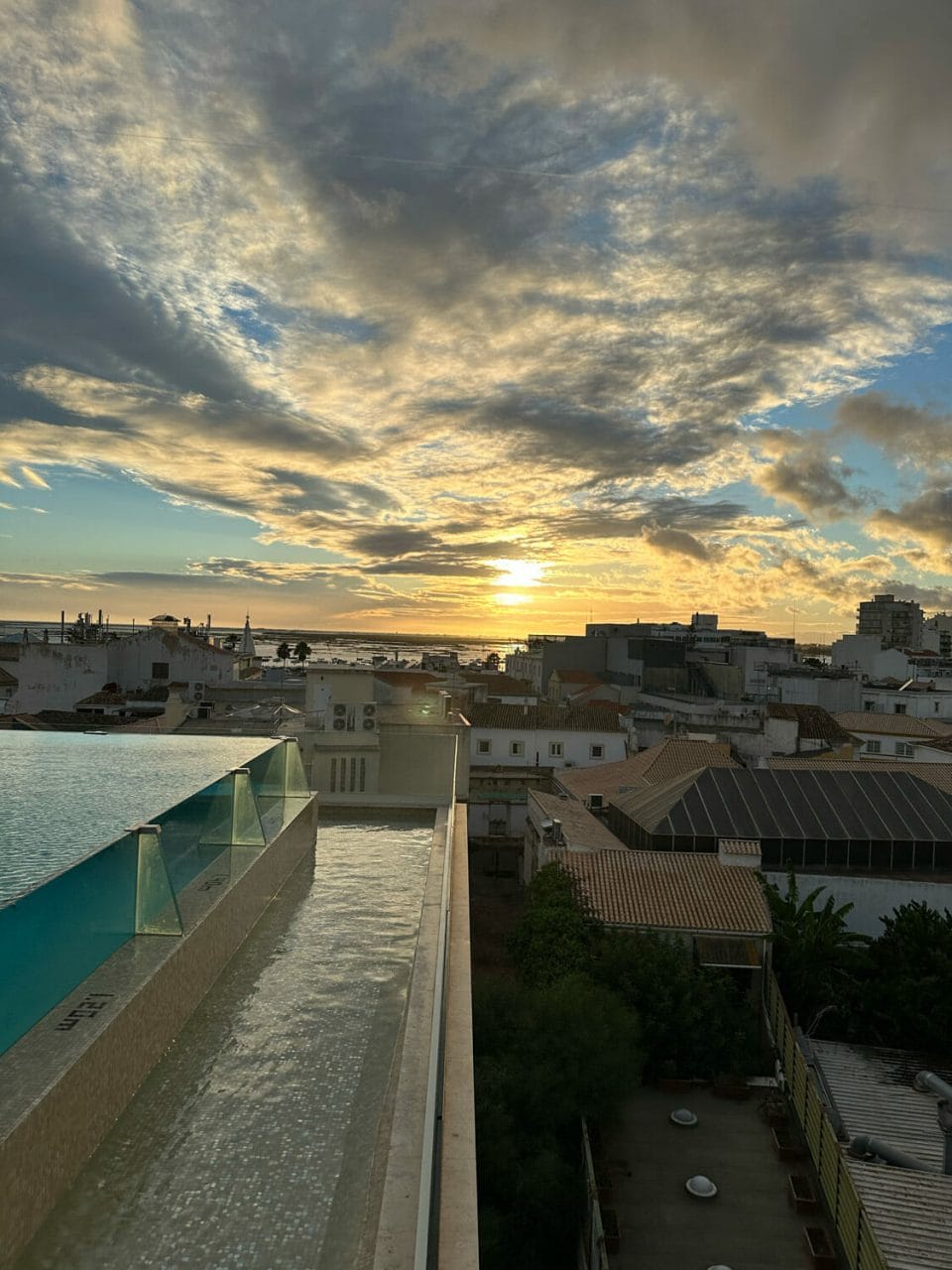 We dropped our bags off at 3HB and headed to the dock to catch a speedboat to a deserted island where there was a restaurant.
Deserted Island
The boat ride was adventurous and a lot of fun. I would highly recommend it.
We got off the boat and had to walk up a steep staircase to the island. It was narrow and steep. When we climbed up we were there. There was nothing on the island except an upscale restaurant right in the middle which was solar-powered.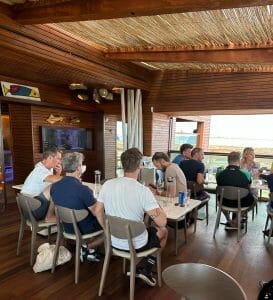 The restaurant called Estamine was delicious. I had prawns in garlic and butter. The rest of my party had something that looked like a fish stew. They loved it.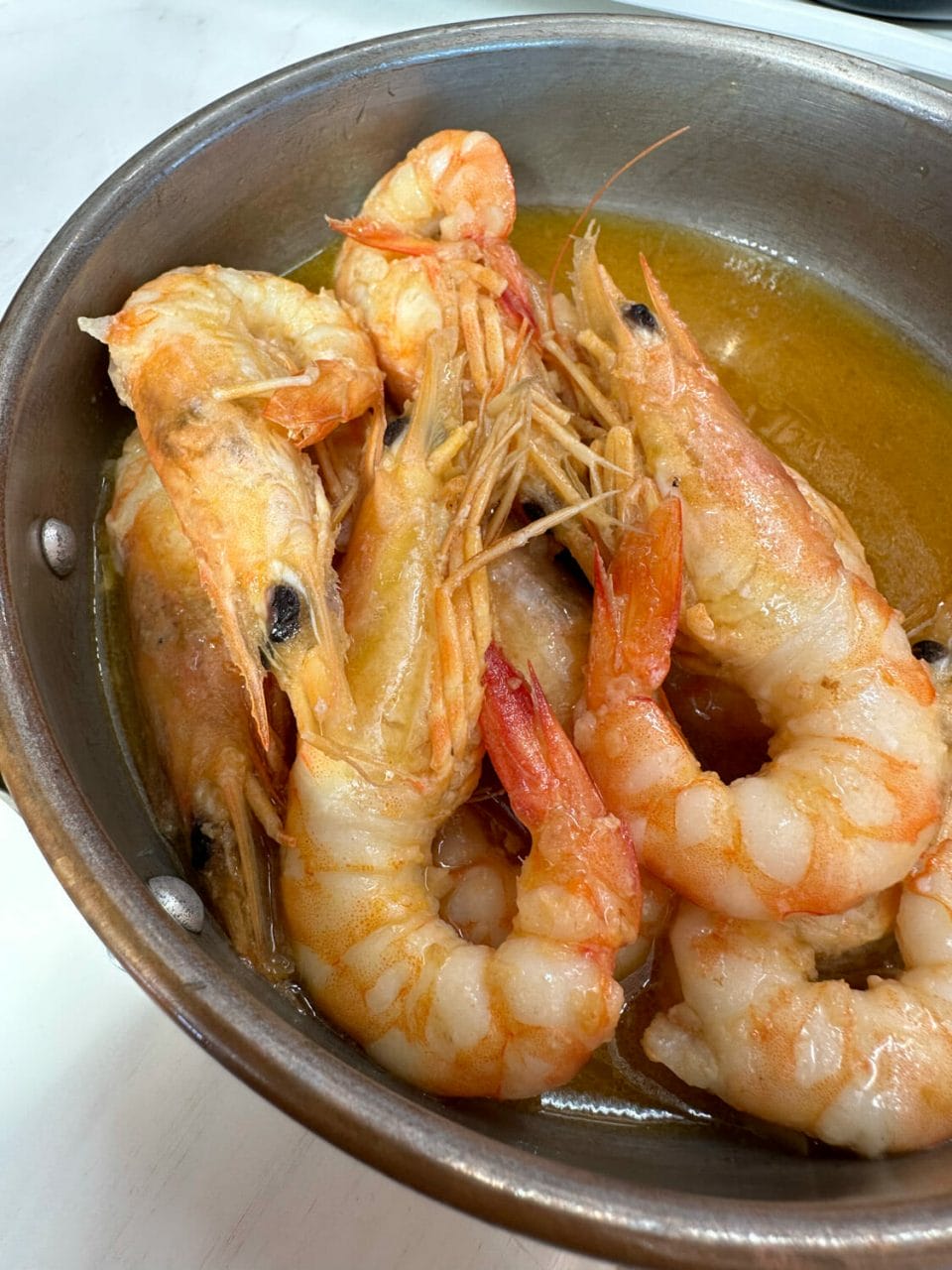 Again, the desserts were incredible and so tasty.
When we got back to the hotel, we went directly to the spa. We didn't book any services but enjoyed the sauna, Turkish bath, and indoor pool with jets. It was well-needed after walking practically a half marathon a day.
That evening, we didn't miss a meal, we ate at the Italian restaurant on the premises. I had the lasagna, which I found different yet excellent.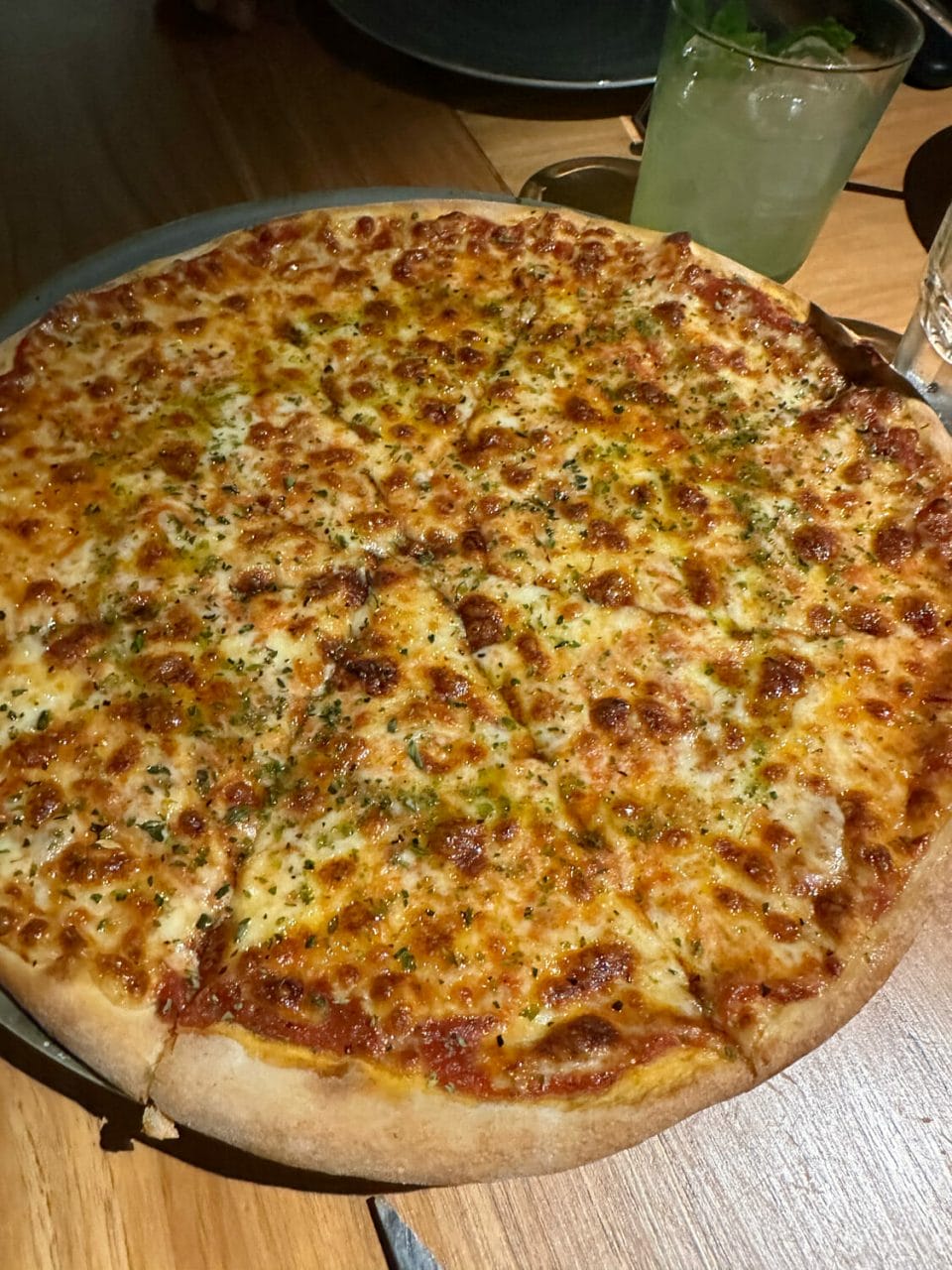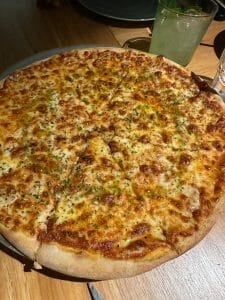 Lisbon Day 2
We caught an early train to Lisbon, dropped off our bags at Hotel 7 on the main tourist street in Lisbon, and started to walk. Before anything, we stopped at an interesting restaurant for lunch. There we had a variety of Portuguese foods including Salmon and Octopus.
After that, we walked around and explored the city. Here are some of the sights we saw.
In the middle of the city, we saw a Jewish star. The Portuguese were making amends for the hundreds of thousands of Portuguese Jews who were either forced to leave their homeland, convert to another religion, and/or got beaten to death. I wondered if that little monument was enough. I didn't think so.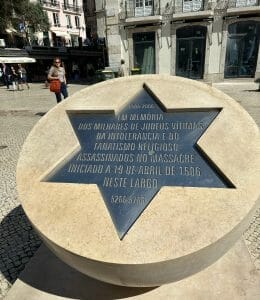 We got to tram 28 and road it up to the palace and around the city. It was the cost of a subway ride and every tourist in Portugal was on that bus. It was packed with standing room only.
That evening we went to Time Out Market, where they had an array of foods from all over. There were at least three or four kiosks with foods from famous Portuguese chefs. In the middle of the market, which was huge, was a bar area with a wide assortment of beers and wines.
Lisbon Day 3
The next day we awoke early and headed over to the Castle of Sao Jorge. It was so interesting to climb the castle, which dates back to the 8th century BC. If you climbed up to the top of the tower, you saw a great view of the city.
After that, we headed over to Belem and saw another castle by the sea and saw the Age of Discovery, a sculpture that faces the water.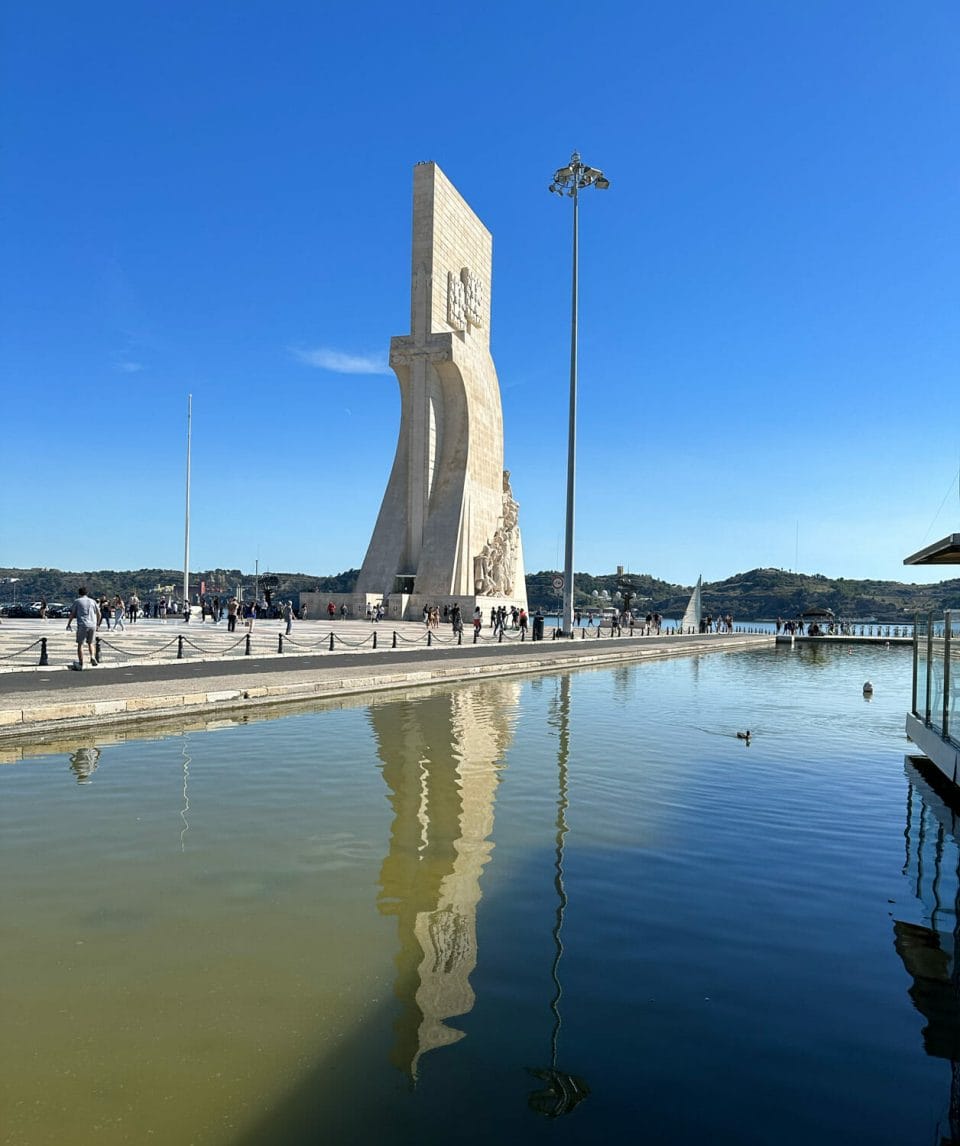 As a recommendation from a friend on Facebook, we headed over to the Battise de Belem for a Patisse de Belem, which apparently was invented there. These creamy little cakes are out of this world and a must if you visit Portugal.
After filling up on pastries, we saw the Jeronimos Monestry, which was simply breathtaking. It was amazing the detail and artistry that goes into making these structures — very impressive.
Palacio de Grillo was where we had dinner. It was situated in an old castle and had three performance artists walking around doing very interesting things. (Check out the upcoming blog to find out more.) The food was decent and worth going to.
Sintra and Cascais
Most say you can't do both in a day but both have so much charm, we decided to prove them wrong! We started out by taking a train from Lisbon to Sintra. It was a half-hour ride and very pleasant. When we got there, we took a cab up to the start of the hill. We paid an additional three euros to take a tram up to the top, which I was glad we did.
Once we got there, it was still a little bit of a climb. But, it was well worth it. The Palacio Nacional de Pena is breathtaking. I felt like I was in Cinderella's castle. It was painted with bright colors that were maintained through the years. We walked around the entire palace and then went outside and walked the ramparts. The views were incredible.
After that, we got into a taxi and drove to Cascais. It cost us $20 euros.
We had lunch at Hifen. The food tasted good. They had an interesting menu and the location was great. It was overlooking the beach.
We had a little mishap, which you will find in another blog post, and we got towels and suntan lotion to go on the beach.
It was hot, very hot. The sand was soft and felt like New York sand. It was pleasant to walk on and we found a nice spot by the water. We opened up the big towel we bought and soaked up the sun. When I was ready, I headed down to the water and walked in. I knew it would be cold, but I didn't expect it to be that cold. The water temperature was in the low 60s and felt like ice cubes. I went in but only for a moment. I think 40 seconds to be exact.
That evening, we went to Prado, a Michelin-starred restaurant with two tasting menus – one for $65 and the other for $85. We opted for the less expensive one with less food. (Look for another blog on Prado.)
Porto
The next morning, we took a train to Porto from Lisbon. It took approximately three hours and was easy to navigate. Once there, we spent the day exploring the city.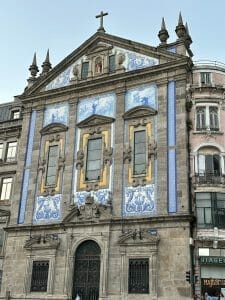 Porto is a popular vacation spot for Europeans, so it was very crowded.
We checked into the Se Catedral Hotel Porto Tapestry Collection by Hilton. It had a lot of neon and was such a fun hotel. They had artwork throughout that were spoofs of famous artists' works. The size of the double room was rather large as well and we had a perfect view of the cathedral across the street.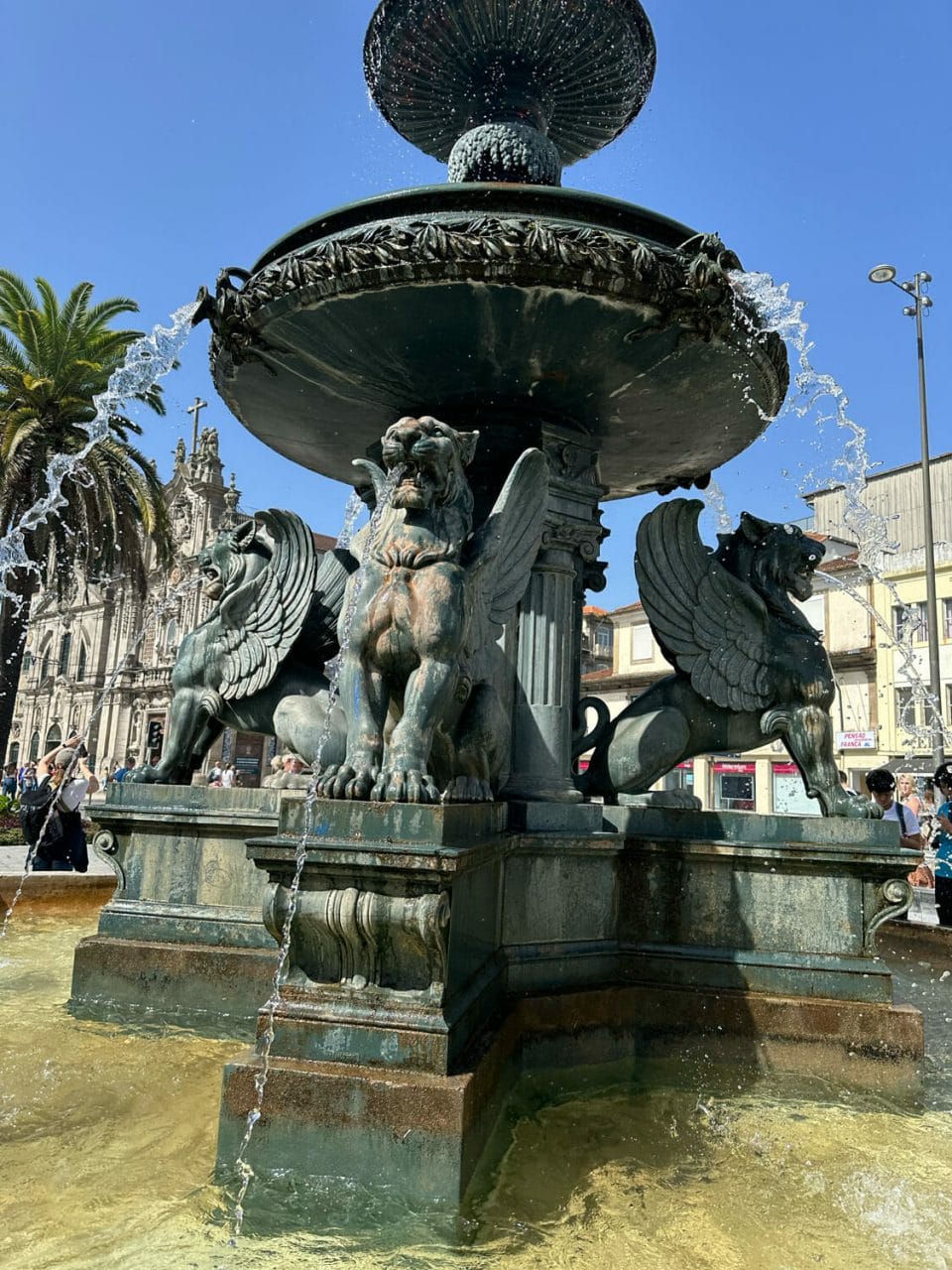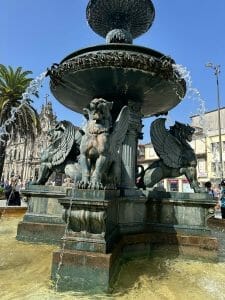 Porto has a lot of hills. It's not rolling, they are steep going up and going down. The streets are lined with cobblestone which was uneven and hard to walk on.
That first day, we walked a lot, 8 miles to be exact. We walked from one side to the other via a huge bridge that connected the two areas. On the other side of where we were staying were all the wineries. You could go into any of them and have a port tasting.
We tried to get into several different places but were unable.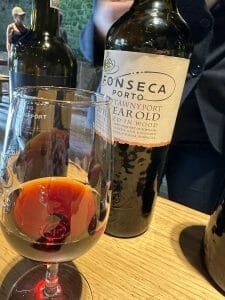 We decided to check out Fonseca and tried out several different wines. What a difference between the 10-year tawny, 20-year tawny, and a bottle of the reserved port!
In that area, they had lots of street vendors selling cork bags and other cork products.
After we were finished, we took a gondola to the top of the hill which dropped us off at the top of the bridge. (When we walked across the first time, we were on the bottom level.)
As we walked across, we saw amazing views of Porto. It was gorgeous.
On our way back to the hotel, we saw the train station and had to walk inside. This is what we saw: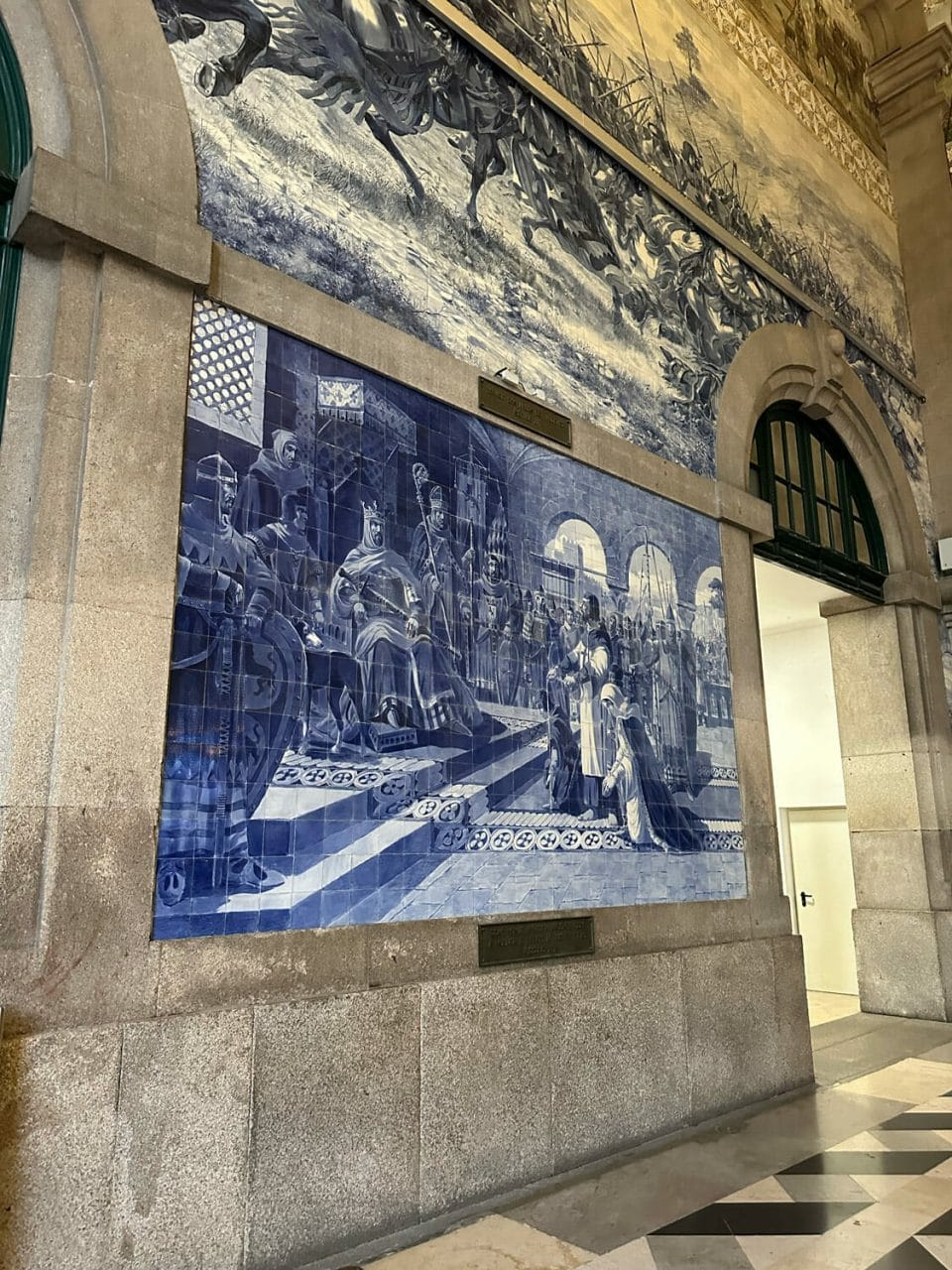 Porto Day 2
The next day, we went to breakfast at a small restaurant called Mengos. I laughed when I saw the menu. You could get traditional eggs and toast or you could get a glass of wine and a nata (the national cookie of Portugal).
After breakfast, we shopped. We went from one store to the next. I couldn't believe how inexpensive the clothes and shoes were and ended up buying a pair of sandals for $19 euros and a beautiful sweater for $20 euros. (Euros = Dollars)
We continued to wander in search of The Livraria Lello bookstore, which is the oldest and most beautiful bookstore in the world. Interestingly, once we got there, we had to pay 5 euros to get in the door. Thankfully, the 5 euros could be used toward a purchase, but it acted as a fast pass to go on a shorter line. The bookstore was beautiful and well worth the wait.
After that, we headed down to the water. I wanted to go for a boat ride to see the six bridges. But before that, we had a relaxing lunch with delicious sangria.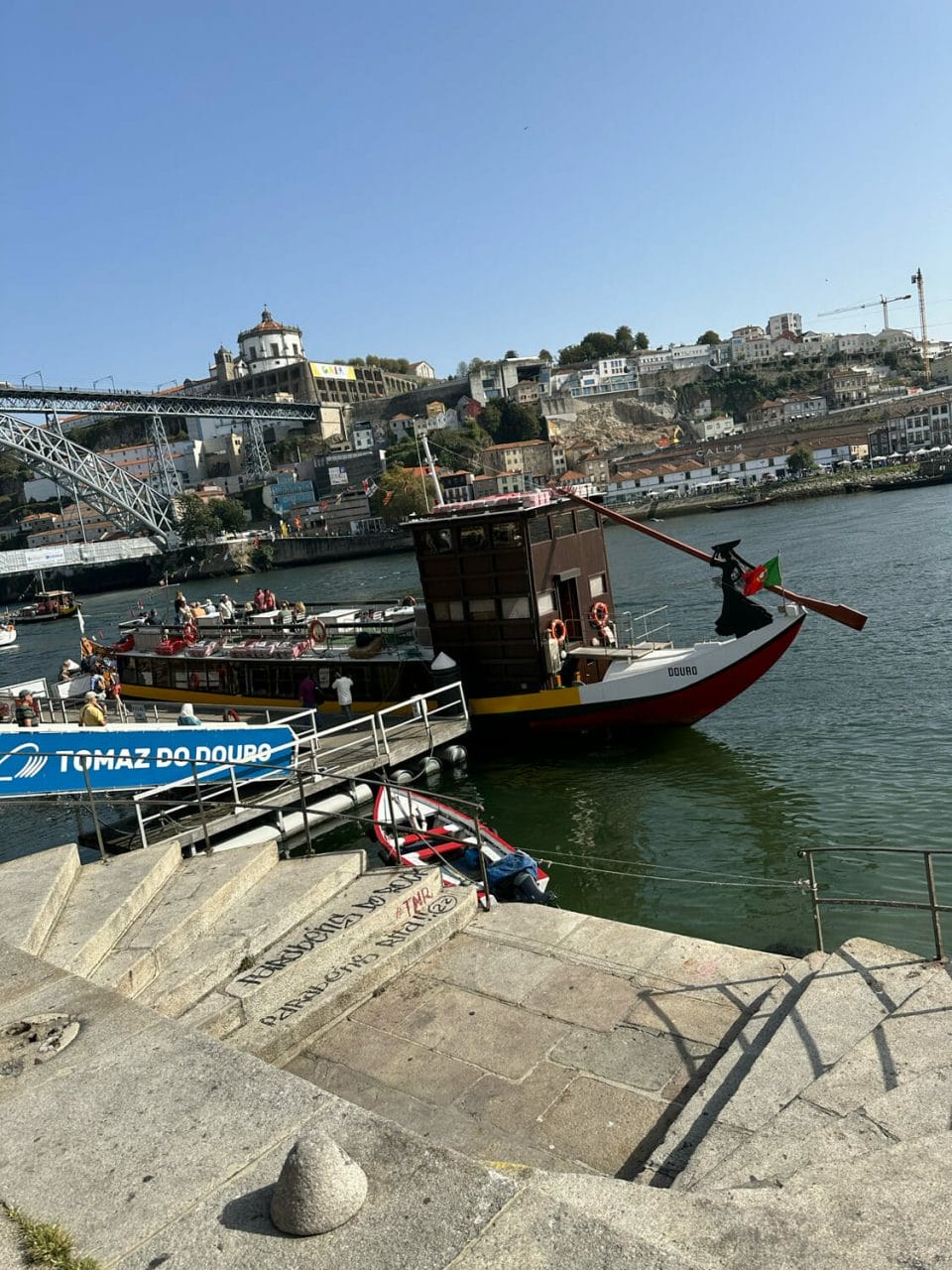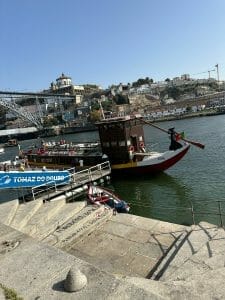 The boat ride was good because I needed to sit for a while. I've been having issues with my feet and it was very uncomfortable most of the trip for me especially walking on the cobblestone streets and sidewalks.
That evening, we went to Kob steakhouse. It was fantastic and I was really glad that we got in. We had Portuguese steaks that were incredible.
It was the perfect way to finish an evening in Porto!
The trip to Spain and to Portugal was fantastic and I would highly recommend traveling there!