Recently, I went to see the Harrison & Belew concert at Sony Hall in New York City. They played most of the Remain in Light Talking Heads album in its entirety.
The night started off with a thunderous performance of "Psycho Killer," one of the band's greatest hits that had everyone singing along. The vibe was electric and it only got better as they moved through their setlist.
About the Show
The band was put together by Jerry Harrison and Adrian Belew, both members of The Talking Heads in the 70s and early 80s. They played at Sony Hall on March 9 in New York City. The show was a great mix of all the songs on the album including: "IZimbra," "Cities," and "Once in a Lifetime."
The energy in the room was palpable. Everyone was grooving to the music, singing along with Jerry Harrison and Adrian Belew's impressive vocals. Adrian Belew is one of the best guitarists around.
The show ended with a bang as they closed out their set with "Take Me to the River" from the album. The crowd was so captivated by their music. The encore was "The Great Curve."
Overall, the Harrison/Belew tour of Remain in Light was a great success. Everyone in attendance left with a huge smile on their face and could not stop talking about how amazing the show was. If you get a chance to see them live, do not miss it!
My Thoughts
The venue was amazing, with high ceilings, and felt like an old-fashioned speak-easy. But, Sony Hall oversold seats. It was so packed, I felt uncomfortable. I wore my mask most of the evening. People were practically standing on each other's toes. It was that crowded.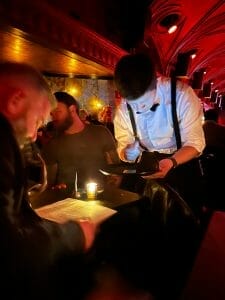 The other thought I had was that we were seeing a cover band. Although Harrison and Belew were brilliant, it just wasn't the same without Tina Weymouth, Chris Franz, and of course, David Bryne.
We had tickets for the VIP section which allowed us to sit in a small area. The rest of the "seats" were standing room only. It was worth paying for the VIP seats, however, there was an empty table next to me and I saw a group of people sneak in and sit there. When the waiter asked for their wristbands, I noticed that the guy next to me pulled out $20 and handed it to the waiter. He let him sit there. That was a bit upsetting since we paid nearly $40 more per ticket.
Despite all of this, it was still a fun show.