One night, while in Israel, we went to a "top" restaurant in Moshav near Nahararya. The restaurant is located on a kibbutz.
When you walk into the old wooden door, you are surprised to find an upscale, rural-feeling bistro inside. The large wooden tables gives diners enough room and it was extremely comfortable. Almost every table was taken.
The restaurant had a warm, welcoming feeling. We were greeted and brought to our table. A young woman served us. The Sommelier discussed the wine menu with us, which was only written in Hebrew.
Thankfully, they printed out English menus for us.
The Starter
We started the meal with Tuna Tartar along with grilled asparagus. It was a perfect opener.
Main Course
Everyone at our party had a different entree. One of our party members had calamari. It was grilled and had a nice flavor. The vegetables were caramelized and tasted amazing. The meal sat on top of a bed of Labneh (sour cheese made from yogurt)
Another party member had the brisket of beef, which the party member said melted in his mouth. It came with bone marrow, which was fatty and lumpy.
Two members shared the 24 oz prime rib. It came with roasted potatoes, tomato, onions, and garlic. They loved the food.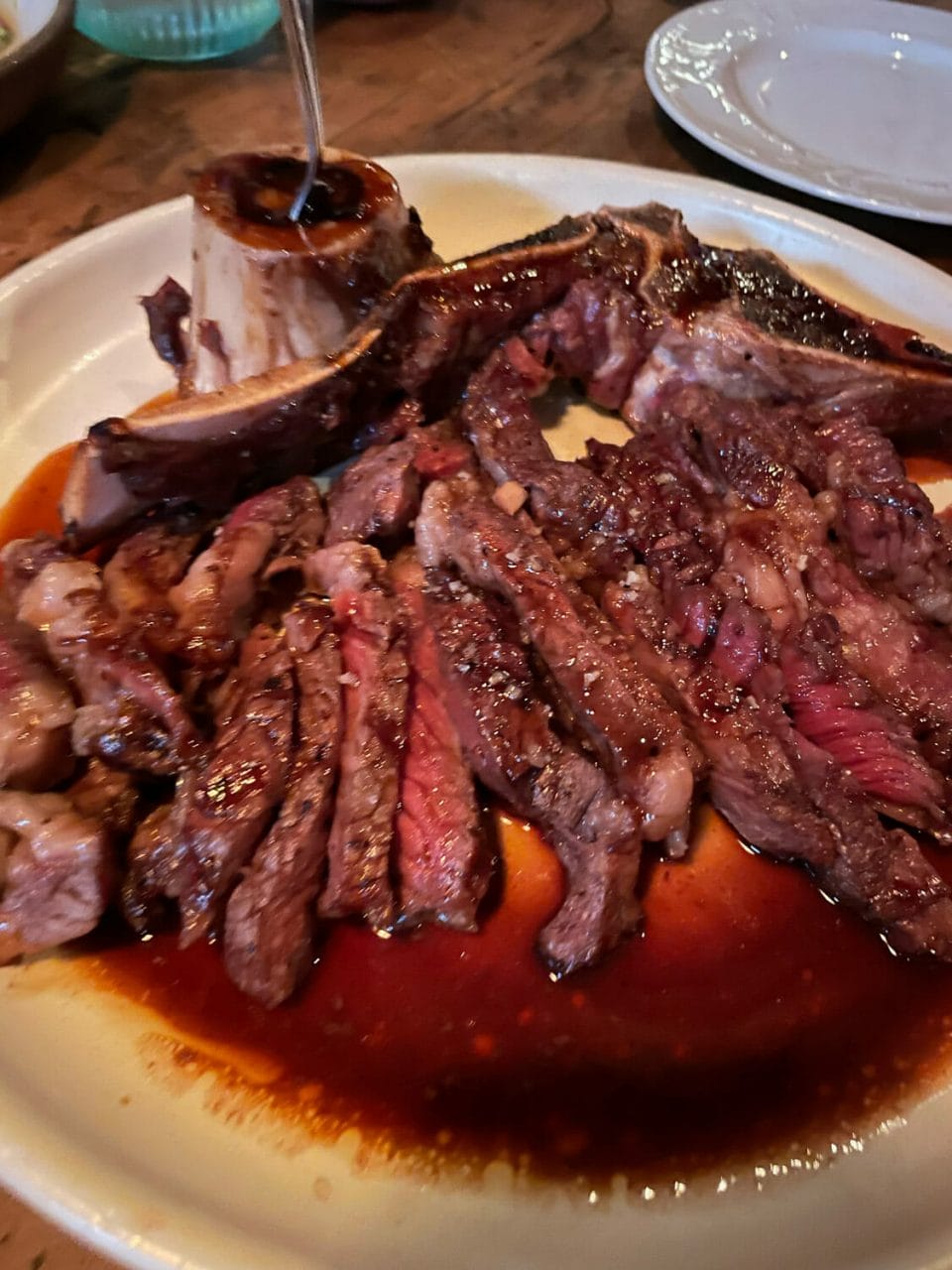 I ate the brochette of beef fillet with potato gratin. It was excellent.
Desserts
The dessert was unbelievable. The tastes and flavors danced in your mouth. We had a Basque Cheese Cake, chocolate flan,  Pana cotta with butterscotch, and an amazing Honey tart. All outrageous.
The Bathrooms
Interestingly, the bathrooms were in a hut around the side of the restaurant. It smelled delightful, which was crazy.
Would I recommend it?
We absolutely loved it. We paid approximately $80 a person and it was well worth the price!