When my brother, Ed, and sister-in-law, Andrea, asked Brian, my husband, and me to join them for their 25-anniversary trip to Israel, we said, "sure." After agreeing, my cousin, Mindy, also wanted to come, so we booked a minivan, an AirB&B, a couple of hotel rooms, and Andrea created an itinerary. Andrea and Ed had been to Israel before. It was the first time for Mindy, Brian, and me.
Andrea also lived in Israel for a while and also conducted a couple of teen tours so she knew exactly where to go.
Here's what we did:
Day 1 – Tel Aviv
We arrived at the Tel Aviv airport. It was a disaster. There were so many people trying to get through customs and the line wasn't moving. (If I didn't know better, I would have thought Covid was non-existent. No one wore masks and we were shoved together like cattle.) It wasn't a good first look at Israel and I wondered at that point whether we should have gone somewhere else.
When we finally got through, we went to our hotel at the Sheraton Tel Aviv. It was lovely. We were greeted with a glass of wine and welcomed. Ed, Andrea, and Mindy flew in on El Al. Brian and I flew Delta. We all met up at the Sheraton.
That night, we went to Jaffa, the old city, for dinner. I wasn't thrilled with the meal but everyone else seemed to like their food. I never liked middle eastern cuisine and this trip confirmed my feelings.
Day 2 – Apolinia and Naharia
The next day, we went to the beach in Tel Aviv before heading out. The water was incredible. It was a gorgeous blue-green color and I jumped in and started swimming. I felt like I could have kept swimming forever.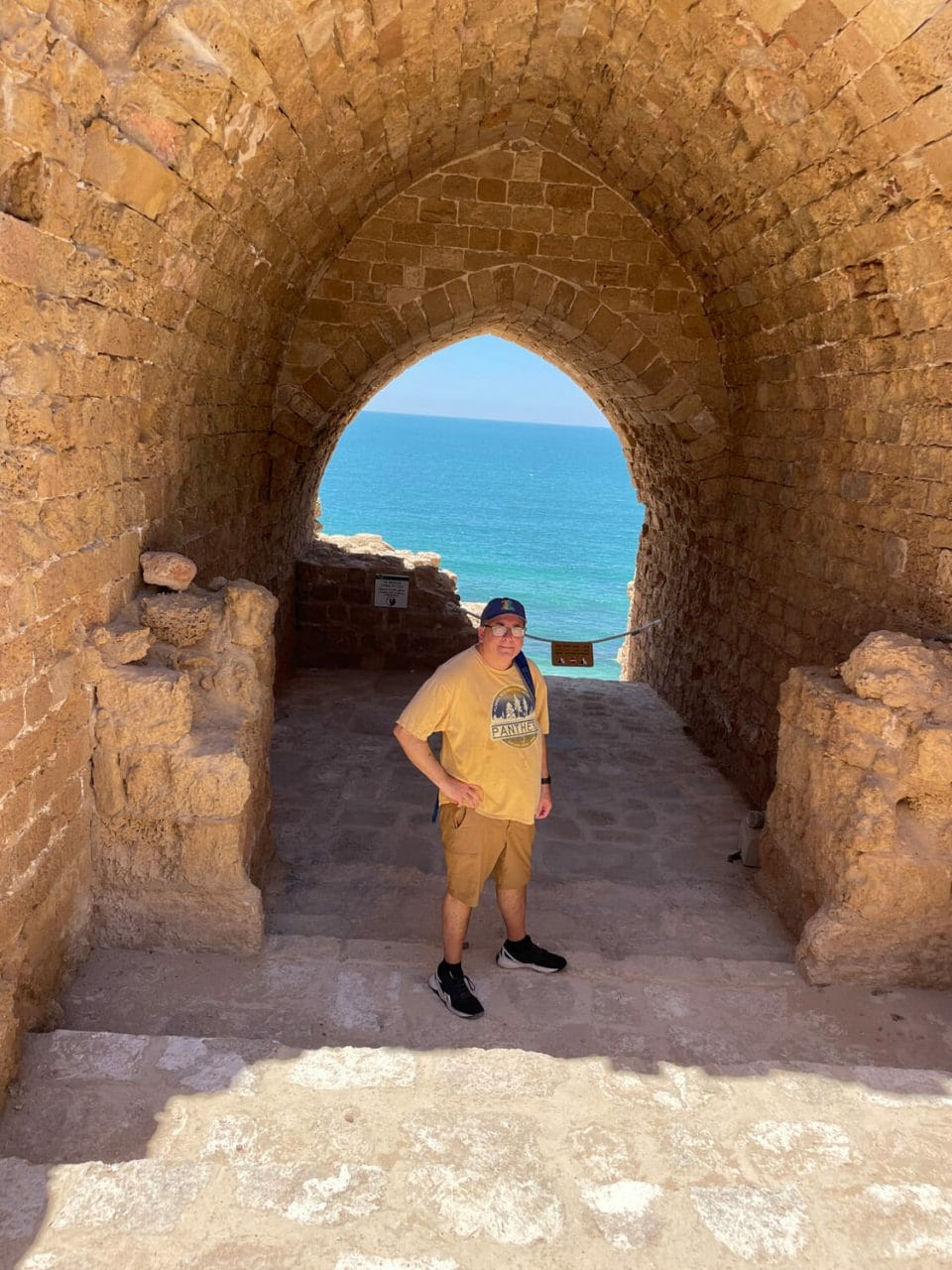 After a little beach time, we got into the rental car and drove a couple of hours to Apolonia. There, we saw the ruins of the Roman seaside villa and the Crusader fortress. We walked around this amazing park that was situated above the Meditteranean. It was incredibly hot.
After some time, we got back in the car and headed to Nahariya. We stopped off first at a Libyan restaurant where we had traditional Libyan food. (If I didn't like the Israeli food, I definitely did not like the Libyan food. But, it seemed that most of my party loved the food.)
We checked into an Airbnb that was a couple of blocks from the beach and went out to dinner at La Lush, which was highly recommended on Trip Advisor. It wasn't bad. The brick oven pizza was surprisingly good. (I didn't think the Italian food would be good in Israel, but I was dead wrong. It was amazing there.)
Day 3 – Nahariya/Tsfat
After having breakfast in the Airbnb, we got into our rental car and drove to Tsfat. This old town had cobblestone and a long staircase down that ended in the plaza. There were a variety of stores, located in alleyways. Each shop looked the same. Most sold items like Menorahs, candle sticks, etc. They had an array of colorful artwork by Emmanuel and Gerstein, famous Jewish artists.
I wasn't impressed with Tsfat. To me, it reminded me of 14th Street in the 1980s. I felt like each store sold a lot of junk.
We ate traditional Israeli food in the square along with dozens of kids who were on Birthright. The food wasn't very good. I could barely eat my falafel.
While there, we stumbled upon an old temple. The tour guide talked about the temple and we listened in for a little bit. He said that the holocaust could easily happen again and we should be prepared. It made me shiver.
Day 4 – Akko
It was Shabbat and nothing was open so we got up early and headed over to Bahai Center. When we got there, we saw gorgeous gardens and a palace. Bahai is a relatively new religion that has sites around the world. This was the main headquarters.
After that, we headed over to Akko. There, we went to the Mosque and the underground city of the Crusaders. It was very interesting and worth doing. Following that, we took a boat ride for only 15 minutes. But, it was a total blast. The captain played Arabic music and we all danced. After that, we walked around the market. It was more of the same junk and then we headed home.
Day 5 – Rosh Hanikra and Beach
We spent the morning at Rosh Hanikra, on the border of Lebanon. Rosh Hanikra was a series of caves and tunnels called the grotto. There once was a train there. The tour consisted of a gondola ride down to an area where the trains used to run. The grotto was a series of tunnels that had water flowing through it. It was spectacular in sections.
Rosh Hanikra was on the Lebanon border. It felt uncomfortable to see the guards standing there with machine guns along with all the wires that separated the two countries.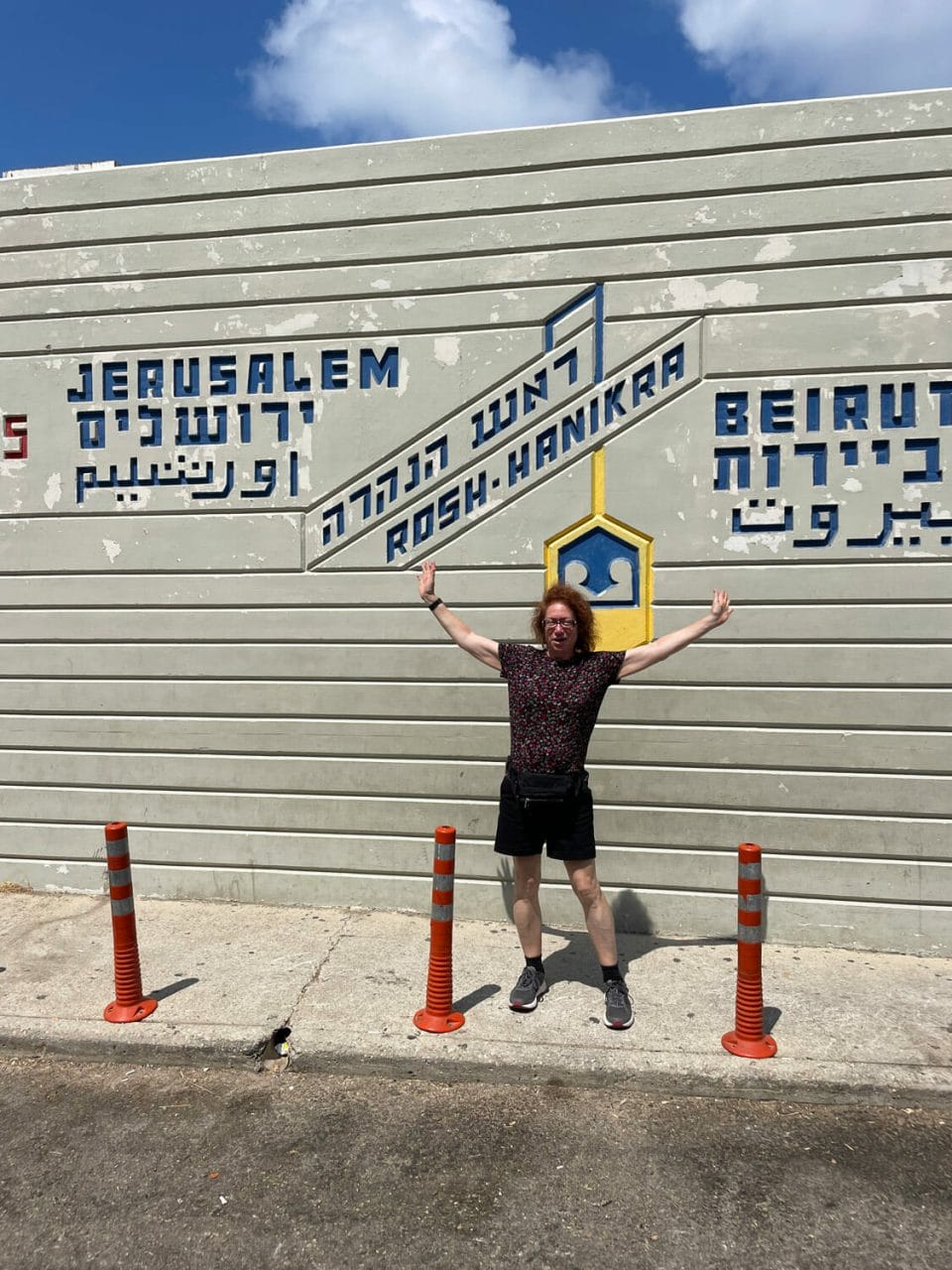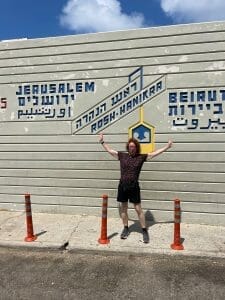 After that, Brian and I spent time on the Naharya beach while the rest of our party went to a Kibbutz. We thoroughly enjoyed the beautiful beach and clear aqua water.
Day 6 – Dead Sea
The next morning, we headed over to the Dead Sea. It took a long time to get there. To break up the trip, we stopped at Tzora Winery where they sold Judean Hills Wines. Three of the five of us had a tasting for approximately $30 US dollars. We got a taste of five different wines – one white, two reds, and a dessert wine. They were incredible and I plan on purchasing them when I get back to the states. They were just as good as any of the Italian or French wines that I love. (See upcoming blog post!)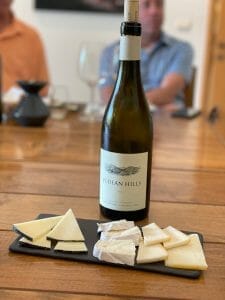 After several hours, we ended up at the Dead Sea. We went 400 feet below sea level. It was hot and the Dead Sea was boiling hot. We jumped into the sea. I really didn't expect the water to be so warm. We floated for a bit. It was a strange sensation. There was so much salt that you couldn't help yourself but lie down. Even my cousin who didn't know how to float floated in the water.
But, it was so hot. The sun was scorching. The water felt like it burned my skin so I quickly got out and took a shower. (By the way, it's a myth that your bathing suit gets ruined. I brought a throw-away bathing suit and it was fine.)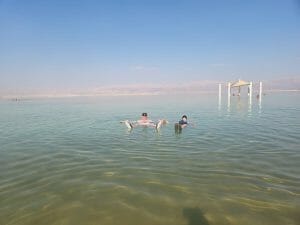 We stayed at the Oasis Hotel and Spa. Since there were no restaurants there, we ate both nights at the hotel. I felt like I was at my grandmother's house. I didn't care much for the food but there was a lot of it. The thing about Israeli food is that they combine strange combinations of things, especially for breakfast. Could you imagine having tuna salad and a regular salad for breakfast?
Day 7 – Walking up Masada and Seeing Waterfalls
Ed, Andrea, and I got up at 3 am for a 4 am drive to Masada base. There, we showed our park passes (by the way, we purchased a park pass for all of the parks for only about $20 – $30) and climbed up Masada. It was about a mile or so up the hill but it was all steps and a lot of vertical climbing.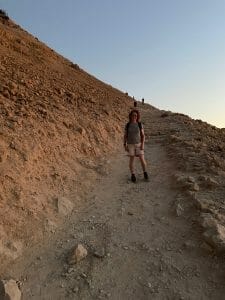 Andrea flew up the hill. Since Ed was struggling, I stayed with him. But to be honest, I felt it was a very tough hike. This was the snake path and the stairs were uneven and steep. There was no handrail until you got closer to the top of the hill.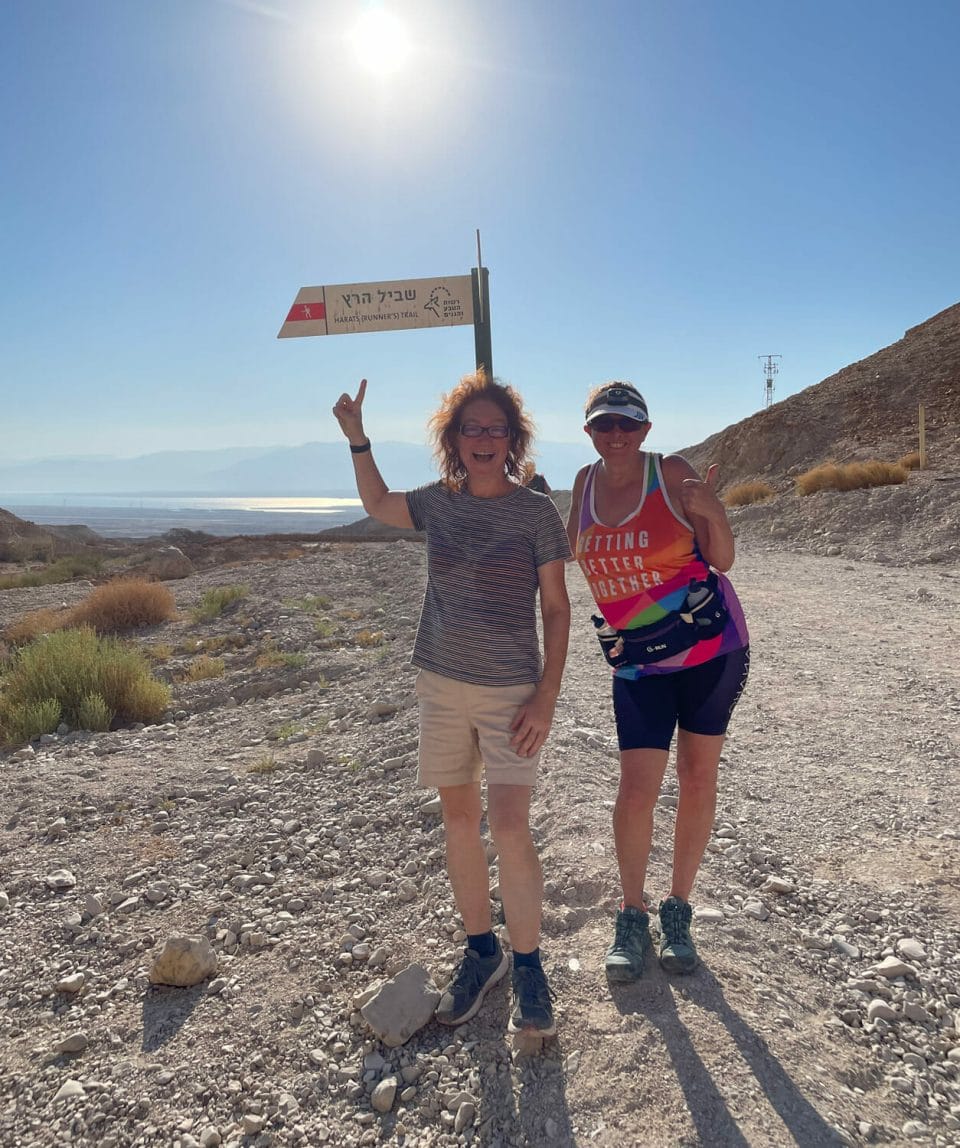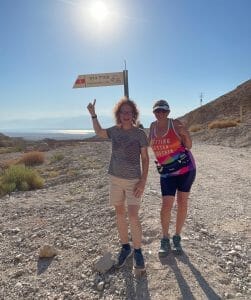 Our goal was to watch the sunrise above Masada. We watched it as we walked since it took us a long time to get up there. It was breathtaking and probably one of the highlights of the trip.
When we finally reached the top there were lots of remains of a village that was situated up top. We found out that there was a Jewish village up there with 900 people. The Romans wanted to conquer or convert the people and since they did not want to convert, they had a mass suicide. This was part of a revolt.
We climbed down Masada which was harder I think than climbing up. When we reached the bottom, we drove back to the hotel.
Then Ed, Andrea, Brian, and I went to Ein Gedi, which was an oasis in the desert. We climbed and hiked some more and found two amazing waterfalls. We were so hot, we went in. The water was cold and fresh. The views were breathtaking and this was also a highlight of the trip.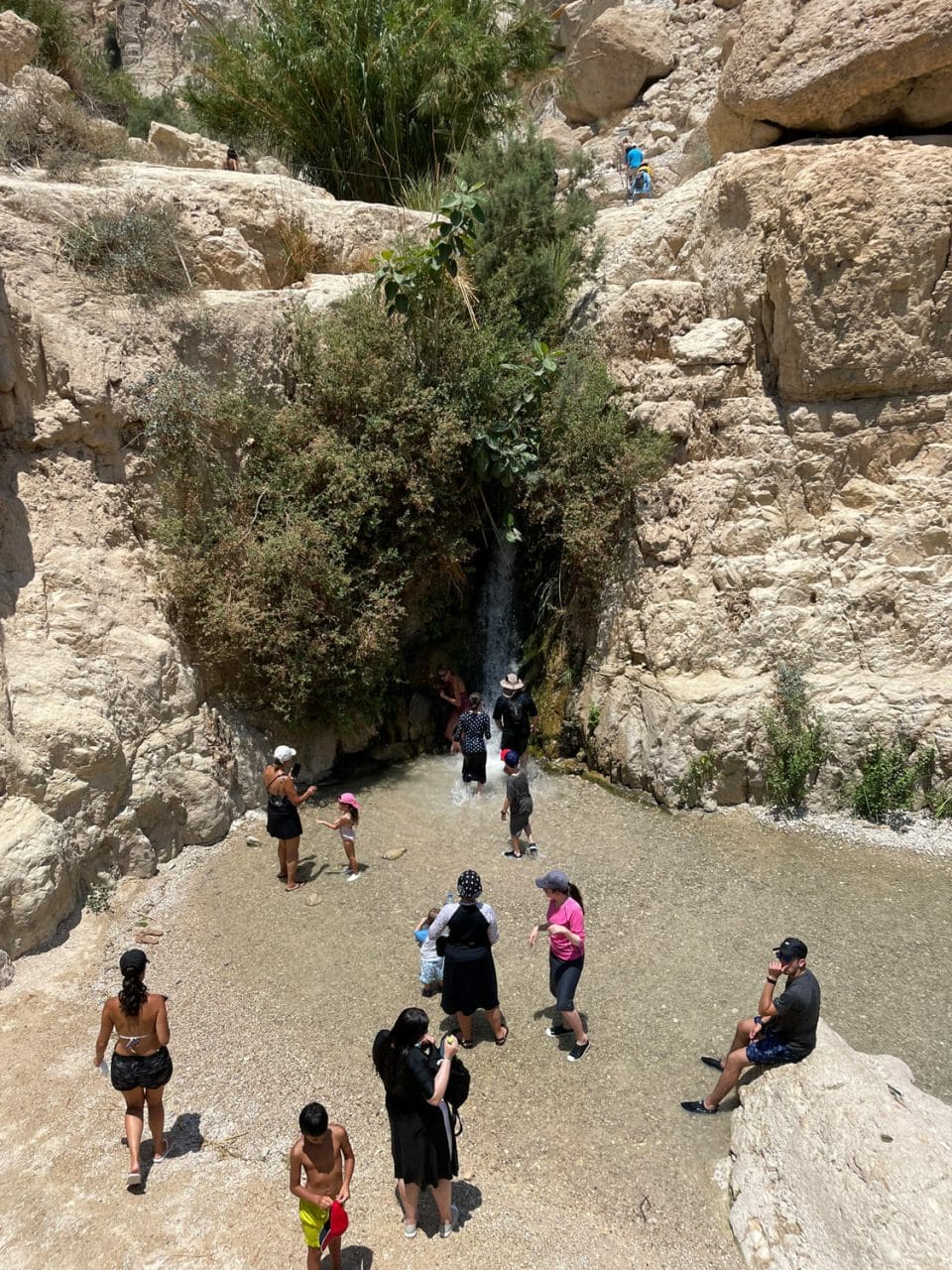 Day 8 – Leaving Dead Sea for Jeruselum
Since Mindy, Andrea, and I felt that we didn't get to spend enough time in the Dead Sea, we decided to wake up before the sun rose.
We woke up early at 5 am, got in bathing suits, and headed over to the Dead Sea. As we stood there, we watched the sunrise over the mountains. It was breathtaking. We also went into the Dead Sea and floated. At that time of the day, it was bearable. The water felt more like body temperature rather than hot like the day before. Floating and watching the sunrise were incredible.
After we ate breakfast at the hotel and packed up the car, we headed to Jerusalem.
We parked the car in a lot and walked our bags over to the Ibis Hotel which was on Ben Yuddah Street, one of the main shopping areas of Jerusalem.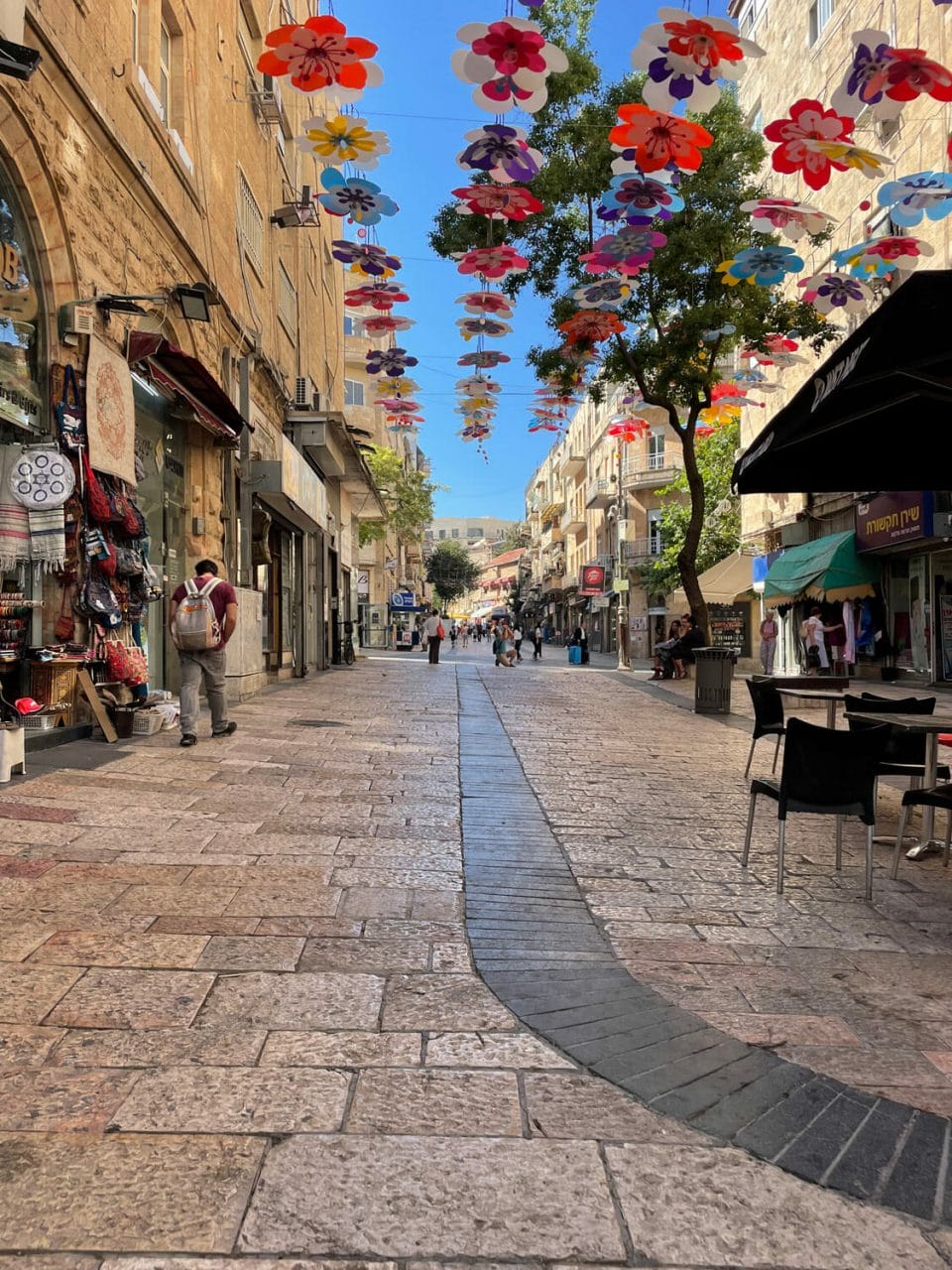 Once we unloaded, we shopped on Ben Yahuda and on Jaffa Street. I loved that the stores were upscale and each one had its own charm. There were so many interesting things to look at and to buy, we were all really enjoying ourselves. Mindy, Andrea, and I bought a matching Humsa necklace. A Humsa is a hand that protects you from evil spirits. As I learned, all religions can wear the Humsa for protection.
I found that some of the vendors were nice, especially when you bought something but otherwise, some were incredibly rude. For example, I walked into a shoe store and tried on several different shoes. They brought me out defective shoes. When I asked if they had others, the young woman said, "no, they are all like that."
I ended up not buying anything and she started to yell at me. "How dare you waste my time!" she said. Hey, I'm a New Yorker, so I yelled right back at her.
Or, I had to use the restroom. I asked a half dozen people. No one seemed to talk English and if they did, they didn't know of a bathroom nearby. Thankfully, there was a McDonald's and I scooted in there to use the restroom.
Day 9 – Jerusalem
The next day when Ed, Andrea, and Mindy went to a market, Brian and I walked from our hotel to the Jaffa Gate and walked into the Christian section. We started out by paying approximately $7 and we walked on the Ramparts of the Old City. The Ramparts is a small walkway that goes around the wall of the Old City. It was extremely steep and the cobblestone was uneven. This made it difficult to walk. (At this point my knee was starting to kill me!)
I was interested in walking the stages of Jesus Christ before he was crucified. I bought a pamphlet for $2 and learned about the 12 stages. We ended up only doing about four of the stages before arriving at the Holy Sepulchre. The church was so interesting. We saw where Jesus was crucified and the stone where he lay after they took him off the cross. We also went inside a small room and learned that Jesus lay there for three days with the angels around him until he rose.
After that, we walked into the Muslim section of the Old City. There, we saw interesting boutiques and shops.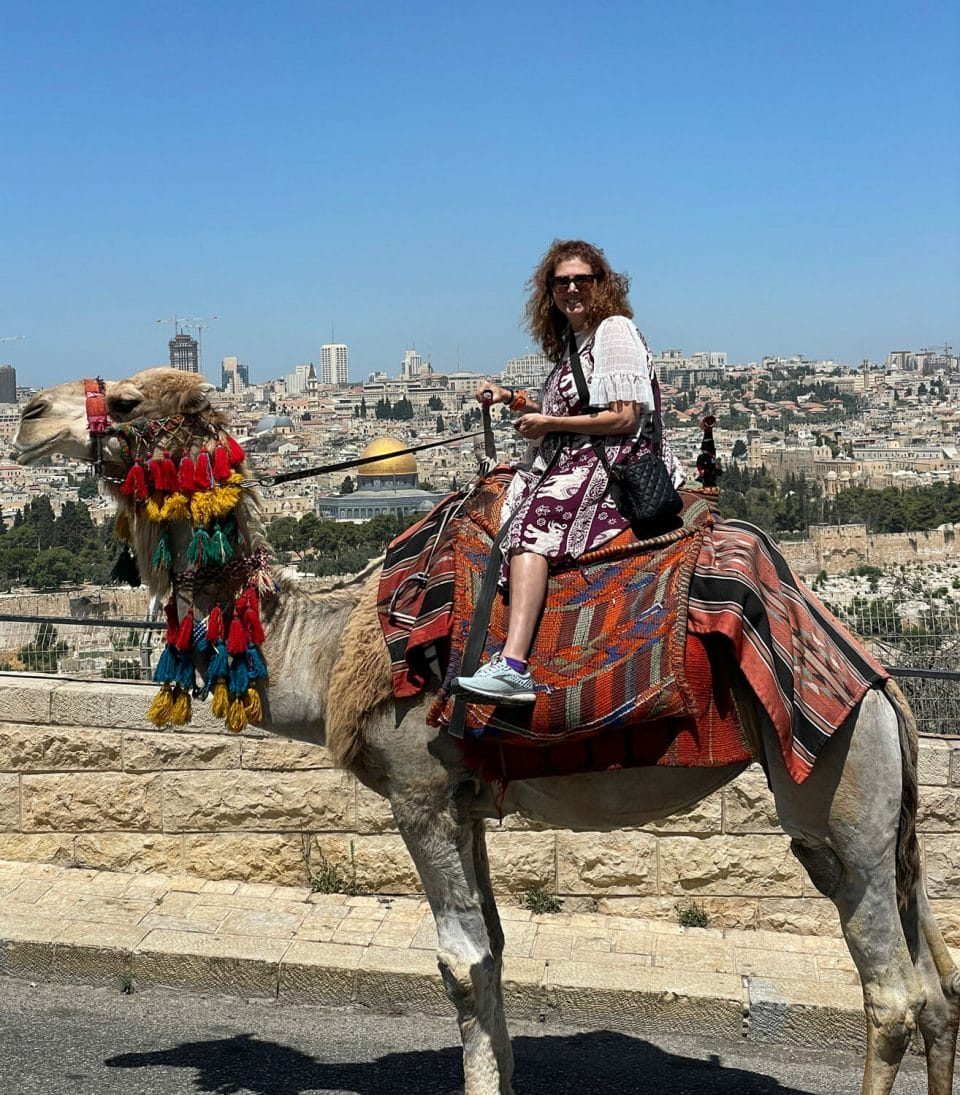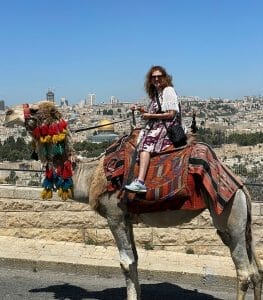 Following that, we left the Damascus Gate, got into a taxi, and went to Mount of Olives, which is high above the city. What a view! We saw the dome on the rock, the Mosque, and even rode a camel! It was such a cool experience.
There was a huge Jewish Cemetary up top. Jewish people who want to be buried there are buried standing up facing Jerusalem.
When we came back, we went to the Holocaust Museum. It was quite interesting and told the story of the Holocaust from the victims' point of view. It was emotional and it was well-done.
That evening the streets of Jerusalem were busy. There were so many entertainers. It was a total blast!
Day 10 – Jerusalem
The day started with breakfast at the Ibis hotel in Jerusalem. This was followed by a cab ride to the Western Wall and the Jewish quarter of the Old City. After going through the Dung Gate, we quickly arrived at the Wall.
I did the ceremonial washing of the hands, then the men and women separated and went to see the Wall. We each had little prayers and/or letters to put in the Wall's cracks and crevices. I had a few myself and prayed for people in my life who had passed. I prayed for my family to stay free of disease and I prayed for world peace.
It was hard to get close to the Wall. There were women there for what felt like hours but were long minutes. We had to push our way through to get close.
I actually reached over people to put my little scrolls in the Wall.
For me, it was emotional because I had heard about this Wall for a long time. It was the outer wall of the second temple. This was one of the holiest sites, if not the holiest site in Judaism.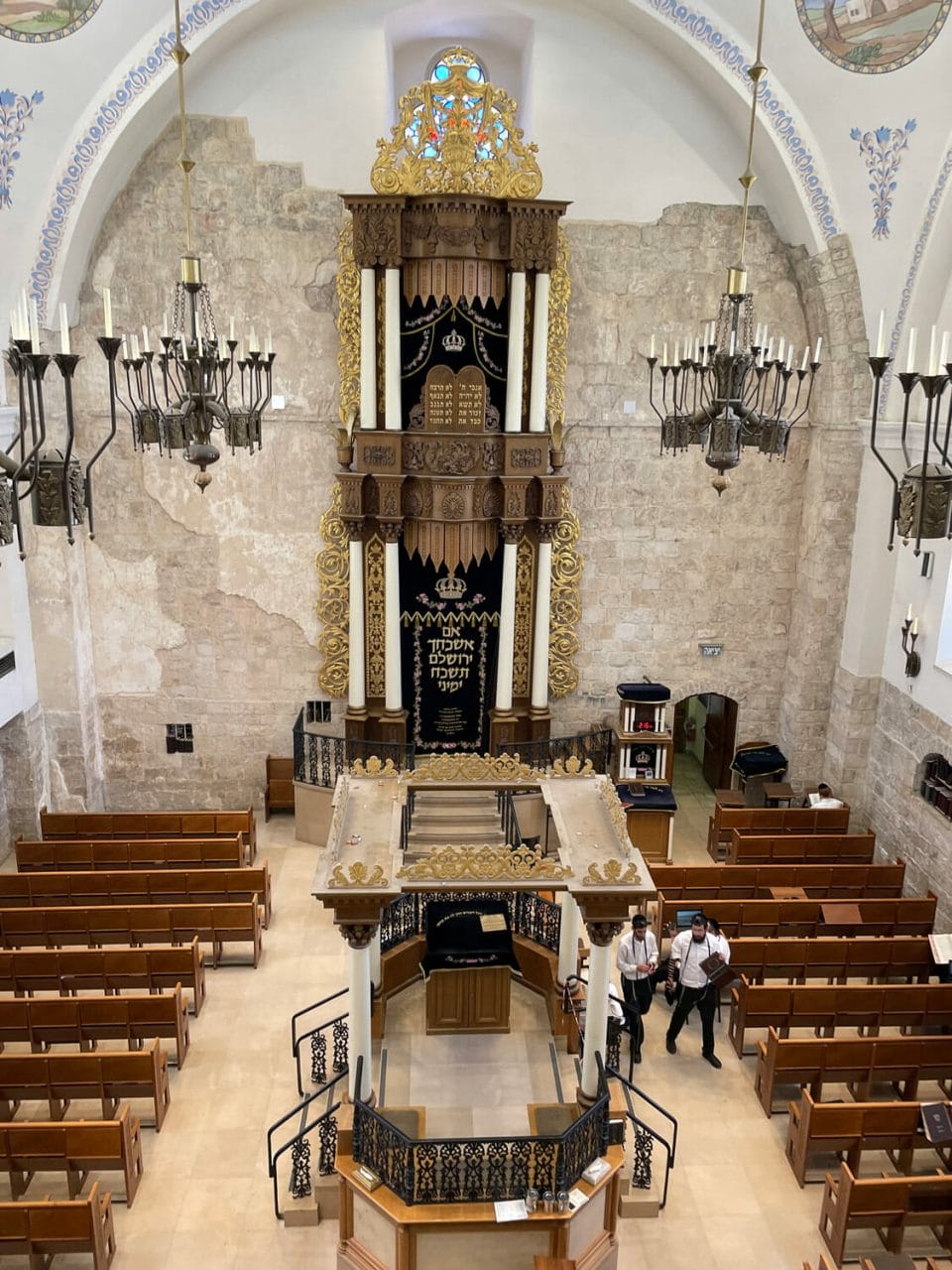 Following that, we walked around the Jewish quarter. It was modern, not like the Christian or Muslim quarters. I found out that it was because the city was burned down and destroyed in the 1960s and had to be rebuilt. You could even see bullet holes surrounding the Dung Gate.
The shopping in this area was unique. The stores were more upscale and sold a variety of Israeli designer necklaces, artwork, and more.
Before exiting the Old City, we visited the place where the Last Supper was held. We also saw King David's Tomb.
Since it was Shabbat, everything shut down at 2 pm. We were lucky to find a quaint little restaurant in the Quarter and had a nice relaxing lunch.
After that, we wanted to go back to Mount of Olive but the cab driver wouldn't take us there. He didn't understand or maybe he did, but whatever the case we ended up going back to the hotel and resting before dinner. At that point, we had logged more than 60 miles on our feet and legs throughout the week and we were exhausted.
Later that day, we had a nice dinner at Mona's. It was one of the few restaurants open and the menu had some very different items. We had a series of Tapas followed by a 950-gram porterhouse steak for five.
Day 11 – Tel Aviv
I tossed and turned all night and at 7 am jumped out of bed to get breakfast on the 8th floor to meet the rest of our party. After we finished, we finished packing and drove to Tel Aviv. Before heading to the hotel, we made a stop at the Agram Museum. It had some interesting displays that included some 3D pieces. The museum was small and it took us under a half hour to get through it. It was interesting and fun but I wished there was more.
After that, Ed and Andrea decided they wanted to go geocaching, and Mindy, Brian, and I went to the beach. It was about 2 pm at that time and the beach was very crowded. We paid for three lounge chairs and two umbrellas. But, we couldn't stay there long because of the heat. The sand burned our feet!
So we headed into the hotel and went to the pool.
That night, the five of us met one more time at White Pergola in a very cool section of Tel Aviv, which was right on the water. We sat outside and had a lovely dinner. After that, we parted ways, and my husband and I walked back to the hotel. We were on a mission to continue to get in 8 miles a day of walking. At that point, we reached 70 miles.
As we walked back, we saw a doggy beach, people folk dancing in the street, and a volleyball tournament.
Day 12 – Tel Aviv
Brian and I woke up at 7 am, had breakfast at the hotel, and headed over to the beach. I wanted to swim. The water was so incredibly clean and the turquoise color was amazing. We stayed there for a couple of hours. Then, we headed over to the Jaffa Market. What a fun time we had going from shop to shop. We had lunch at Cafe Pua. It was probably one of the most popular places in that area.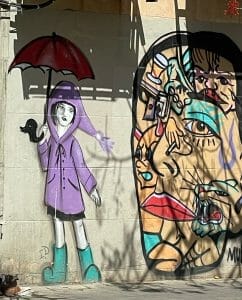 After that, we walked over to another section of town. Then, went back to the hotel. It was amazing to shop but the heat made it very difficult. When we got back, we both put on our bathing suits and jumped in the pool.
We decided to have dinner in a nice Italian restaurant we found on the main street called Ernesto 90. The food was outrageous, probably the best I have had in Israel. Then, we walked over to Golda's and had some gelato.
Before walking to our hotel, the Sheraton, we decided to check out what was going on at the beach. I couldn't believe all the activity. People were playing soccer, doing yoga, swimming, and even doing calisthenics. There was so much activity.
Day 13 – Tel Aviv
The day started with breakfast on the beach. We found a quaint little restaurant and ordered breakfast. After that, we sat on Gordon's beach for a few hours. I got to swim a little, even though the water was extremely rough and choppy.
Following that, we took a walk through the Dizengoff section of Tel Aviv. This was the "fancy" area and they had lots of unique architecture from Bauhaus. There were lots of round rooms and interesting styles.
We also saw the fountain designed by artist, Agam. But, it didn't look the same as the way he built it to look. In 2019, they shut it down because of the cost. When they turned it back on, they shut off all the lights. So, it doesn't look as nice as it did back in the day.
I loved the boutique shops on the strip. They had some interesting things there and are worth checking out. We also went to the big mall there but it was just a mall, nothing unusual.
For dinner, we went to a sushi restaurant called, Bazel. (See upcoming blog.) Our waiter, Sebastion, was amazing. He came to Israel from Uraguay and explained his story to us.
We watched the sunrise. Our last one in Israel and ate delicious gelato.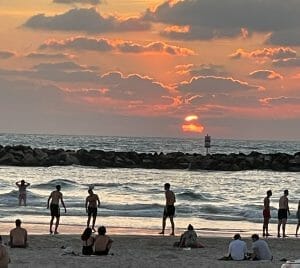 Day 14 – Tel Aviv and Home
On the last day in Tel Aviv, we were lucky enough to hit the beach one last time and then, we went to a craft fair, called Nachalat Binyamin Art Fair, which is held only on Tuesdays and Sundays. It was so interesting and the vendors sold unique items not found in any of the stores. We thoroughly enjoyed walking around and checking out the vendors.
After that, we walked into a section which is known as the Greenwich Village of Tel Aviv. There, we saw lots of unique shops that also offered interesting apparel. This section was very different than any of the other areas we frequented while in Israel.
To finish off our trip, we both had a massage at the spa at the Sheraton Hotel. It was badly needed and felt so good!
Then, we went back to an Italian Restaurant called Ernesto's. This was the second time we were there, it was that good.
Thankfully, we headed to the airport nearly four hours earlier than our flight was scheduled. We needed to do that. The airport was a disaster. There were so many lines and it took us nearly three and a half hours to get through security.
Wrap up
Israel had been a bucket list item for a long time. It is definitely a country worth seeing because of all the natural resources, religious areas, and great places to just explore. There were things I loved about it but there were things I didn't love about it but I'm glad I had the opportunity to go.