Who doesn't love the music of Paul Simon? 
I've seen Paul Simon several times since the first reunion show in Central Park in the early 80's.
This concert was built as his final concert of his last tour. Paul Simon went to High School in Forest Hills and College at Queens College. So, playing in Corona was playing to his home audience.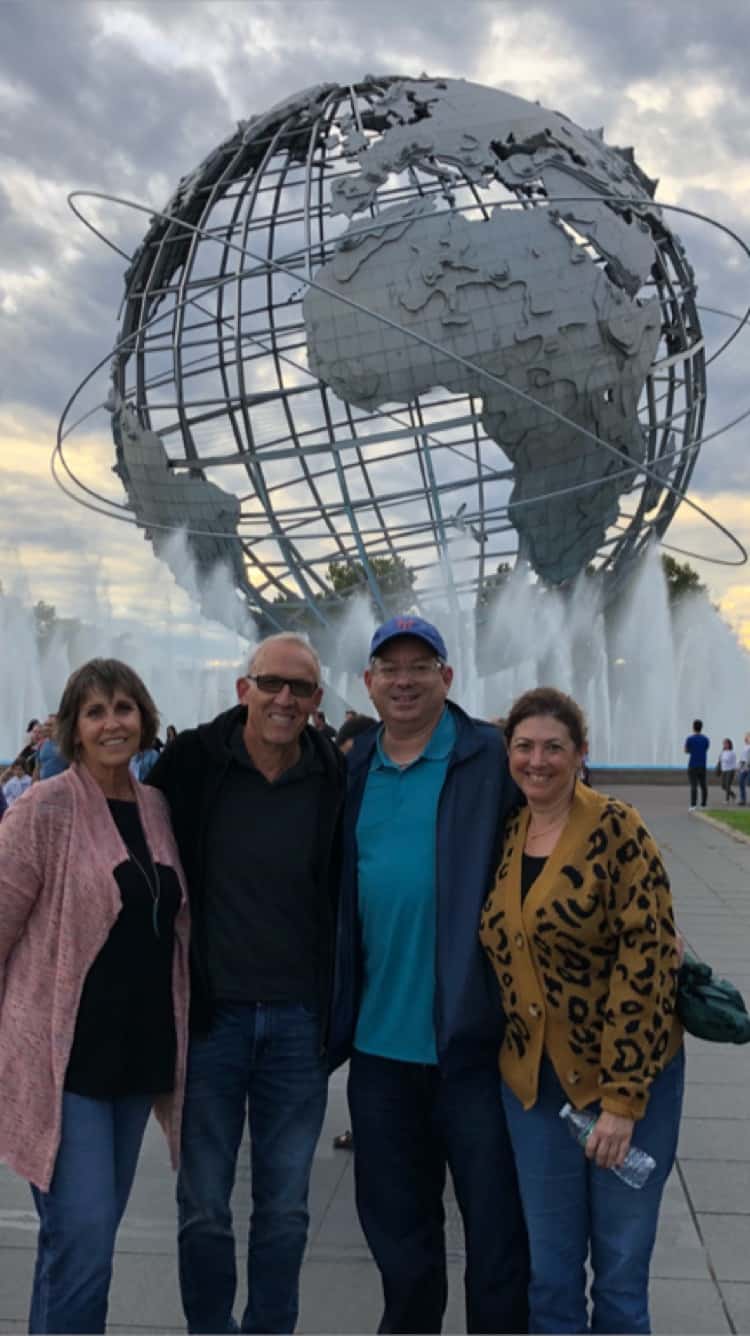 My friends and I parked at Citi Field and walked about a mile or so to the entry. Although we got there early, we couldn't find a spot close to the stage, so we sat in the back. We had purchased VIP tickets which gave us access to "nicer" bathrooms and more food options.
When we found our spot, the boys went to get food as my friend, Madeline, and I stayed with the blanket.
They left for the food line at 6:15 pm. We waited. We got silly and decided to take a photo with Paul Simon.
Unfortunately, there were only three food booths for thousands of people. The lines were incredibly long and people were ordering six pizzas at a time, which held the line up more.
The concert started at 7 pm. Brian, my husband, was on the pizza line and Steve, our friend, was on the sandwich line, while the concert started. About an hour or so into the concert, the boys returned. It was quite frustrating that there weren't enough vendors for all the people. Obviously the planners didn't do a good job figuring out the flow!
But the concert was great. Paul started the concert with America (a Simon and Garfunkel song) and then played 50 Ways to Leave Your Lover. He played two encores and although there were rumors that Billy Joel and Art Garfunkel would come out, they didn't.
Paul Simon's voice sounded just like it did when I heard him 30+ years ago in Central Park. He sounded a little lethargic and slow in the start of the show, but as it got underway, he picked it up and rocked the house. 
Everyone was up and dancing for Diamonds on the Souls of Her Shoes. At the first encore, he played: Late in the Evening, Still Crazy after all these Years and Graceland. You can feel the energy in the house. 
For the second and final encore, he played: Homeward Bound, Kodachrome, The Boxer, American Tune and The Sound of Silence. 
Paul Simon at Flushing Meadow was a wonderful show, despite the fact that the organization and food vendors was less than stellar, especially for an up-priced VIP ticket.