Ever think about a quick golf weekend getaway from New York to escape from the cold and just take time to unwind?
My husband's birthday was coming up and I wanted to take him away on a romantic golf weekend getaway outside of New York. I looked into going to Foxwood Resort Casino, Mohegan Sun, The Sagamore and a spa getaway but I wanted something different.
Since he loves playing golf, I thought, what about a golf getaway?
But it's cold in New York. The other day, I went outside and nearly burned my face from the cold weather. (I didn't expect it.  It had been in the 50's and 60's for the last few weeks but when the temperature registered 38 degrees, you felt it!)
So where should we go? Then it occurred to me. What about going down to Disney to play golf? The weather will be nice and I'm sure the courses are beautiful.  And that's what we did.
We left New York on Friday mid-morning from JFK International Airport, Terminal 4, Delta Airlines and arrived in Orlando two and a half hours later. We rented a car and drove to the Cabana Beach Resort at Universal Studios.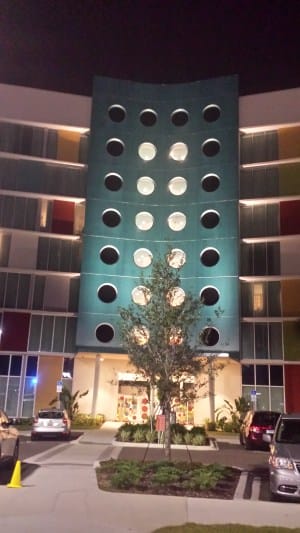 Cabana Beach Resort is a new resort. When you enter the lobby, you feel as if you stepped back in time to the 1960's. There is a big screen televisions that show old commercials and TV programs. The furniture is all modern 1960's style in bright oranges and teal blues. It almost looked as if we were in the cartoon, The Jetsons!  In front of the resort are four 60's classic cars and music from the 60's is heard throughout the lobby and the pool area. For a little more than $100 a night, it was worth the price and then some.  (All the other resorts were much more expensive. This one caters to families, but we found it to be intimate and romantic non the less.)
The rooms were very nice too. We upgraded to a poolside view for an additional $10 an evening. The rooms were large and had bright teal colored walls with orange and blue bedding. What I found fun was they continued the 60's theme by having Zest Soap and VO5 Shampoo in the bathroom.  These brands were popular in the 60's.
When we got into town, I wanted to take my husband to a nice restaurant so I booked The Palm, which was located in the Hard Rock Hotel in Universal. The decor reminded me of the Palm in New York with character drawings on the walls.  The food was outrageous. We had a blue cheese salad followed by a steak for two and a half of a lobster. The steak for two was a double cut sirlion. The flavors were dancing in our mouths!  We coupled this with an inexpensive bottle of wine, which was a California blend. After our meal, a happy birthday card was presented to my husband with signatures from the entire staff working that evening.  It was very nice. Although the meal was expensive, we really enjoyed it.
On Saturday, we played our first round of golf at Disney's Palms.  It was probably one of the toughest courses I've ever played. Between the water hazards, the sand traps, and the elevated tee boxes, it was nearly impossible to do good on the course.  But we actually both didn't do that bad. I was pleasantly surprised at how well I played considering that I hadn't played more than five times over the whole summer. The first few holes ran along the side of the highway. But once you played the back nine, you were pretty much set apart from the world.
You didn't know you were playing on a Disney course except that the carts had an outline of Mickey and the tees had Mickey tees. I thought we would have seen more hidden mickeys but we didn't. It was an awesome round and the weather was perfect in the mid-70's.
That evening we went to Emeril's Tchoup Chop. We started our meal with dumplings which melted in our mouths. My husband had the fried Asian chicken over mashed potatoes and I had the Habatchi Steak over Emeril's Fried Rice. It was very tasty but I found the meat to be very fatty too so I didn't eat the whole thing. To celebrate my husband's birthday we ordered a Banana Cream Pie (a signature dish from Emeril's). It was sensational. It had real bananas in the cream and the grahm cracker crust was think and delicious. The thing for me about the pie was the swirls of chocolate that covered the top of the cake.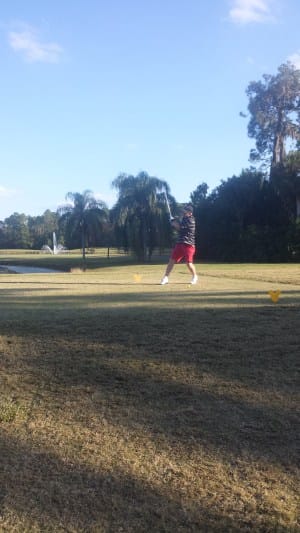 The next day, we woke up early and went to Windermere Country Club and played 18 holes with a couple from Toronto named Frank and Janice. What a lovely couple!  We had such a fun day of golf with them.  They had played the course before so they were able to give us pointers along the way.  The course was also hard. Some of the holes were very narrow and if you didn't hit straight, you were in trouble.  Other holes were over water or there were water hazards in the middle of the hole but you didn't see them until you approached them! My husband and I had some amazing and not so amazing shots but all in all the day was relaxing and worthwhile. The course had ample bathrooms and plenty of ice water. The course moved quickly and we played the round in about four and a half hours.  (The Disney course was a much slower pace. We ended over five hours.)
Was it worth the weekend getaway for only two days away?  You bet.  Even though we both came home with colds, we both came home feeling more relaxed and felt like we were away for a long time.