We arrived in Barcelona without a hitch. The airport was organized and civil and we moved through security quickly. Our bags arrived within 10 minutes, and we were out the door and in a cab.
People told us that the cab drivers will mark up the price but that wasn't the case. It cost us approximately 30 Euros to get to our hotel on Rambla dels Caputxins in Barcelona.
Hotel Oriente (Oriente Atiram Hotel Barcelona)
The hotel was located right in the heart of the gothic district and an easy walk to most of the tourist attractions. If we were too far away from something, we bought a ten pass from the metro and used the busses and subway. It was easy to get around and everyone spoke English, so it was somewhat easy to navigate.
Hotel Oriente was a beautiful old hotel that was once a nunnery. The rooms were spacious for a city hotel, and we fit three people in a room.
Day 1 – Barcelona
We walked around the Gothic area. There were small shops and nice boutiques. Everyone was friendly and welcoming.
We were intrigued by the interesting stores and went to several to look around. Each one was very different than the other.
That night for dinner, we went to L'Antic Boccio del Gotic and ordered sliced salmon on top of a bed of lettuce and two flatbread pizzas. One of them had a whole piece of cod on it and it was amazing. The cod had a lot of flavors.
We went to bed early because we were exhausted from the long plane ride. Thankfully, the beds at Hotel Oriente were comfortable and we slept well.
Day 2 – Barcelona
We woke up early and headed on the metro to Sagrada Familia, a famous church that was built in 1882 by architect, Guadi. It was a magnificent structure with amazing detail.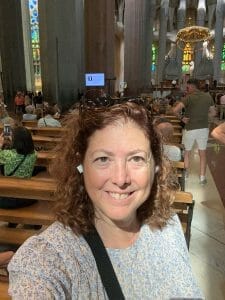 It's hard to say if the inside or the outside of the Sagrada Familia was my favorite. The inside had so much stained glass and was so full of color and life. By the pulpit, there was a statue of Jesus hanging from an umbrella floating in the air.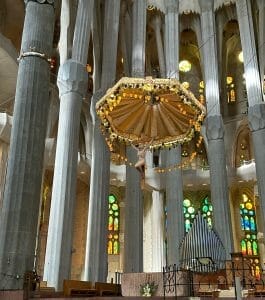 We had tour tickets to go up one of the towers. The elevator took us up and we saw amazing views of the entire city of Barcelona. We also saw the water and some interesting landmarks. After that, we walked down lots of small spiral steps. My legs were shaking at the end, and it was hard for them to come back.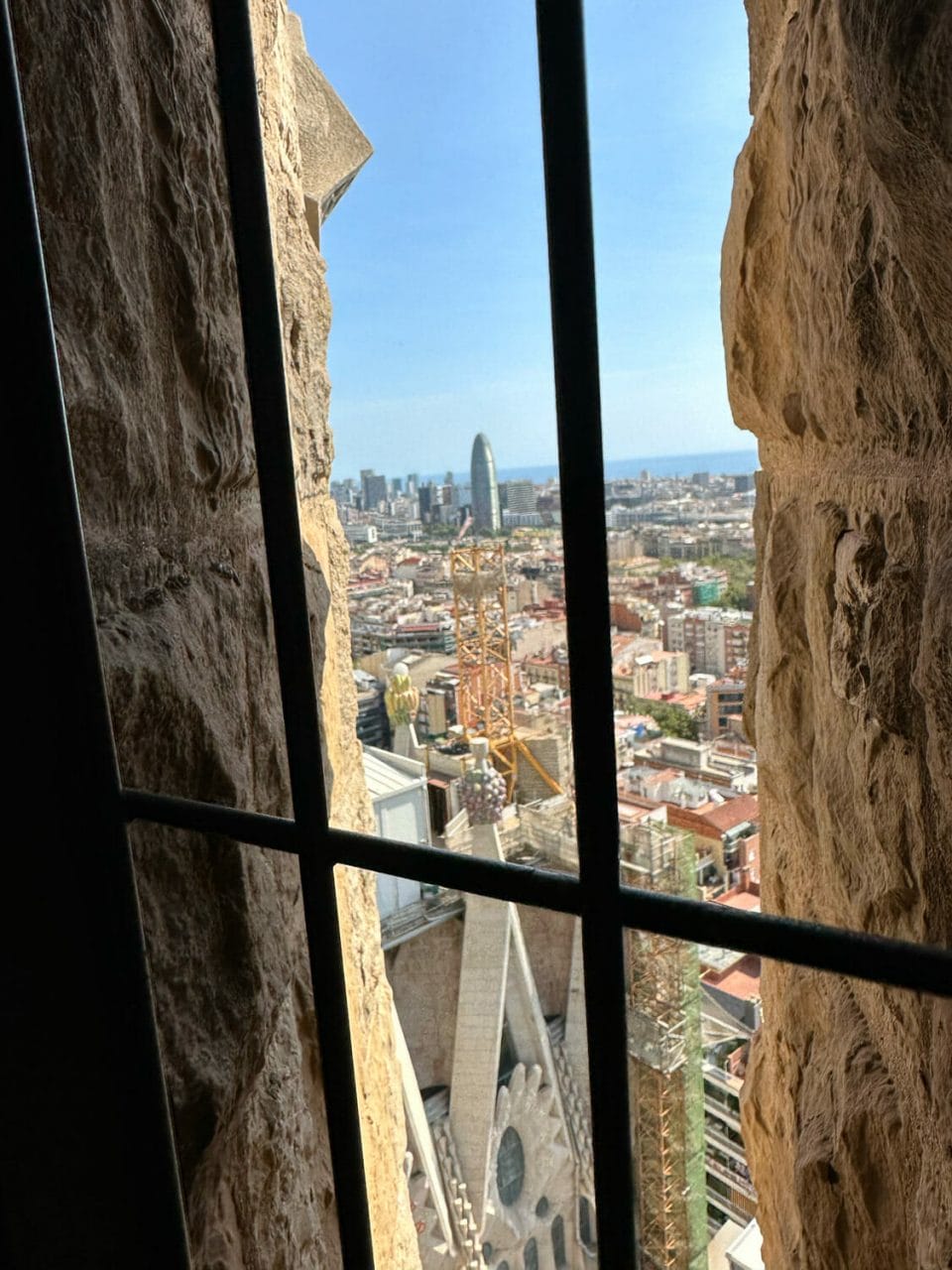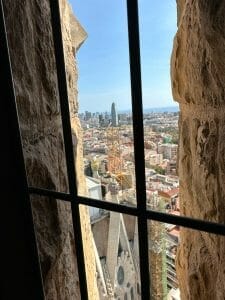 Following that, we went to Puertecelio, which was completely different than any other restaurant I had been to. We walked inside and there was a spread of raw fish and shellfish. Some of the fish and shellfish I had never seen before. We ordered the raw fish and the woman behind the counter weighed it. We went to our seats and waited for our number to be called. Once it was, we got the most amazing fresh seafood I had ever tasted.
Beach
I was excited to be able to go to the beach in Barcelona. That was truly a highlight for me.  The beach was rocky and the sand was rough. The water was turquoise blue and wavy. It was rough. We purchased two towels from one of the beach vendors and went in the water. The water was cool, not warm, but very refreshing.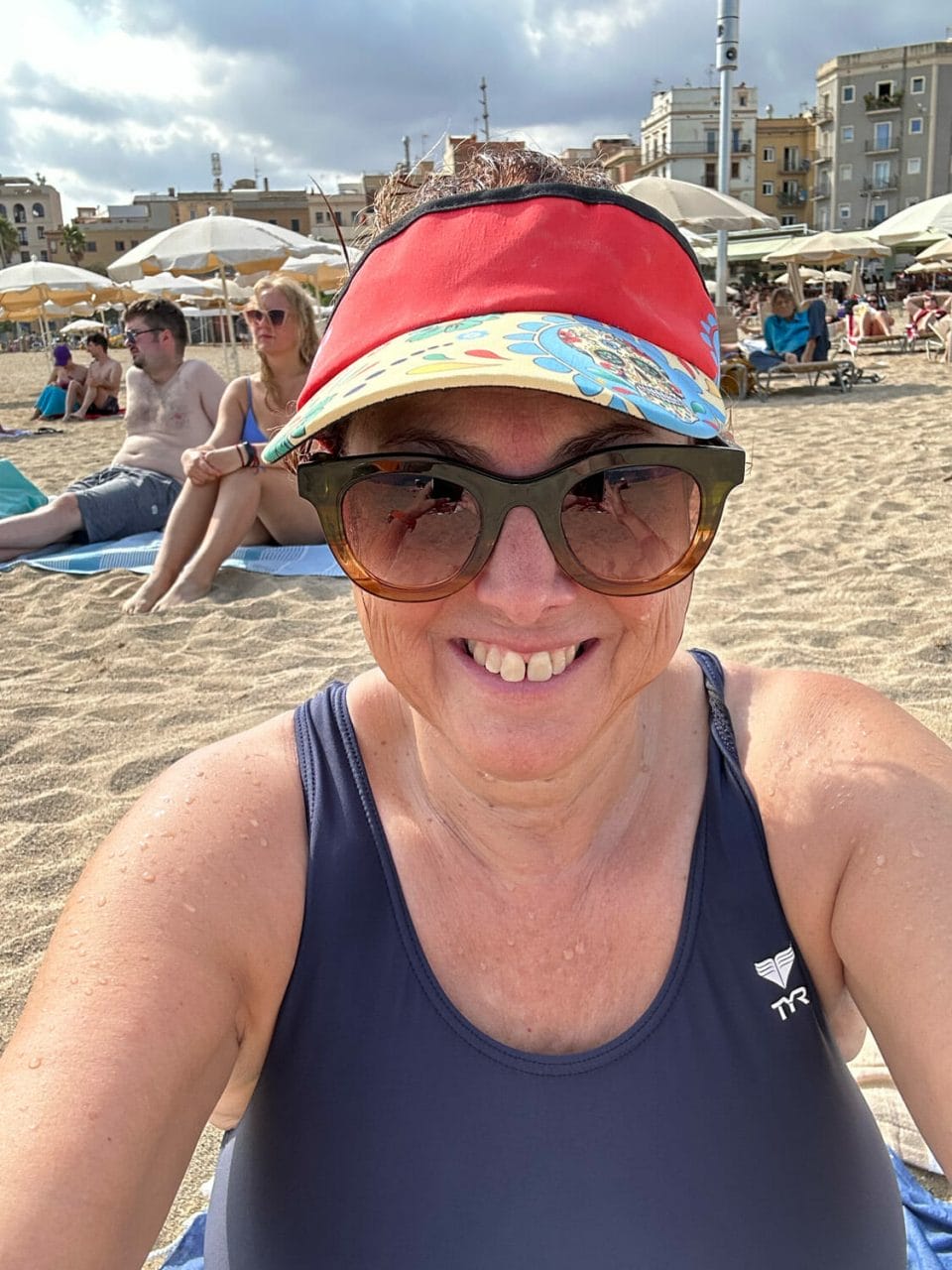 I found it interesting that there were four things being sold on the public beach – blankets for the sand; hair braiding; mojitos, and massages.
7 Portes for Dinner
For dinner, we went to a quaint restaurant near the beach called 7 Portes. There we had traditional paella, which tasted rich and fresh. They took the clams, mussels, squid, etc out of their shell and mixed them into the brown rice. There was a lobster tail on the top. I thoroughly enjoyed it.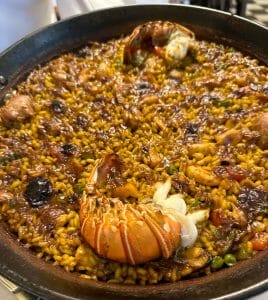 After dinner, we walked around and saw some of the booths and amusement parks set up because of the festival of Merce, a festival celebrated each year around the 24th of September in squares and streets across the city. It honors the patron saint of Barcelona.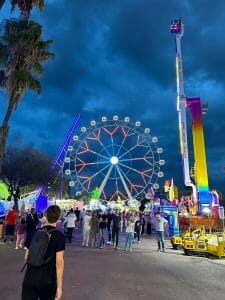 Many of the stores were closed but there were kiosks of jewelry and clothing vendors on hand.
Day 3 – Barcelona
We woke up and had breakfast at Artista, a little coffee shop across the street from our hotel. After that, we took the bus to Park Guell, a park that was designed by Gaudi.
The park was incredible. It had varied terrain and lots of stairs making it not so accessible for people with disabilities.
There were lots of small hills to climb, steps to climb, and areas to explore. The views were spectacular.
There were several small houses built by Gaudi in almost cartoon-like structures.
Picasso Museum
Following that, we ate lunch and went to the Picasso Museum. The museum had a lot of Picasso's earlier works before he became a realist artist. It was interesting to see his progression and learn more about him as an artist. I thought it was going to be a small little museum, but it took us a couple of hours to get through it.
Museu Etnologic de Cultures del Mon
Across the Street from the Picasso Museum was an interesting international museum of art. There we walked around and saw art from around the world including Africa, India, Malaysia, and more.
By the time we were finished walking through two museums we were ready for a siesta. So, we went back to the hotel and slept until dinner time.
Fonda Espanya
This Michelin-starred restaurant only had two tasting menus – one for 52 Euros and the other for 72 Euros. We decided to go with the 13-course meal. Each meal was very tiny. We paired it with a delicious bottle of Spanish wine. (This restaurant review will appear in a subsequent blog post.)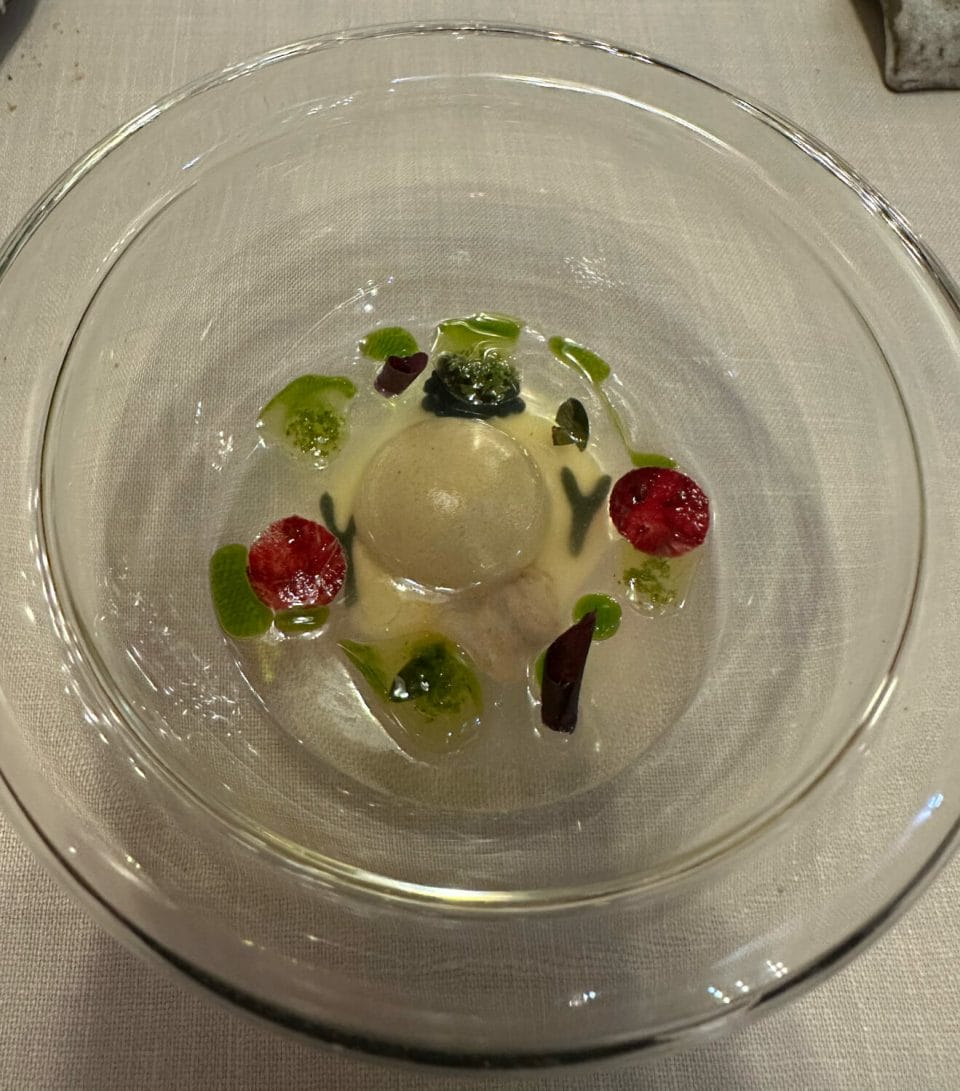 Day 4 – Barcelona/Madrid
We ate breakfast, got on the metro, and took it to the train station where we got on a train heading to Madrid.
The Renfre train was wonderful. It was comfortable and had a bar car where you could get coffee and snacks.
Day 4 – Madrid
Once we got off the three-hour train, we headed over to the Hotel Europa and checked in.
We got settled and headed out the door to the Prado Museum, where some of the great works from the Master of Art are located. Most of the paintings were from the 1400s through the 1600s. The colors in the paintings were so vibrant and alive. The paintings popped.
The one thing that stood out to me about Madrid was that it felt "fancy." The buildings had a unique style and flair. Mostly white, some had round rooms, while others had ornate statues and demigods on the outside of the structure. Just walking around the city and poking your head into little shops and boutiques along your path you will find it well worth it.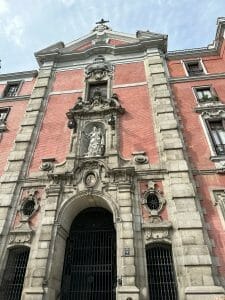 That night we went to the Restaurante Botin, which is the oldest restaurant in the world. It was formed in 1725 and serves ham, suckling pigs, and lamb. (I didn't love it but it was worth mentioning.)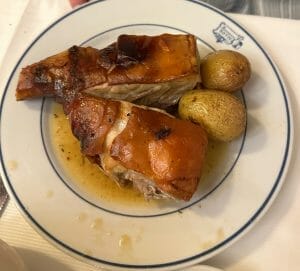 Day 5 – Madrid
We woke up early, had a quick breakfast at a nearby coffee shop, and headed over to the Royal Palace of Madrid. There, we went on an audio tour through the palace. Throughout the tour, there were lots of unique and interesting artwork on the ceiling. The furniture was well-preserved and gorgeous.
That afternoon, we headed over to the Museo Nacional Centro de Arte Reina Sofia. There we saw a vast number of impressionistic paintings. But the most famous painting in the museum was Picasso's Guernica.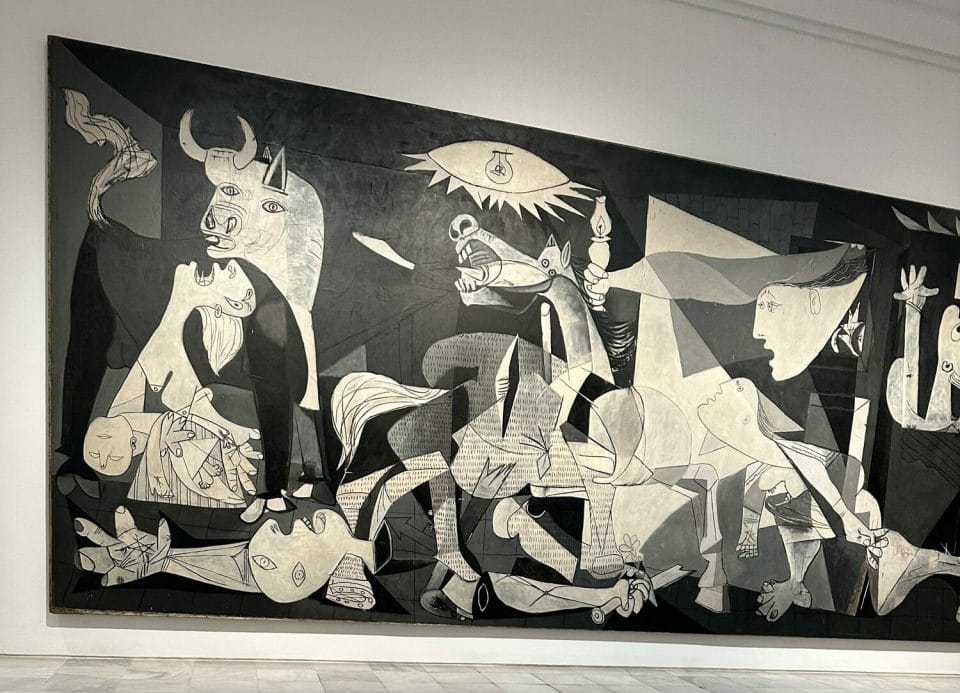 By the time we were finished walking, we had put in more than 16,000 steps. My knee and Achilles were badly hurting me. At this point, we had logged more than 40 miles since we started our journey in Spain and our trip was not even halfway over.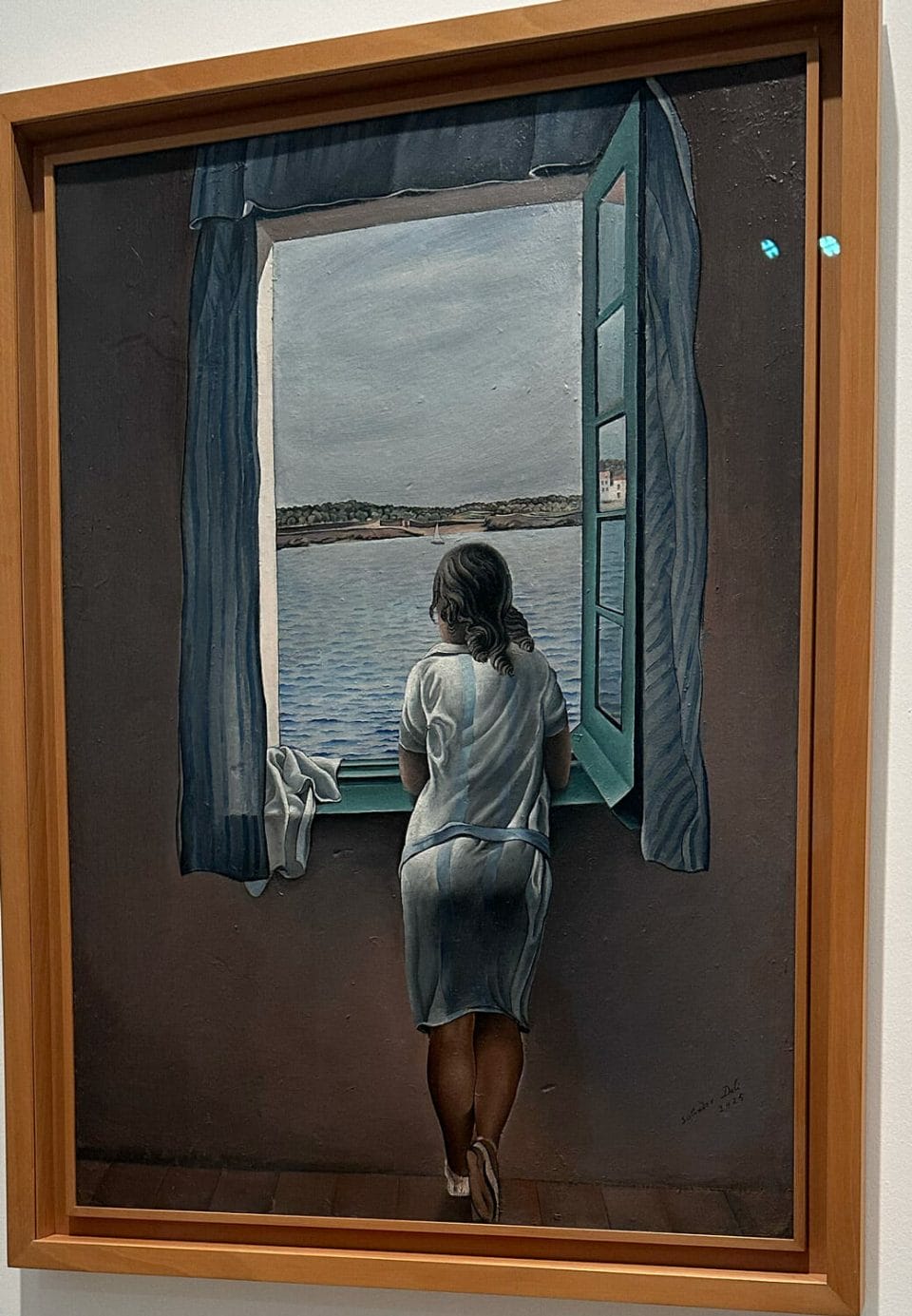 The evening consisted of a wonderful Prix fix dinner followed by a Flamenco show called Corral de la Moreria/ Tablao Flamenco en Madrid.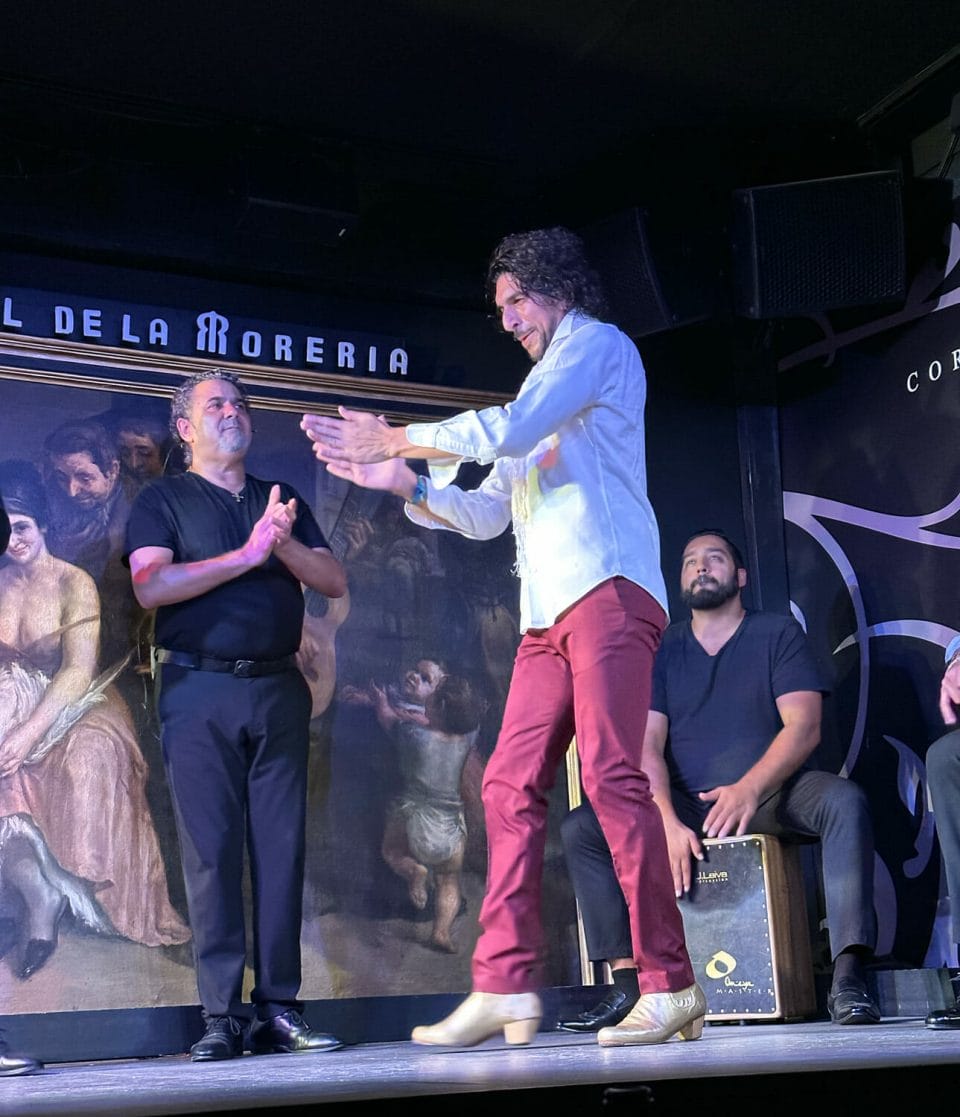 The dancers were fabulous, and the entertainers were just as good.
After dinner, we walked a mile and a quarter back to the Hotel Europa. The rest of my party continued to stay out and visit rooftop bars in Madrid.
Day 6 – Sevilla
We arrived in Sevilla after a two-hour train ride. We dropped off our luggage and set out to walk the city. My biggest caveat was my knee. It was killing me at that point. The pain was throbbing in my knee and throughout my leg. I tried not to complain but at points the pain was severe.
We made our way over to the mushroom park, called the Setas. We took an elevator up to the top and walked around the park. It was located high above the city, and you got to see magnificent views of Seville. Following that, we stayed for a bit and watched the "Experience Seville," movie. It was supposed to be an all-senses movie and at different parts, you actually smelled the fragrance of the city. It was wonderful to take a few minutes to watch this and take a load off our feet.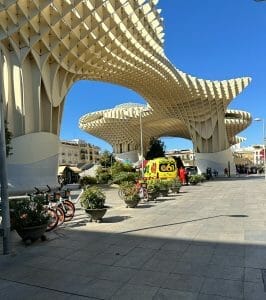 After that, we walked around different shopping areas and headed back to the Hotel Rey Alfonso X. It was a lovely hotel where we had a nice-sized room.
That night, we went to Restaurante Zelai, where we had traditional Peruvian food. I ate a nice piece of tuna, while the rest of my party had some traditional seafood dishes. The desserts throughout Spain have been spectacular.
After dinner, we went to the Plaza de Espana. There were concerts going on for the season but the night we were there, there was no concert. We walked around and it was truly amazing. Both Star Wars and Game of Thrones were filmed in this area.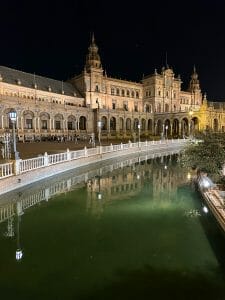 Day 7 – Sevilla
In the morning, we had reservations for the Real Alcazar. It was so interesting walking in and around the area. It was a big walk but absolutely gorgeous. Every room was more interesting than the next and the gardens were incredible.
After we spent about an hour or so there, we walked to the Cathedral of Seville. This is the largest church in the world and interestingly, Christopher Columbus is buried there.
We had purchased tickets to go up to the tower. It was steep and there were only ramps going at a 90-degree angle up 35 flights of stairs. Once up there, and it was tough, we saw amazing views of the city.
We booked a reservation at El Rinconcillo, another old restaurant built in the 1600s. When we got there, we were seated immediately but the service was horrible. The food wasn't bad but the waiter had an attitude. I don't think he was happy serving Americans. But, I could be wrong. It seemed like he was helping everyone but us. It was frustrating and upsetting so after our meal, we left.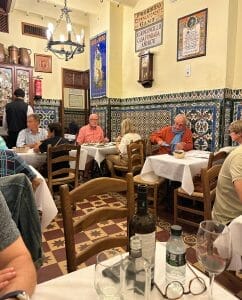 We finished our seven days in Spain and headed off to Portugal for more adventures.
If you went or are going to Spain, comment below.