We rented a house through Airbnb at Mt. Snow, Vermont. Our main objective, rent a house that was pet-friendly because my daughter and son-in-law brought their dog, Daisy with us.
So, we set out to Vermont on Wednesday, December 21 for five nights.
Day 1
Driving up to Vermont was uneventful. My husband, son, and I were stuck in traffic as always and it took a long time to get there. We made a stop in New Haven, CT for the best pizza in the states at Frank Peppi's.
By the time we got to the house, which was located within walking distance from Mt. Snow, it was pitch black outside, so it was hard to find #38.
We went to dinner with our friends, Bruce and Mindy, and by the time we got back to the house, Zoey, Dan, and Daisy were there. They drove up separately from NYC.
Dinner was at The Hermitage Inn. It was so nice. We sat in the tavern which was less expensive and less fancy than the main area. I ate the most delicious piece of salmon. It was so fresh, it tasted as if it were caught that day.
Day 2
We got up early, had breakfast as a family, and then headed to the mountain. We met up with Bruce and Mindy, who were staying at a hotel near the mountain.
We skied for a few hours and then headed back to the house. It was so awesome to ski with the kids. We really had a blast.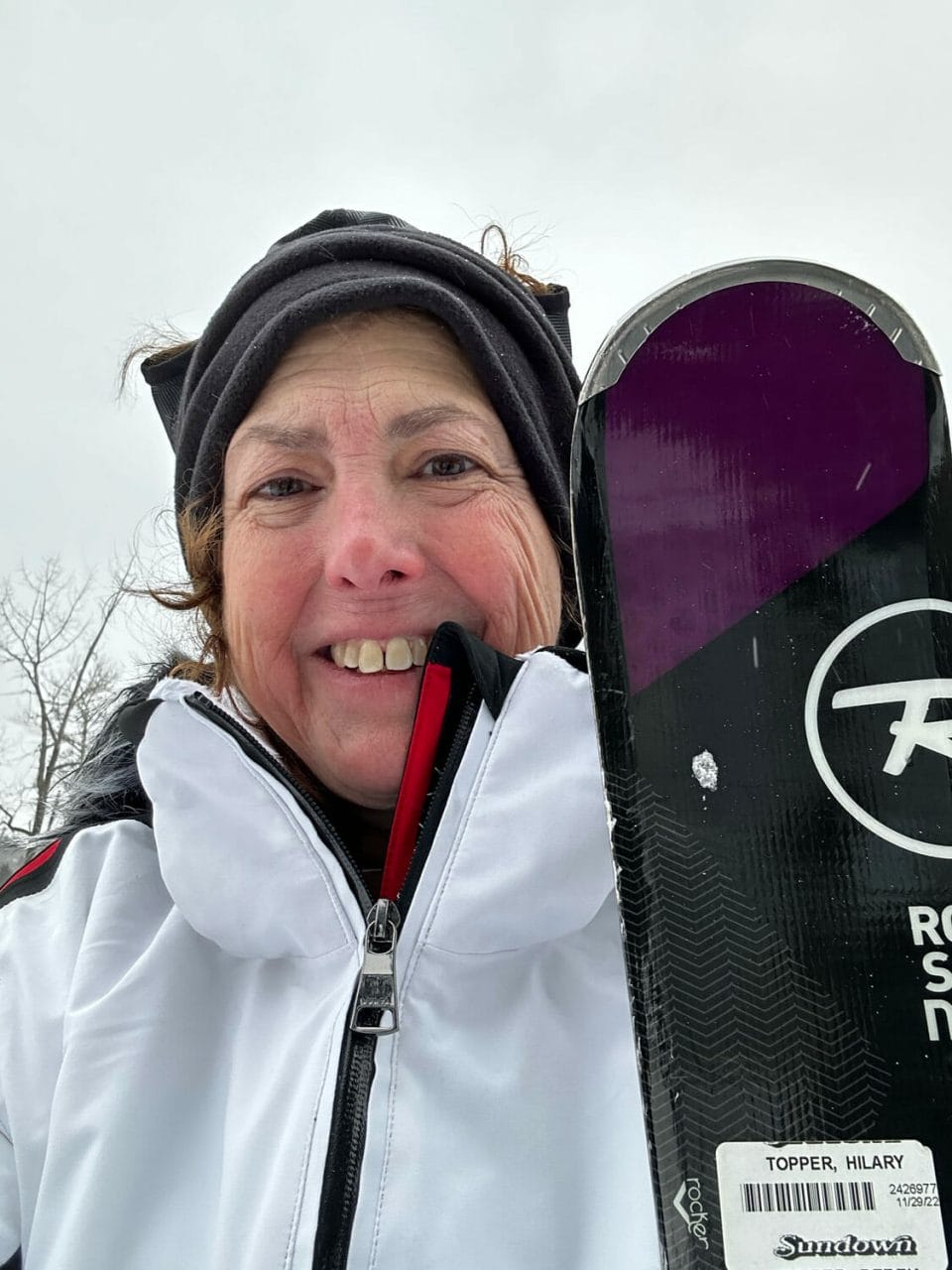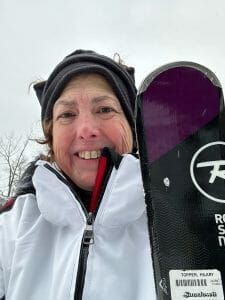 That night we met Bruce, Mindy, Dara, and Ed and the nine of us had dinner at 2 Tannery Road. What was so nice was they put us in a private room with a fireplace. It was lovely to be able to hear everyone and we had a wonderful conversation while eating delicious food. I would definitely recommend this one!
Day 3
The threat of rain was a reality when we woke up. The winds were blowing at 50 mph and the rain was coming down hard. It was 50 degrees Fahrenheit.
We decided not to ski. Instead, we drove into Manchester, all six of us (including Daisy the dog). We walked around the outlet stores in the quaint little New England town.
I bought a couple of long sleeve tee shirts and a red sweater. Everyone bought something. So, it was a good day.
We went over to the diner for lunch but they wouldn't let us in with Daisy so we sat outside in the rain eating salads and grilled cheese.
That night, Brian and I had a massage at Mt. Snow. Following that, we went to a little grocery store and picked up some steaks for dinner. It was delicious!
Just sitting around talking with the kids I found it so relaxing and enjoyable. I didn't want it to end.
Day 4
When we awoke, the temperature outside was 3 degrees Fahrenheit. With the wind chill, the weather people said it was -17 degrees. It was brutal. My nose felt like it was going to explode inside out from the cold.
We skied anyway but after two runs, we had to run inside to get warm. Then, we went out again but could only do two runs.
We thought it would be icy. But thankfully, Mt. Snow made snow and it wasn't that bad. As Dara said, "it was chunky." That was a great way to describe it.
It was Christmas Eve and we had a reservation at Harriman's, which was a nice restaurant a couple of years back. They changed their menu and now it's more of a bar menu. It was a little disappointing but we enjoyed it nonetheless.
We even got to take a photo by the Christmas Tree.
After dinner, we came back, played with Daisy, and hung out. It was another relaxing evening.
Day 5
The temperature rose a little bit. It was 10 degrees when we got to the mountain. We met up with Dara and Ed and skied a few runs with them.
Zoey and Dan had to leave early to get the car back, so they left at 12 noon, and Derek, Brian, and I headed up to Corinthia for a couple of runs.
The cold was seeping through me. My fingernails hurt. I couldn't dress warm enough for the weather.
But with a little hot chocolate, I was able to feel my fingertips again and was back on the mountain plowing away.
Family Time
It really is special to have time with your children and granddog. I am truly blessed and can't wait for the next time I see all of them!