Ashley Craft is an avid Disney fan. She wrote a book, The Unofficial Disney Parks Cookbook, which I reviewed on this blog. Recently, she wrote The Unofficial Disney Parks Epcot Cookbook.
If you're a first-timer or a frequent Disney visitor, Epcot has so much to offer. From their World Showcases to their three popular seasonal festivals which include the EPCOT International Festival of the Arts, EPCOT International Flower & Garden Festival, and EPCOT International Food and Wine Festival, the park has amazing food to offer.
Equipment Needed
In order to get you started, Craft has a section on all the equipment that you need in order to get these recipes done including a baking sheet, a good high-quality blender, cake pans, cocktail shakers, and more.
The Unofficial Disney Parks EPCOT Cookbook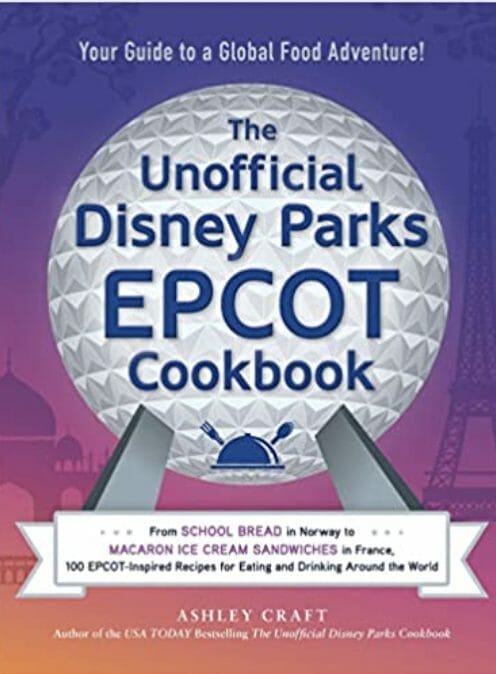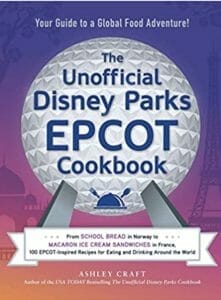 The recipes are from all the festivals and from the pavilions. They are organized by Appetizers and Snacks, Entrees, Desserts and Drinks. The author curates the recipes and uses her favorite ones in the book.
What I love about this book are the beautifully displayed photos. It just makes the food more appetizing. I also like that they are unique and different recipes, so if you are an EPCOT fan, you won't want to miss checking out this book.
Recipes in the appetizer and snack section range from House-made Crab and Cheese Wontons and Pomegranate-Chili Crispy Cauliflower to Canadian Cheddar chees soup and Watermelon Salad.
The Entrees range from Norwegian meatballs and North Carolina chopped Smoked Port Butt to Boeuf Bourguignon and Kielbasa and Potato Pierogi.
The desserts range from Dulce de Leche Ice cream and Tangerine Kakigori to Honey chocolate Baklava and Bananas Foster Waffles.
The drinks range from a Grand Marnier orange slush to a Froot Loops Shake.
Each and every recipe seems better than the next! There are dozens of recipes to choose from and if you want to create EPCOT in your own home, you now can have Disney night every night of the week.
What did I think?
The book is fun, festive, and a great giveaway to someone who loves EPCOT. The photos are incredible and the recipes don't seem that hard to master if you follow the instructions.  I would definitely recommend picking this book up for a gift for yourself or for a loved one who is a true Disney fan!