I flew into Denver International Airport on a Thursday morning. My cousin, Mindy, picked me up and we drove directly to the mountains. Glenwood Springs is about three hours from Denver. As you drive to the mountains, you see Loveland, then Copper Mountain and A-Basin, followed by Vail, then Glenwood Springs. It's a straight drive on I70.
At Glenwood Springs
First stop Bed and Breakfast
We rented an Airbnb bed and breakfast suite in an old victorian home, called the Floradora House. The house was painted lavender and there were a few steps to enter. As we got into the house, we noticed a dining area where breakfast was served. We were told to go up the steep staircase and open the back room, which was a "honeymoon suite." We opened the door and was very impressed.
There was a queen bed and then when you go down a couple of stairs, there was a nice sitting area. It was lovely.
Ryan, the managing agent, made us a delightful yogurt parfait along with a pecan scone that was unbelievably delicious. They were so accommodating and wonderful to deal with.
Day 1
When we got into town, it was 4 pm. After check in, we walked around the town of Glenwood Springs. They have such cute and interesting shops. We had a blast going from one to the other and checking out the restaurants along the way.
That first night we went to a sushi restaurant. It was okay but not excellent. Therefore, I would rather not mention the name here.
Day 2
Mindy purchased tickets to Iron Mountain Spring. There, we spent the morning. During "normal" times you can spend the day, but since COVID, they've limited the amount of time you can spend there.
After a lovely breakfast from Ryan at the Floradora House, we drove to Iron Mountain. Right now there is a lot of construction going on around the spa, but once inside, it felt serene and incredibly relaxing.
We didn't go in all of the pools and hot springs. Some were just too hot, so we spent time in the 99 degrees to 101 degrees F spas.
After a lovely, relaxing time in the hot springs, we went to lunch at the 19th Street Diner. The food wasn't bad but the service was horrendous. We waited 45 minutes for eggs and a caesar salad. Then when the eggs came out, they were runny so I sent them back. We then waited another 20 minutes for them to come up.
We decided to go back to the room and just "chill" before dinner.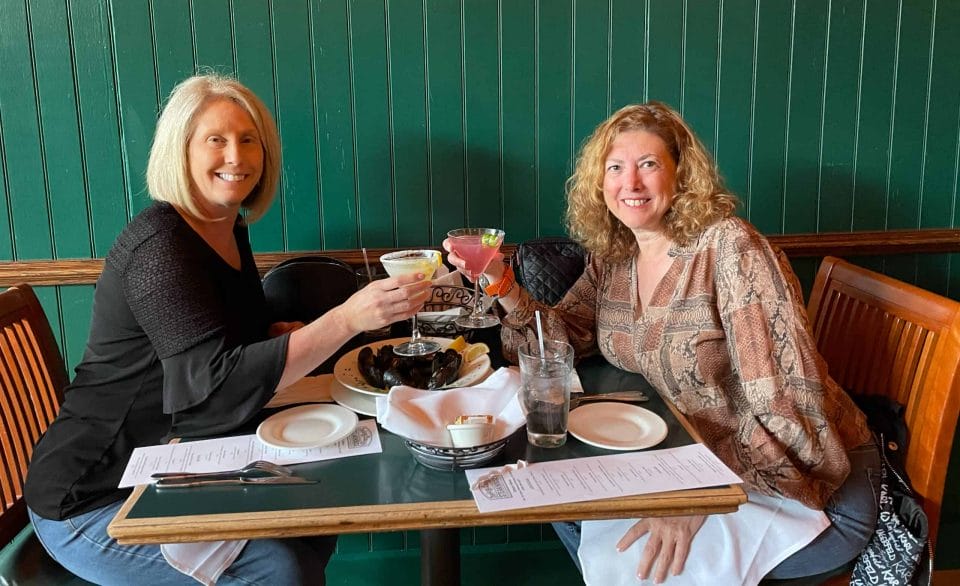 Mindy loved Juicy Lucy, it was a place she and her husband had frequented. So, we decided to go there. We both had filet mignons and potatoes. I found it dry and not as tender as I normally get. (I'm biased living in New York. We really do have the best food here.)
Day 3
I got up early and decided to go for a walk. I found a rail trail and followed that for a bit. While there, I decided to do an Instagram live video. Why not? There was so much to look at — amazing rock formations on the Rocky Mountains that surrounded the area, the quick current of the Colorado River and old fashioned walking bridges. It really was an awesome experience and if it weren't for the altitude, I would have run that every day!
After about a mile or so, I walked over to Deja Brew and had a yummy, delicious cup of Latte. I walked back to the Floradora House and had breakfast with Mindy.
We went back to the Iron Mountain Hot Springs and spent 2.5 hours there. It was just as delightful as the day before.
After lunch at a local taco place, we drove up to Aspen.
Aspen, Colorado
All of the finest stores along with the best restaurants are located in Aspen. Mindy and I spent a couple of hours walking around going into shop after shop. We walked into a jewelry store.
"Can I help you?" the woman asked.
"Oh, we're just looking," I said. "I'm trying to find something to go with an emerald green dress I bought for my daughter's wedding."
"I have the perfect designer for that," she said. The owner mentioned the designer's name but I don't remember what it was. She pulled out a pair of emerald earrings that were long, round and had negative space.
"Those are gorgeous," my cousin said.
"How much are they?" I asked.
"They are only $47,000," the shop owner said.
"Can I try them on?" I asked. And with that she took them out of the case, along with a ring from the same designer. The ring was only $52,000. I tried on the earrings and then I tried on the ring. They looked gorgeous. Too bad I don't have $100,000+ to spend on jewelry! haha!
We left and continued to shop.
Nobu in Aspen
Nobu is no longer in Aspen but the owner, Matsuhisa, has a restaurant in his name there. It has the same food at NOBU.
Mindy let me order since I've been there dozens of times. We started with a tuna potato chip, lobster taco, tuna tataki, followed by Miso Sea Bass and two rolls – house roll (which consists of all different fish) and a Toro Roll. Both were outrageous!
After dinner, the wait staff brought over a chocolate lava cake in a bento box and sang "Happy Birthday to Mindy." (It was her birthday a few days before.)
We drove back to the Floradora House after that. It was under an hour drive from Glenwood Springs.
Day 4
After getting up early, we packed our bags and checked out of the Floradora House. Ryan was fantastic and very helpful to us. We headed out of town and drove back down the mountain to Silverthorne Outlets. Silverthorne is not too far from Dillon Lake or Breckenridge Mountain.
There, we went from store to store and shopped! It was actually the first time I saw a Pearl Izumi Outlet so I was psyched! Banana Republic had amazing sales. Everything was between 50 and 75% off! So, you can imagine, we had a blast.
After that, we drove around and saw a couple of beautiful settings and drove back to Mindy's house in Aurora.
Once back in Aurora, we both got changed and headed to Cherry Creek to the Cherry Creek Grill. Mindy mentioned that they have the best French dip so that's what we ended up having.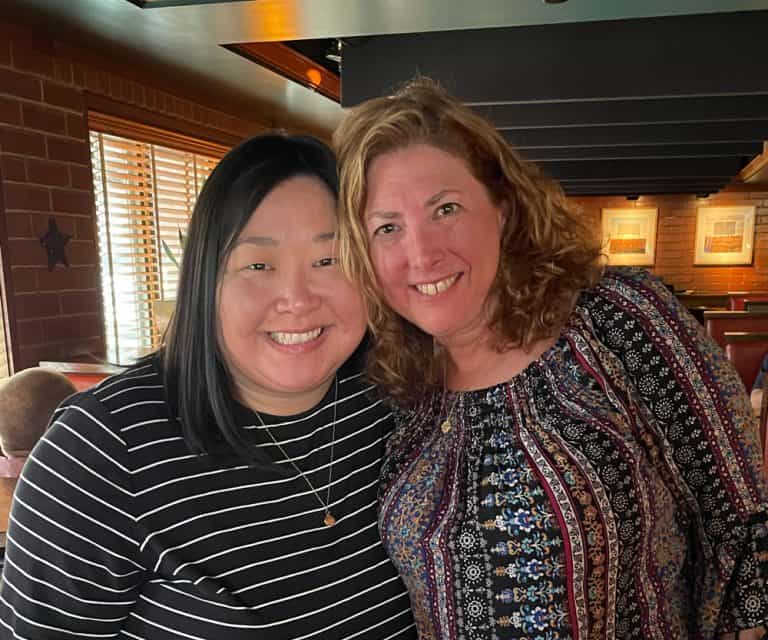 I was so happy to see Lisa Gordon from my office. She lives in Colorado but I haven't seen her since the beginning of the pandemic in March 2020 so seeing her just put a smile on my face. I also was "kvelling" when I saw her children at the end of the dinner. I can't believe how big they got. Two gorgeous little girls. (Of course, I saw her husband Gordon and it was great to see him too!) I'm so glad they were able to drive down to meet us!
What a perfect weekend
It was truly a perfect weekend. It took our minds off everything and finally, we had a chance to unwind.
If you ever get the opportunity to go to the hot springs, I would truly recommend it.