A lot of people have asked me why I fly around the country promoting my book, From Couch Potato to Endurance Athlete. That question prompted me to write this blog post.
Why have book tours?
If you are an unknown author or a first-time author, it's important to get your book in the bookstores. With limited shelf space, the only way to get into the bookstores seems to be to have a book tour.
Do the Bookstores Promote the Book Tour?
I have found that independent bookstores have much more stock in the game than the bigger box stores. Whenever I have had signings and readings, the independent stores have more of an engaged audience.
Some of the Barnes & Noble bookstores that I've been to have been amazing. They've promoted the event and have pushed to get attendance. However, some have not.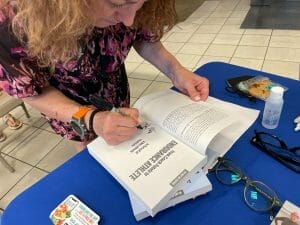 At one of the stores, I walked in, there was nothing set up and the books were still in a case in the back room. While other Barnes & Noble stores, the manager sat in on the presentation and wrote up a little card about the book.
If you are having a book tour at either an independent bookstore or Barnes & Noble, make sure to promote the event yourself. Don't wait for the bookseller to promote the book, because it may not happen.
How to Promote Book Tours?
I've been using social media, primarily Instagram and Facebook to promote my book tours but I also use Twitter and LinkedIn. For me, it's about awareness building first.
In addition to that, I've been using email marketing and publicity to build awareness.
Is it Worth Doing a Book Tour?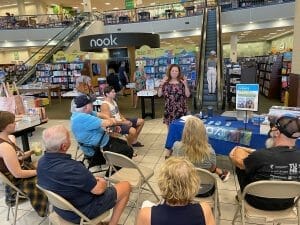 It definitely takes a lot of time to go out there and do these book tours. You also need to be somewhat aggressive. The other day, I was in Tampa for example and only a couple of people showed up. So, I turned up my microphone and spoke loud enough so that the whole Barnes & Noble could hear me. After my presentation, people came up to me and said they listened to the whole presentation and were intrigued.
Getting out there and spreading awareness is always a good thing. And, if you have a book, make sure to target bookstores that will help you get the word out.
Upcoming Book Tours
I have two in Colorado – one in Boulder and one in Littleton. If you live in the area, send me a note and hopefully, you can be there!