I saw this post on Facebook and asked permission from Doc Golden to share with this community. Doc and I are fellow triathletes and runners and we met back in 2016 when I ran the NYTriExpo. I have always been very impressed with her achievements. And, I wanted to give her the forum to talk about her experiences.
---
A Biracial Experience…
I WAS 11 THE FIRST TIME I WAS CALLED THE "N" WORD.
I was in the 6th grade, attending a small private school in Woodstock, NY. The little blonde-haired, blue-eyed boy that called me the "N" word, stuck his face in my face and literally said it in slow motion. He knew what he was saying was wrong, but he didn't have any idea how wrong it was.
Growing up…
I was born into a mixed-race family. Most of you know that my mom's family is black and from the south. My father is white. Jewish. And they are from Austria. My paternal grandmother was ashamed and afraid of my existence that even though I was her first grandchild she refused to see me. She didn't mean to hate me.
She came from another country, another generation, another culture and it was all she knew from people around her. I am VERY fortunate to have had a father and uncles who loved me very much. After a few weeks or months, as I am told, one of my father's brothers took little baby Doc over to Grandma Gladys' apt. in Stuyvesant Town, NYC, busted open the door, against her will and presented me to her.
When I met my grandmother…
"This is your granddaughter!" She melted and fell in love with me. The few years that I knew her as a child before she passed away, we had a beautiful relationship. But she had to be willing to change the way she thought, and let go of what she was taught growing up. I'm so glad she did.
My brother was born white…
When my brother Wallen was born he was white, just like I was, and just like most mixed babies are. As Maya and I say, like newborn Dalmatian puppies, it takes a little while for mixed babies to grow their spots—develop our melanin.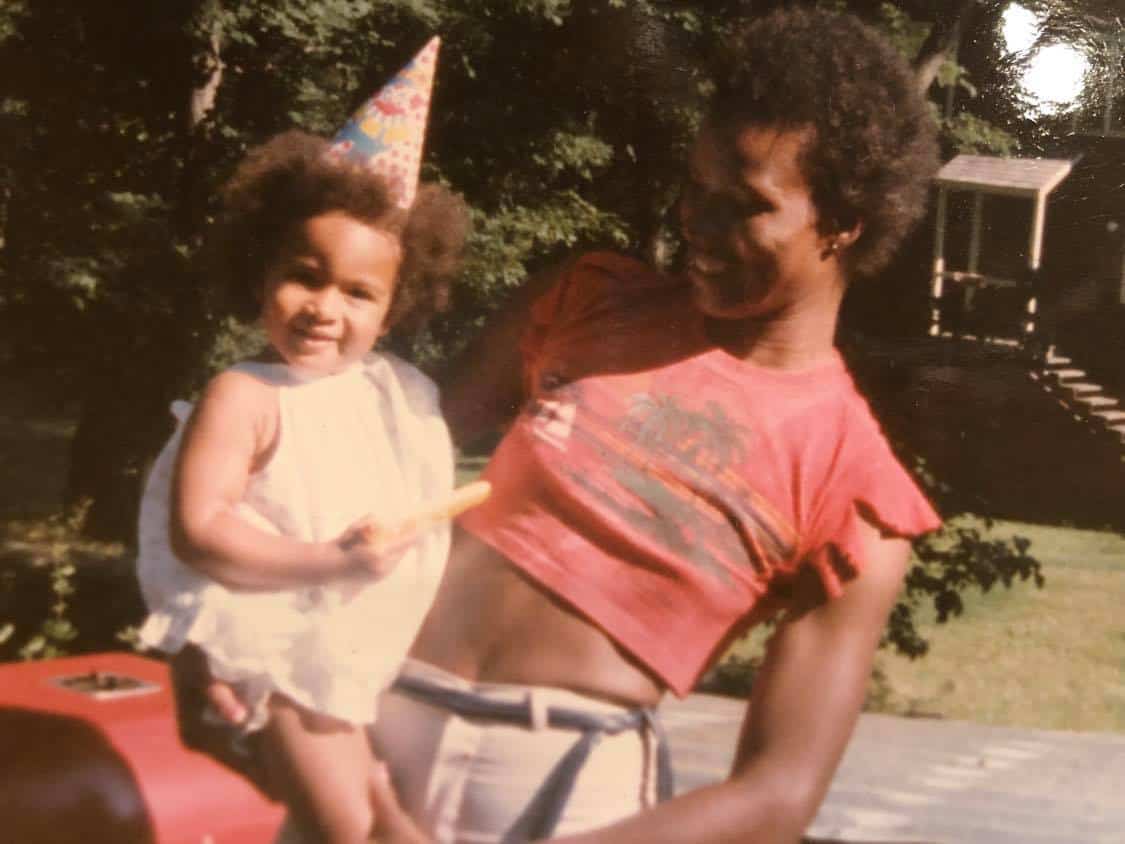 Anyways, Wallen was born in 1987, New York City, Beth Israel Hospital. After he was born he was taken to the nursery, again, like most babies are. The put the little bracelet on his little ankle, the same one that they put on Mom, to match Mama and baby. They refused to give him back to Mom. Saying, "This is a white baby! This is not your child." My dad was there and they all had matching bracelets on. Nevertheless, the refusal to give Wallen back to Mom.
When looking for an apartment…
Just a few years ago, I was looking for an apartment. I had 3 days to be out of my current apartment. After leaving my office in Times Square, dressed in a suit and heels, I went to visit an apartment in Queens, NYC, ready with checkbook in hand. The landlord met me and showed me around the apartment as he agreed to when we set up the appointment.
After seeing it, I told him I would take it, and was ready at that moment to write a check for the security deposit, first and last month's rent. I asked him the final number to write on the check and asked how soon I could move in. The landlord looked at me in my face, laughed out loud, and said, "I like to keep the skin tone to a certain level in this building, and you are too dark. You are not welcome here."
Mind you, he was a proud, dark Sicilian man, just about my complexion in fact. He continued to laugh at me, making jokes, saying things like, "you're half black and half white. You're all mixed up. Do you even know who you are?"
I was shocked— This was a grown man, in New York City, in 2009 could look at me in the face, and say the things he was saying, laughing, arrogantly with no hesitation or remorse at all. He hurt me and I was genuinely confused, but I went home and I prayed for that man.
I didn't know where I was going to live in three days but knew that he was in a much worse place than me. One way or another I knew God would make a way and provide for me, as He always did. However, this man had lived his whole life, blind, filled with hatred, limited, and hurting other people. I thought about the darkness he was living in, and the state of his soul and I prayed for him. And of course, God provided for me.
Why do I share these stories?
I share these stories with you not for sympathy but for awareness and to provoke healthy, meaningful conversations. If we don't have conversations then we can't learn. If we don't learn, we can't grow and we will never change. People will continue to be taken advantage of, abused and murdered. It is our personal responsibility to destroy racism.
I am extraordinarily fortunate to be surrounded by exceptional friends, who are kind, diverse and welcome and respect people of all cultures and backgrounds. I am more grateful for my family, friends and the relationships that I have than anything else in life.
The sad fact is, however, that most don't realize the hot flame of racism still burns and ravages our society. Racism is still a regular, daily, part of people's lives—your friend's lives. Many don't know because they have not experienced it first hand, and not enough people have shared their stories. Tonight, I share my stories with you.
"Finally, all of you, be like-minded, be sympathetic, love one another, be compassionate and humble. Do not repay evil with evil or insult with insult. On the contrary, repay evil with blessing, because to this you were called so that you may inherit a blessing."
– 1 Peter 3:8
---
Doc Golden is a 37-yrs-old, single, woman. She currently cares for her disabled mother and lives in North Bergen, NJ. Doc graduated from NYU 2004 with a BS in music education. She worked in Marketing for a nonprofit for 14 yrs, resigned and started her own business doing motivational speaking in schools and businesses. Doc is an Ironman finisher and a 7X Marathoner. She is also a triathlon coach.