An interesting study crossed my desk and I wanted to share it with you. It talked about how some doctors now have a second job!
They have become influencers on social media, particularly Instagram.
Lots of medical professionals have built up loyal followings online, sharing their medical expertise, and giving an insight into life on the front line. From doctors and nurses to plastic surgeons and 'pimple poppers', many medics have built themselves a potentially profitable side job.
Check this out…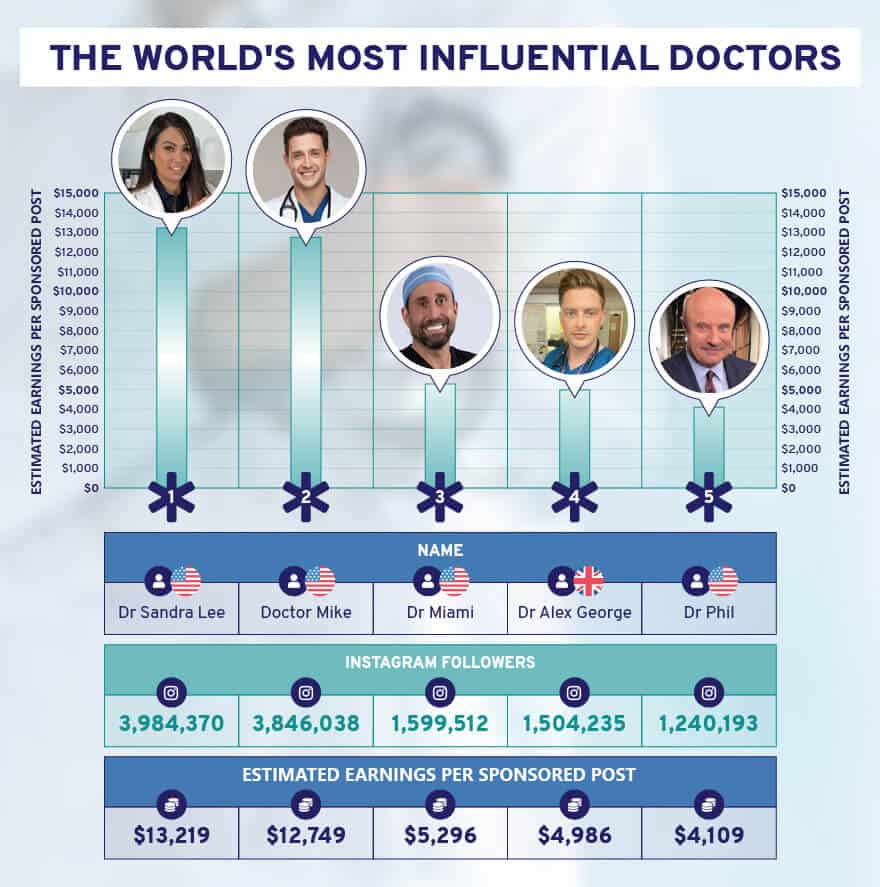 1. Dr Sandra Lee
Instagram followers – 3,984,370
Estimated earnings per sponsored post – $13,219
Perhaps better known as 'Dr Pimple Popper', Sandra Lee may be the most famous doctor on the web (or perhaps infamous depending on how squeamish you are!).
Her feed, which showcases videos of her popping pimples and removing cysts, isn't for the faint of heart, but it's earned Dr Lee almost four million followers and even her own TV show.
2. Doctor Mike
Instagram followers – 3,846,038
Estimated earnings per sponsored post – $12,749
Doctor Mike (aka Mikhail Varshavski) isn't just a New York-based family physician – he also held the title of People magazine's 'Sexiest Doctor Alive' for 2015. This title alone could go some way to explaining how he's built up over 3.8 million followers on Instagram!
Along with his Instagram account, Doctor Mike also has a successful YouTube channel where his stated aim is to make the field of medicine relatable, understandable and fun.
3. Dr Miami
Instagram followers – 1,599,5128
Estimated earnings per sponsored post – $5,296
Dr Miami (or Michael Salzhauer) is a plastic surgeon who gained fame for his quite graphic video posts of procedures such as butt lifts, liposuction and breast surgeries. These videos have earned him more than 1.5 million followers.
He's worked with numerous celebrity clients over the years and, along with having his own TV show, he's even written his own children's book and recorded a hit song!
4. Dr Alex George
Instagram followers – 1,504,235
Estimated earnings per sponsored post – $4,986
Dr Alex rose to fame on TV's Love Island in 2018. However, he's also a working doctor for the United Kingdom's National Health Service (NHS), and now combines his role as a social media influencer with his day job.
This means his Instagram is a blend of updates from his daily life, posts around mental and physical wellbeing and weekly health Q&As.
5. Dr Phil
Instagram followers – 1,240,193
Estimated earnings per sponsored post – $4,109
Perhaps the original 'medical influencer', Dr Phil McGraw has been a household name in the US for over 20 years as host of his own advice show. While he holds a doctorate in clinical psychology, Dr Phil's focus has been firmly on the entertainment world for the past few years.
Here's a bigger list:
What do you think? Do you think Doctors should be celebrities and make additional money through social media? I would love to hear your thoughts.