There was a threat of snow a couple of days before I arrived in Colorado for my book tour of From Couch Potato to Endurance Athlete. My cousin, Mindy, called to warn me. "Your plane may get delayed," she said.
I got to the airport with plenty of time to spare. As always, I went to the Delta club filled up my water bottle, grabbed a cup of coffee, and was on my way to gate 55, which is the last gate in Terminal 4 at Delta airlines. The walk is long and tedious. But, I got there as they were calling passengers to load the plane.
Once on the Plane
As I was sitting comfortably on the plane, I heard an announcement.
"Weather is bad in Colorado. We will be delaying the flight by an hour. Please disembark the plane."
I was shocked. This was the first time I boarded a plane and was told to get off. I gathered all my belongings and quickly exited the plane. I sat in a seat by the boarding gate and waited.
Once we reboarded and were off, it was smooth sailing until we landed.
We landed in Denver an hour late but the plane just circled the runway for another hour. There was snow everywhere and you couldn't see past 100 feet. Everything looked white.
After about a half hour, we got an announcement, "we're sorry but not too many people showed up for work and the airport is short-staffed. We need to wait for a gate."
So we stopped and waited. I felt bad that Lisa, my business partner, was waiting for me.
When we finally got to a gate, the walk was longer than the one at JFK. I didn't realize there was a train to take you to baggage.
Anyway, I got my bags and Lisa picked me up. We were planning on doing some work but by the time I came in, it was so late and we had to get to the Runner's Roost.
The manager of the Runner's Roost in Boulder invited me to speak after the group run on Wednesday evening. I was originally supposed to run with the group but decided against it because of the snow and ice.
Lisa and I got to the store and waited for the runners to come back. As soon as they did, I told them my story and talked about the book. They were receptive.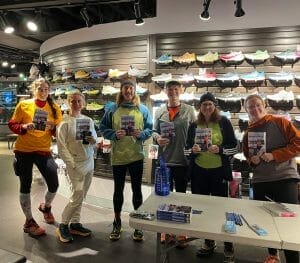 Although they normally get around 40 people to their weekly runs, on this Wednesday they only had about 10 people because of the storm. But, it went well and they asked good questions so it became interactive.
The manager even mentioned that if I come back, I might be able to do this talk for all of their stores.
That night I was supposed to go to my cousin, Mindy's house to stay there, but…
Mindy wasn't feeling well and I told her not to meet us in Boulder. So, that night I slept at Lisa's house. Her daughter, Ana, was so generous and gave up her bed for me. She slept with her parents in their room. (Turned out, their other daughter Tasha stayed with their parents too!)
The next day, Lisa and I got up early. After the kids were out, we went to the community center to work. While we were working, I get a call from Mindy. "I'm feeling much better," she said.
"Okay, great," I told her, "let's meet up at the Tattered Cover tonight and I'll sleep at your house going forward."
About an hour later, I get a call from Mindy saying that she tested positive for Covid. Thankfully, Lisa and her husband, Gordon were generous and allowed me to stay with them for the duration of my trip.
Tattered Cover
The Tattered Cover in Littleton is a great bookstore. When I got there, they were all set up and ready for the presentation. Prior to giving the presentation, I went into the Ultra store and met a salesperson there who sold me some moisturizer. (Between the altitude and the dryness, I felt like a prune.) We got to talking and it turned out we had a lot of similarities. When I told her about the book tour, she was excited and decided to come to the Tattered Cover.
There were a few people in the audience. It started out slow with just my niece (who lives in the Denver area) and Mindy's best friend. But as the presentation got underway, some people from the store joined in to listen. I was really impressed that someone who heard me earlier that day on a podcast came in to buy a copy of the book. It was wonderful to meet this runner.
Mark from Headsweats also came. It was great to finally meet him.
The beginning of the presentation felt a little rusty to me but as it got underway, it went well.
Next Day
We had a free day on Friday. So we went back to the Runner's Roost in Boulder and signed a couple of copies of books that they had there. Then, we walked around for a bit before getting facials at "Clean My Dirty Face." My skin was so dry that I really need it. I got an oxygen boost on my skin. It felt so good.
The day went fast. We came home, gathered Lisa's husband and children, and went to dinner at a hibachi steak place. We got home early and went to bed.
Barnes & Noble Boulder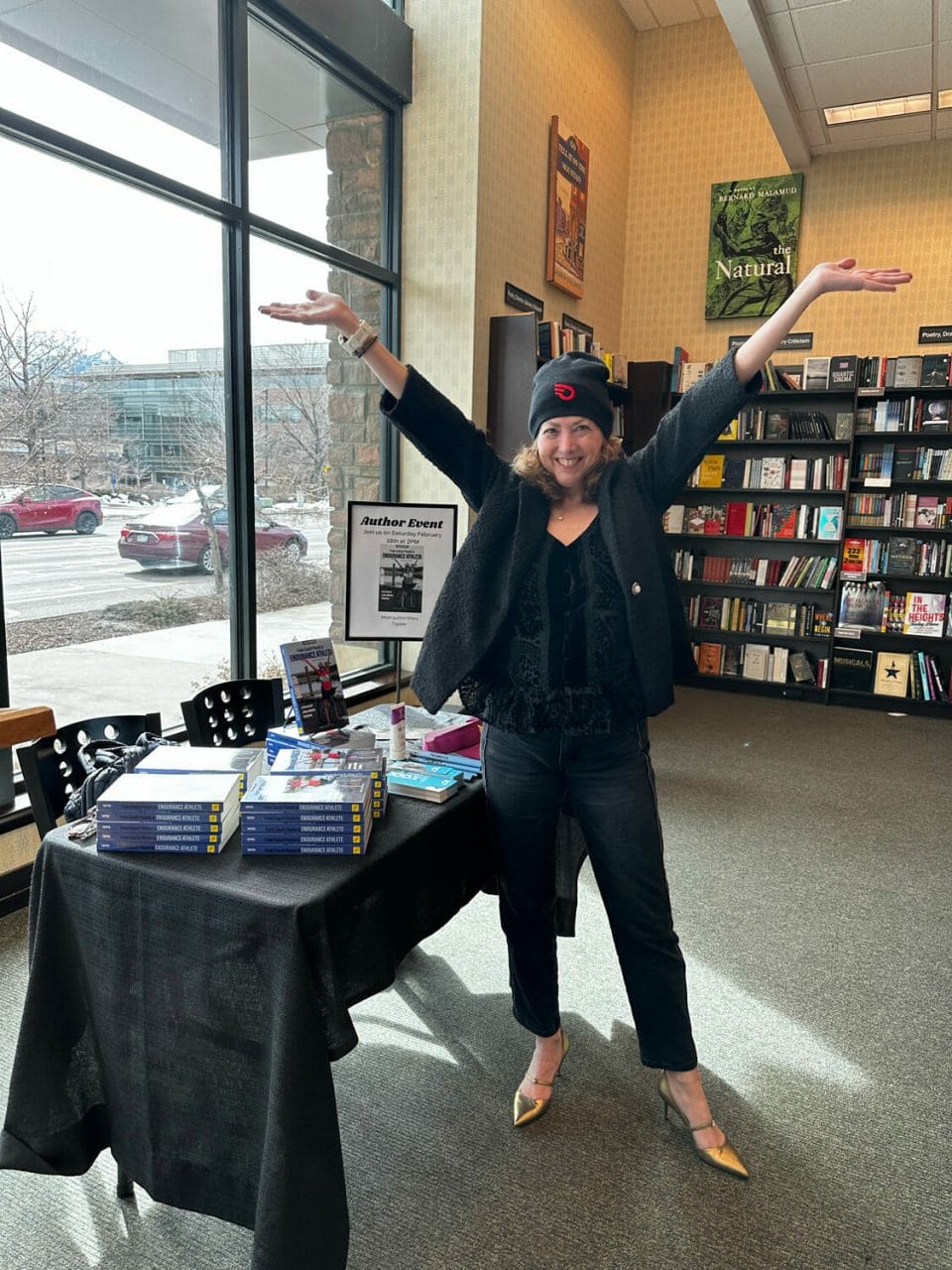 The next day, Lisa, her family and I got to Boulder by 11:30 am and met up with my niece and nephew and their children for lunch. It was so nice to see her and the family.
Following that, we went to Barnes & Noble on Pearl Street. It was huge!
The staff did a nice job setting up and about 20 or so people came. I told my story, thanked Headsweats, and gave out some giveaways. It was so nice to see family, friends, and new friends that I met through the bookstore.
It's a Wrap
Colorado book tour was a great success and I am truly grateful and honored that Headsweats, my favorite visor, and running cap brand, sponsored the tour.
Now that Colorado is behind us, I'm excited to be speaking at The Next Chapter in Huntington on Thursday, April 13 at 7 pm. I would love for you to come to this one to support not only me but The Next Chapter (an independent bookstore that used to be Book Revue.) 
After that, on Thursday, June 15 at 6:30 pm, I'll be in Riverhead at the Barnes & Noble there. If you live out on the east end, I would love to see you there!!!
Both tours are sponsored by EventPowerLI, where a race entry to either the Massapequa Turkey Trot in November or the Smithpoint Triathlon in August will be given away!
Thank you in advance for your support.