I was invited back to Denver, Colorado to do another book tour for From Couch Potato to Endurance Athlete – a Portrait of a Non-Athletic Triathlete.
The Runner's Roost
The Runner's Roosts stores in Colorado wanted me to talk with their running groups. So, Monday night I spoke with the Aurora group, Tuesday night I spoke with the Central Park Group located in Denver, Wednesday I spoke with the Louisville group, and Thursday I spoke with the Golden group.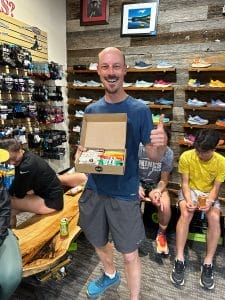 It was a lot of fun. I loved learning about the runners and I know they enjoyed hearing stories about my book and my experiences.
Older Triathlete
I think many were shocked when they heard that I was 61 and that I started triathlons when I was 53. Although it may have been a mid-life crisis, it's something that I truly enjoy and am passionate about.
My Book
My book is raw and transparent. I disclose things that I wouldn't normally disclose but in this world of authenticity, I felt it was important to share some of the mental health struggles I've endured during my adult life.
Other Speaking Opportunities
I'll be talking at the Boston Run Show in January. My topic will be overcoming obstacles and staying on track. (If you have read my book, you will know all the obstacles I've faced.)
Free tickets
I have free tickets to the run show if you are interested. Here is the link: https://thebostonrunshow.seetickets.com/event/the-boston-run-show-2024/boston-hynes-convention-center/2715756?OfferCode=SPEAKER
Discount Tickets
I'll also be the keynote speaker at the Hudson Valley Marathon event. The evening before, they will have a pre-race party and I'll be speaking there about getting everyone motivated for the big day. For 15% off sign up for the race and use the code: HILARY.
Do you have an opportunity?
If you know of an opportunity where I can speak, let me know. I would love to work with your group and motivate them to get out of their wheelhouse and do something extraordinary. Contact me at [email protected].