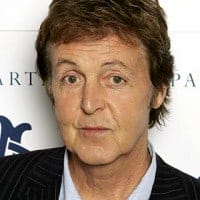 It was a cloudy, rainy day at Nationals Park in Washington, DC. The Paul McCartney concert was starting in 30 minutes and the threat of heavy rain pour didn't keep anyone away from seeing the former Beatle. The stadium was packed and people moved from place to place in a herd, walking very slowly.
In February 1964, The Beatles played their first US concert in Washington, DC. Today, 49 years later, Paul McCartney, one of only two surviving Beatles, packed the 40,000 seat stadium with no seats left behind.
The show started at 8:20 pm with photographs and drawings on large screens on the side of the stage, playing Paul McCartney songs. This lasted until 9 pm.  (This started the show off with a bang although many people were a little frustrated that this montage of song and photographs went on too long.)
Paul McCartney came out shortly after 9 pm and he sang, "Eight Days A Week." The crowd was roaring!  There were people of all ages in the crowd with the majority of the folks in their late 50's and 60's.
He played quite a few Wings songs including: Junior's Farm, Let Me Roll It, Nineteen Hundred and Eighty Five, and Band on the Run.
McCartney played the majority of Beatles songs including: Lady Madonna, Blackbird, Lovely Rita, Back in the USSR among many other famous songs.  His voice sounded better than the last two times I saw him, which was at Citifield and at the Nassau Colliseum.
When he played the song, "Live and Let Die," lasers filled the sky and fireworks went off on stage and behind the stage.  It was extremely dramatic.
Paul played songs for Nancy, Linda, John and George.  The audience had a standing ovation for both John Lennon and George Harrison.  He told the audience some humorous antidotes about all four. It was very moving, yet the first time I heard him pay tribute to his bandmates, I felt that it was more emotional.  This time, it was more of a celebration of life.
The end of the concert, came with three encores.  The last song was The End.  It was followed by confetti and fireworks.  Everyone left the statium with a big smile on their faces.
For a 71 year old man, Paul McCartney knows how to rock out more than most people I know!
———————————
DISCLOSURE: NO CONNECTION, UNPAID, MY OWN OPINIONS
I have not received any compensation for writing this content and I have no material connection to the brands, topics and/or products that are mentioned herein.