Here's a brief review of the bands I saw at Firefly Music Festival.
Day 1:
Grizfolk were the first band we saw at Firefly Music Festival. We saw them in the Coffee House. They were a mixture of country and rock and definitely kept my interest. This will be a band whose album I will consider buying.
The XAmbassadors were incredible. I like a few of their songs that I've heard on Alt Nation but never had an album and really liked their sound. They were incredibly animated and the two new songs — Gorgeous and Naked, where really hot.
Day 2:
Knox Hamilton played their set on the Lawn.  They were amusing and their music rocked out.
Echosmith played on the Lawn however, it was just too hot to really watch them and we ended up finding a shaded area to relax for a while. We caught them again at the Coffee House and they were really fun to watch. They are a young band, right out of High School but they had full command of the audience. Their song, Cool Kids, got everyone up and dancing. They also played a Talking Heads song, which I found impressive. (Anyone who likes the Heads is a band I'm interested in!)
Big Data is a relatively new band with an electric sound. We watched them for most of the set as we sat by the sound board.
Walk the Moon was incredible. I love this band. They are a great new band with at least four hit singles including, "Shut Up And Dance," which can be heard on many of the popular radio stations.  Everyone in the audience was dancing like wild!
Cheerleader played in the Coffee House, however, I was upset we didn't catch the beginning of the show.   There were very few people at the show but they really had talent and I can definitely see them going places.
Manchester Orchestra played on one of the main stages and in the coffee house. We caught them at the
smaller venue and I'm glad we did because they were amazing!  Andy Hull is very talented. It was funny. The crowd was chanting, "Andy, Andy, Andy" and in the back Robert McDowell was saying "And Robert…" During their performance on the bigger stage the duo took off their shirts. The crowd was screaming to take off their shirts again and Andy said, "F-ck off… ummm, only kidding."
Paul McCartney ended the evening on Friday night.  We saw Paul last year in DC and I could swear this was the same exact show. Even when he addressed the audience, he said the same thing. At one point he said, "give me a minute to take this in…" He said the same thing in DC a year earlier.  He also dedicated the same songs to the same people, so for me it was a repeat show. I'm not saying he was bad. He was incredible as he always is, but it was the same show. I particularly liked when he sang: Black Bird and Birthday (in honor of his birthday). He played songs from the Beatles, Wings and even some new songs. Paul dedicated "Long and Winding Road" to the people of Charleston after the psychopath killed nine people in a church there this past week.
Day 3:
Milo Greene is an Indie band and we really liked their sound.
Lizzo was a rap artist who played on the Forest stage. When she came out she said, "yes, my hair is real." She was funny and a strong feminist. She got the crowd going. Everyone was up and dancing.
Night Terrors of 1927 was also on the Forest Stage. They were incredible. I didn't think I would like them as much as I did. I do like a couple of their songs – Dust and Bones and When You Were Mine. The band is young and they very talented.
Gary Clark Jr. played electric blues music and he had a mellow sound. It was the perfect sound for an outdoor festival.
Matt & Kim were the highlights for me. They were funny, fun and really put on a show. It was just the two of them on the main stage at Firefly. Kim was wild. She jumped around the stage and even, "took it off." The funny thing about this show was that the security guards kept trying to control the crowd and Matt & Kim kept stirring them up! I loved it! What trouble makers… Kim even walked across the audience! Their music is incredible too. I love so many of their songs like Let's Go, Hey Now, and It's Alright. They just have a fun sound and the crowd went crazy!
Spoon was tight at Firefly. I guess they always are actually. They played their hit singles and the crowd was just loving them.
Vacationer was one of the rare finds we found at Firefly Music Festival. They also are an Indie/Alternative band but the sound was upbeat and fun. (The only problem we saw, was that the sound people kept putting up the bass and that distorted the music a bit. This actually happened to a few of the bands. When I told the sound people to lower the bass they looked at me and laughed…It was a little unfortunate.)
Sublime with Rome played a little ska, a little reggae and a little rock all mixed into one sound. There wasn't a single person not dancing (except for me because at that point I was totally blown away!). They were really good but they were abruptly stopped before they actually finished because of tornado warnings. Everyone was told to evacuate.
Day 4
Steve Aoki who should have played on Saturday night but was cancelled, played at 2:30 pm at the Backyard
stage. He is a DJ that plays Electric Dance Music and the crowd was crazy. He throws out cake and other items into the crowd. He put on a great performance with light show, streamers and confetti. I enjoyed him. You couldn't help but dance!
Cold War Kids was the first band we saw. I thought they were okay to listen to but I'm not going to run out and get their album. There really wasn't anything that struck me that was different about their sound. I wanted to see them because I had heard their music on Alt Nation and liked it. Unfortunately, I wasn't that impressed.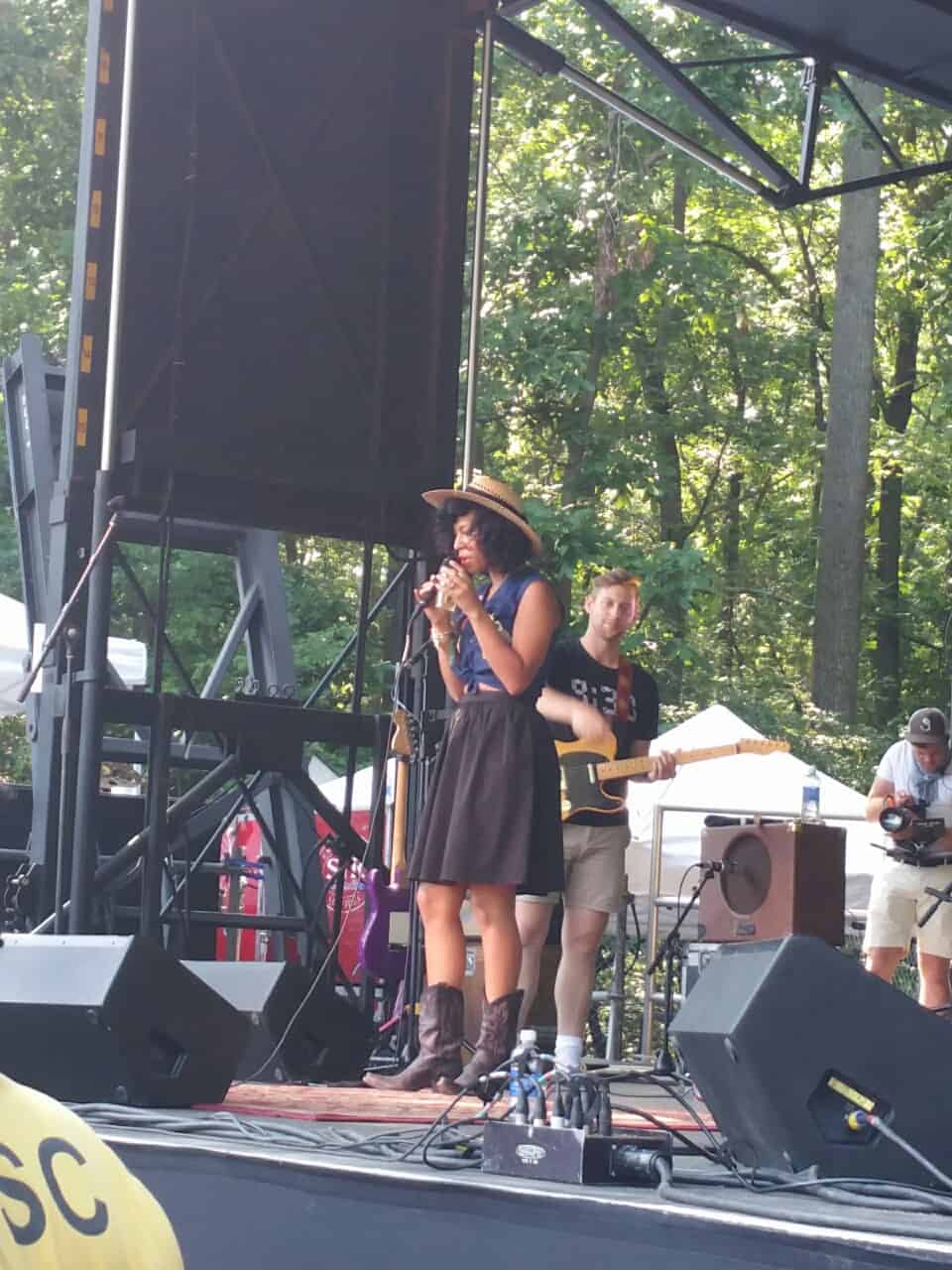 Phox on the other hand was a great new band that I discovered at Firefly. Phox is a group of High School friends from Wisconsin who stayed together and formed a band. The lead singer is a beautiful African-American young woman who sang like an angel. She reminded me of Sade. She's someone to look out for because this band has a ton of potential. The crowd thoroughly enjoyed the show!
Bad Suns was on the Porch and as we were passing them, they played Cardiac Arrest, which is their hit single on Alt Nation.  They sounded great and the crowd roared after Cardiac Arrest played.
Hozier was also incredible. I love his deep voice. When he sings, he's almost hypnotic. This band has a ton of talent and I look forward to their next album. I have their first album that has their hit single, Take Me To Church, and love it.
We saw 20+ bands in four days and it was worth every minute!