If you're looking for incredibly comfortable golf shoes (and who isn't?), then check out the Skechers GO Golf Max – Mojo shoes.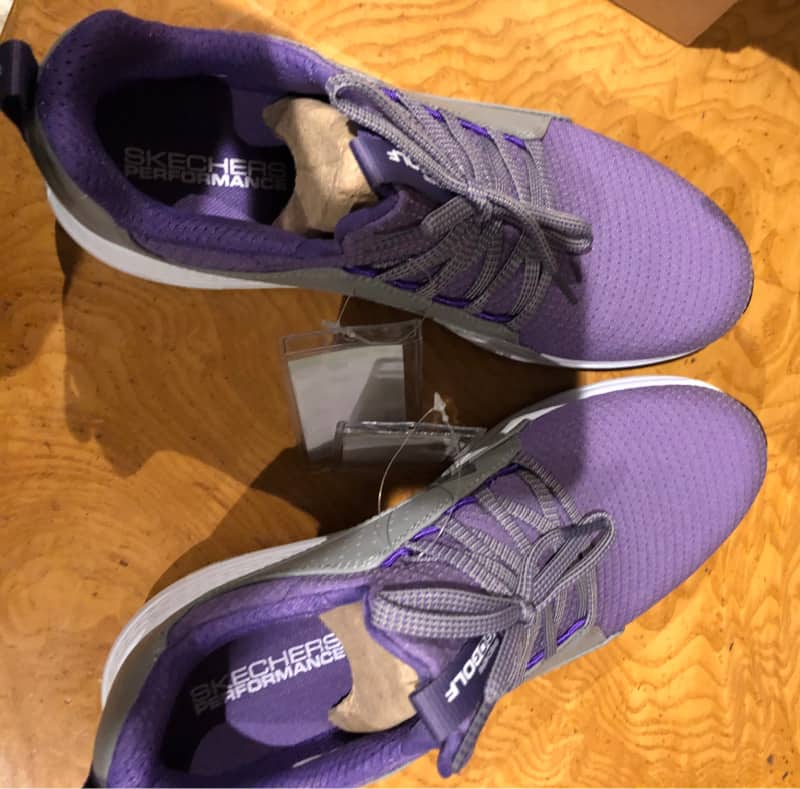 These shoes are super comfortable and feel like you're wearing sneakers. The thing about these shoes, as opposed to some of the other brands, is, you put them on, they are comfortable. Then, you play a round of golf and you can't wait to take the shoes off! This wasn't the case with the GO Golf Max – Mojo Golf Shoes!
Features
First off, they are ultra-light! The top of the shoe is canvas and waterproof. (I got the shoes wet when I played and found they dried with no stains!) They are also breathable so your feet stay dry the entire round. The cushion on the insoles is bouncy, giving you that boost in every step. (I love that!)
The bottom of the shoe has spikeless durable grips. The backs of the GO Golf Max – Mojo are snug so your foot doesn't come up. There are laces on the top that do secure your foot even more, however, you don't really have to tie them. Just slip your foot in and go!
Taking them for a test drive
I have several pairs of golf shoes. (If you know me, I don't have one of anything!) But, I found the GO Golf Max – Mojo to be sturdy, durable, and extremely comfortable. As I mentioned earlier, I wore them for a round, and usually, after that, I immediately take off my shoes and put on recovery shoes. I didn't have to do that with these golf shoes. I could honestly wear them all day and they give me the bounce and the support I need to not think about my feet and focus on "hitting them straight!"
You can buy them on the Skechers website for $100. Here's the link: https://www.skechers.com/women/shoes/skechers-go-golf-max—mojo/14887_GYPR.html.