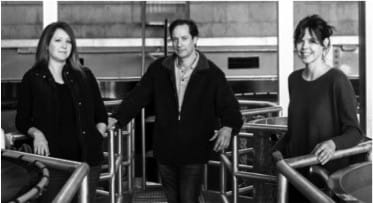 (From left: Associate Winemaker Megan Gunderson Paredes, Director of Winemaking, Steve Leveque, Associate Winemaker, Alison Frichtl at HALL's LEED Gold® Production Facility in St. Helena, Calif.)
HALL UNVEILS ITS PLATINUM COLLECTION
Leading Cabernet Producer Announces Crème de la Crème Collection
NAPA VALLEY, CA (June 20, 2016) – HALL Napa Valley, one of the world's leading Cabernet producers, has announced the release of its Platinum Collection. This collection includes HALL's most exclusive, limited production wines that demonstrate exceptional quality, scarcity and distinct pedigree of Napa Valley terroir.
"I have a micro-managed focus for this Collection, mirrored with a rigorous approach in the vineyards," says Director of Winemaking, Steve Leveque. "It's all about sourcing fruit from tiny, exalted vineyards, allowing us to capture expression vine by vine, shoot by shoot, cluster by cluster. We are intimately involved with every aspect of this process and feel this series represents a beacon of quality."
The Platinum Collection launched last year with its inaugural 2012 vintage, with the 2013 in current release. The wine series focuses on single vineyard, high-quality Cabernet Sauvignon that represents the pinnacle of quality. The 2013 'Rainin Vineyard' Cabernet Sauvignon earned a 100 point score from Robert Parker, The Wine Advocate.
This highly-allocated wine offering is available for Platinum List Members only. To learn more about joining the Platinum List, please visit the website at www.hallwines.com/platinum-collection.

2013 HALL 'THE BISHOP' CABERNET SAUVIGNON
Appellation: Napa Valley
This wine honors the artistry and passion of Winemaker Steve Leveque, whose French last name translates in English to "The Bishop." The Bishop embodies a truly special experience – the combination of complexity, concentration, and elegance crafted from exceptional Cabernet Sauvignon. The 2013 wine defines the best possible representation of the vintage. The wine is dark purple in color, exuding aromas of blackberry, dark spice, black peppercorn, anise, cedar chest and a slight floral note. The palate is vibrant, emanating lush, dark fruit of tremendous opulence. The finish is powerful and nuanced with a decadent chocolaty character.
2013 HALL 'SACRASHE VINEYARD' CABERNET SAUVIGNON
Appellation: Rutherford
"Sacrashe Vineyard" is produced from its namesake vineyard, home to HALL's first 100 point wine. Sacrashe vineyard, hidden atop the eastern ridge of the Vaca mountain range in Rutherford, is noteworthy for its extremely limiting volcanic tuff soils and gentle sloping aspects. This vineyard yields fruit that is rich, dense, earthy and opulent, possessing a purity of focus and pronounced power. The wine exudes dark and pure, voluptuous fruit.
2013 HALL 'RAININ VINEYARD' CABERNET SAUVIGNON
Appellation: Diamond Mountain District
The Rainin Vineyard, founded in 1998 by the Rainin family, is a bucolic, eight acre site located on the rugged volcanic slopes of Diamond Mountain. The vines are nestled amongst majestic pine forests and redwood groves. This wine opens with aromas of juniper, crushed violet and dried, dark plum. The palate is lush with dense, purple and black briary fruit and a rich tannin structure. Muscular and opulent, the flavors cascade through the long finish. This wine earned a 100 point rating by Robert Parker, The Wine Advocate.
For more information on The Platinum Collection, please visit www.hallwines.com/platinum-collection or by email at [email protected]
For more information, visit www.hallwines.com, @hallwines, or by calling 707.967.2626.