Derek, my son, booked City House the Friday night before the race because he knew I wanted pasta. My friend and teammate, Stephen, and his family joined us. Stephen flew in the night before and his family flew in from Jacksonville. They met us at the restaurant.
What I Didn't Like
I wasn't thrilled that the restaurant wanted my credit card to reserve the table. But, I figured I would give it to them and they would just use it as a hold. Instead, they billed me $120. When I got to the restaurant, I asked about the money.
"Will I get it back on the bill?" I asked.
"Oh no," the hostess said, "you will get a refund in 7 to 10 business days on the card."
I was floored. I couldn't believe they actually charged me and then wouldn't let me apply it to the balance of the bill.
The manager came over and I expressed my dismay. "Well, we do that because we're a small business and if someone doesn't show, we keep the money." I was shocked! I just said, "That's really not cool."
I said, "The food better be good." I thought to myself this will be the first and last time I will come back to City House.
We Were Seated by the Manager
Once we sat down, I tried to recompose myself. I was with a group that I never went out with before and didn't want to seem rude.
The dinner was actually lovely. The food was better than I imagined. And, the conversation was even better. It was the first time I had dinner with Stephen and his family and I thoroughly enjoyed it. My son enjoyed it as well.
What We Had
There were seven of us at the table. We were told that City House is a sharing menu. The items were small and worked out okay for sharing. But everyone just got a small bite of each thing.
We started with a Kale, Vidalia Salad with sunflower seeds, and a Farinata with roasted carrots and chickpeas. Both were a little spicy but very tasty.
We then ordered a cheese pizza (brick oven) and a belly ham and mozzarella pizza with an egg on top. Both were delicious.
Main Course and Dessert
This was followed by Bread Gnocchi (made from pizza dough), Crispy Braised Pork, and Catfish. The portions weren't big. So, everyone had a little taste.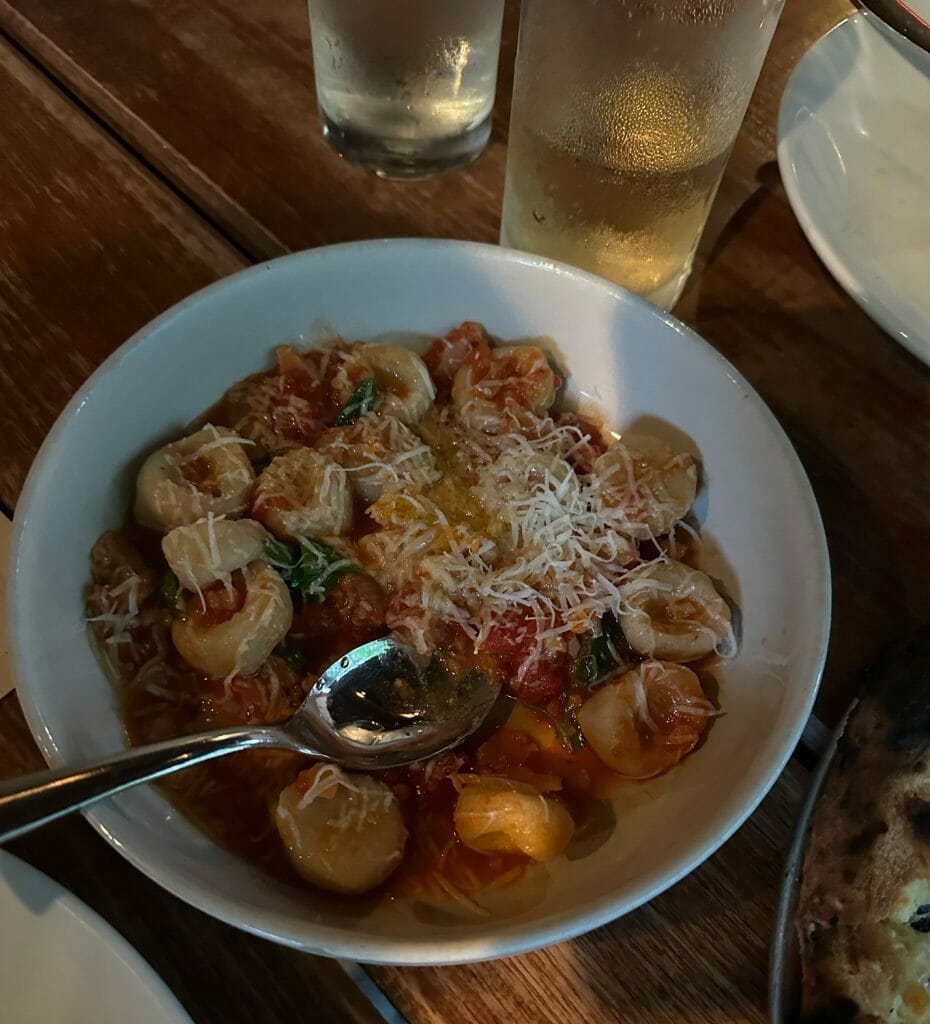 For dessert, we shared the cookies and cream icebox cake, the coffee cardamom panna cotta, and the lemon almond ricotta skillet cake. Yummy! The best of the three hands down was the cookies and cream icebox cake.
Again, we all had a small bite of each.
At the end of the meal
It started to pour outside and I was wearing heels. I looked outside and got a chill.
We said our goodbyes and went home happy, full, and content. What a delicious dinner! We had such a great time talking, eating, and being together. It was a great night after all. And, maybe, I'll even go back the next time I'm in town.