Travel A Lot? Check out Jet Comfy!
How many of you have that neck pillow and bring it on the plane? I for one have it. I actually have a half dozen because I forget them at home and then buy another one at the airport. I keep buying them and yet they are all very uncomfortable and put my head in an awkward position.
Well, I just tested a product that is a direct competitor to the neck pillow, it's called Jet Comfy. And you know what? It's pretty good!
Jet Comfy is a portable pillow that you can use anywhere with an armrest, airport terminals, planes, buses, trains, cars and you can even use it in your office (if you have a private office with a lock on the door!)
Here it is folded up. It's just as compact, if not more compact than the average neck pillow. I actually put it in my small backpack, along with my laptop and several other items. It fit perfectly.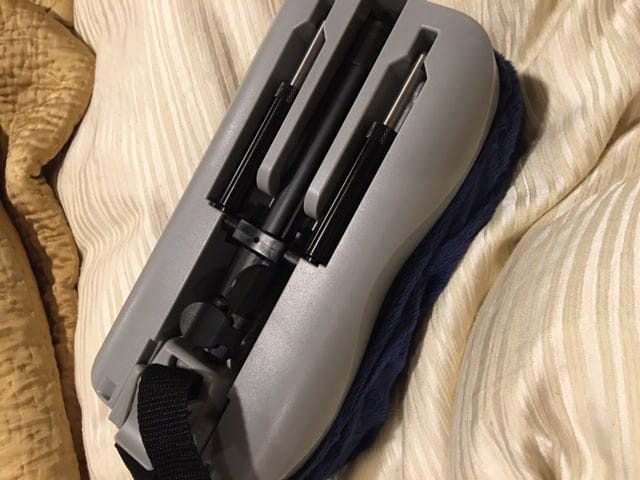 The pillow is super comfy and it's lined with a very soft faux fur fabric that is micro fiber and fully washable.
It also has two round storage places right on the pillow. Here you can put two 3000mAh power packs to charge your mobile device right on the plane!
The other thing that is neat about this product is it has several different adjusting positions.
What I don't like about it is I had trouble keeping it up. I kept my arm on it to keep it standing up and not falling back or hitting someone on the plane. If you strap it around the armrest well, it should be okay but not great.
I travel a lot and I will definitely consider bring this portable pillow with me on the road. It's light weight, it's comfortable and if I can get a couple of winks when I'm traveling, it just makes my trip all the better!