I spent the weekend in Delray Beach, Florida, staying at one of the oldest hotels around called, The Colony Hotel on Atlantic Avenue. In between visiting my dad, I went to some local restaurants and dessert places which I talk about below.
Where to stay in Delray Beach, Florida:
This 100-year-old hotel has most of the original furniture from that time period. There's even a piano from the 1920s in their grand ballroom. It's absolutely gorgeous.
The hotel is painted in traditional Florida colors of coral, orange, and yellow. There's a sense of tranquility when you walk through the lobby. Outside, there's a pleasant sitting area where you can have your morning coffee and muffin, which are included in the room charge.
The staff is particularly nice and helpful. I found them accommodating to my needs.
The rooms are decent sized, not overly big. My room had a king bed and a small desk. The bathroom has marble floors and tile along the shower area.
Colony Hotel's Beach Club and Cabana
If you stay at the Colony Hotel, you need to drive about 2 miles away to the beach club and cabana area. There are umbrellas and tents available at no additional fee on the beach. In addition to that, there is a huge salt-water infinity pool. Lots of comfortable cushioned lounge chairs line the perimeter of the pool. It's quite lovely and very relaxing.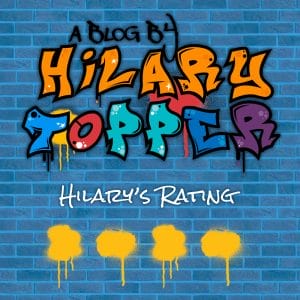 Where to eat in Delray Beach, Florida:
There are tons of unique little shops and boutiques along the strip. There are also restaurants, a wine bar, and even dessert places, where you will get a whiff of fudge. Mmmm… delicious!
One night, my brother, sister-in-law, and their kids joined me at the Delray Beach Market. This is an upscale food court that you can actually get almost anything. I went the traditional route and ordered a cheese platter with my brother along with homemade pasta and bolognese sauce.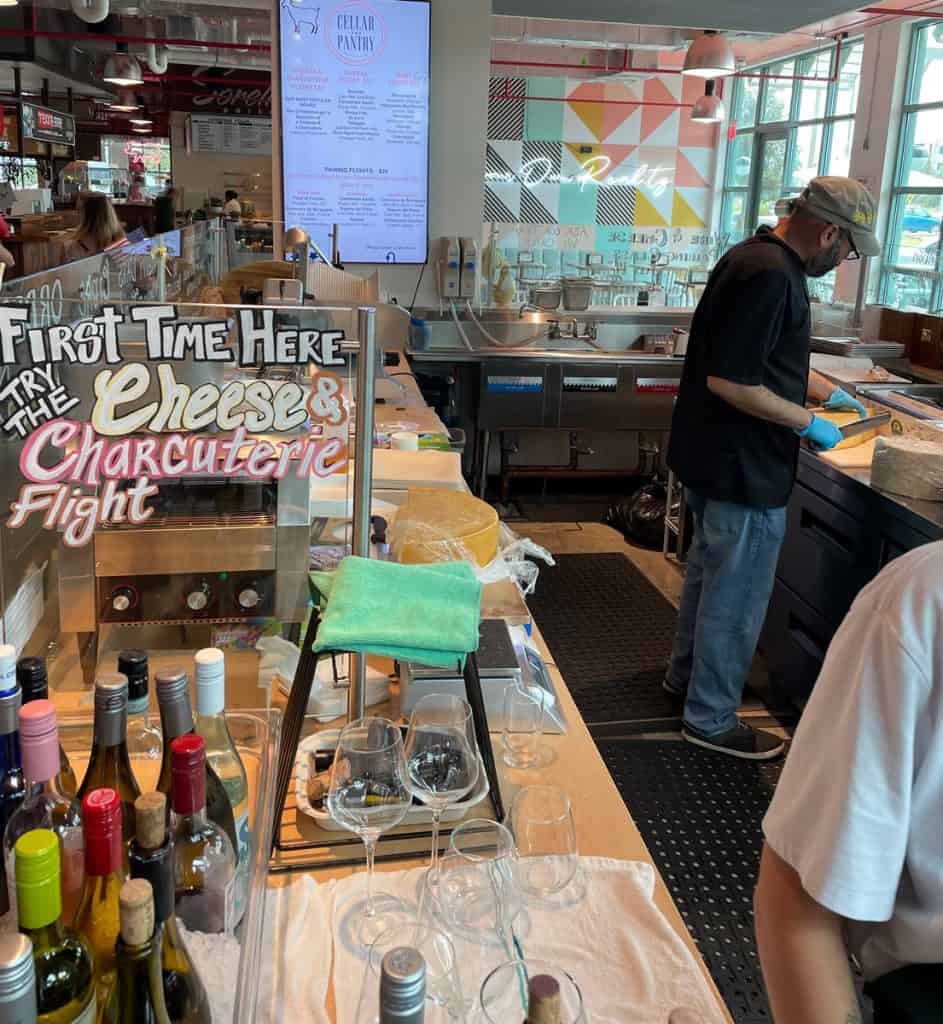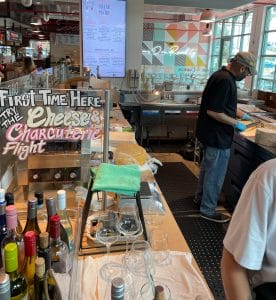 The Delray Beach Market has a ton of different, interesting choices ranging from Indian food to Incredibowls.
The portions are large and you will not walk away hungry.
We also stopped at the Bear Food Shack for lunch. It's an interesting, small little place to eat on the side of the road in Delray. There are lots of "fake" bears there. You can get anything from ahi tuna to a cheeseburger. They also had fresh wraps.
I had a cheeseburger. It was okay not the best I ever had but edible.
Just be careful if you eat outside, the ground is uneven. I tripped when I was there and went flying.
This modern restaurant offers an array of foods from Caviar towers to Chicken Milanese.
Fries and Caviar was one of the most interesting dishes I have seen in a while. Pictured below:
It included a tower of fries with four different caviars ranging from salmon to trout. It was delicious.
At the restaurant, I had the Chicken Milanese. It was tasty, but a little too well-done for my taste but my brother's short ribs and my nephew's roasted pear and four cheese Sacchetti were a hit. My sister-in-law ordered the fish special and unfortunately, she felt as if she could cook it at home. She didn't think it was "restaurant quality." I guess I felt the same about the Milanese.
My sister-in-law explained that there's a great happy hour menu. That may be the way to go with this restaurant.
The wine by the glass list was good. They had some interesting choices on the list.
Green Owl Restaurant in Delray Beach
This quaint little diner is near the Delray Beach Market. They are open at 7 am for breakfast and lunch only and they only take cash. (Hmmm… interesting right?)
I ordered two eggs over medium. Now, normally, they come out runny, and I have to send them back. But at the Green Owl, they came out perfect. They were exactly the way I liked them!
The service was good and there were two Delray Police officers sitting diagonally across from me. (Hey, the police know what's good!)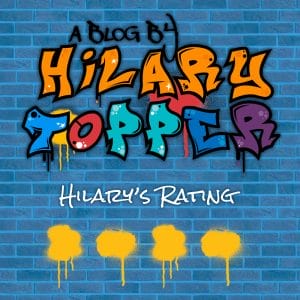 If you have any other interesting restaurants or things to do in Delray Beach, please comment below. Happy traveling!